Inexpensive Christmas Craft: Button Magnets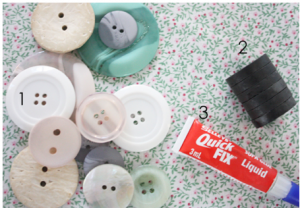 This is the easiest Frugal Craft I have come across in a while. I made some of these a set of 10 to give to my mom 🙂 The price was around $2.50. They are the perfect size to use on the fridge without interfering with a note or piece of artwork – plus they look so darn cute 😉
Directions:
What You Will Need
1. Assortment of buttons – various sizes, styles and shapes in a similar colourway will work best. I keep all the random buttons I get from shirts in a tupperware bin 🙂 Those with flat backs work best.
2. Plain round magnets from craft shops – I found them at Michaels –  $2 a bag. But you can use a 40% off coupons 😉
3. Superglue or hot glue gun.
How to:
Squeeze a little glue on the backs of the buttons and stick the magnets in the center. Leave until dry.
It really is THAT easy
Enjoy 🙂
Looking for my Christmas Crafts? Head on over HERE
Remember if you have frugal Christmas crafts of your own send them with pictures to [email protected] 🙂
Big Thanks To The Happy Home Blog For The Picture and About.com For The Idea