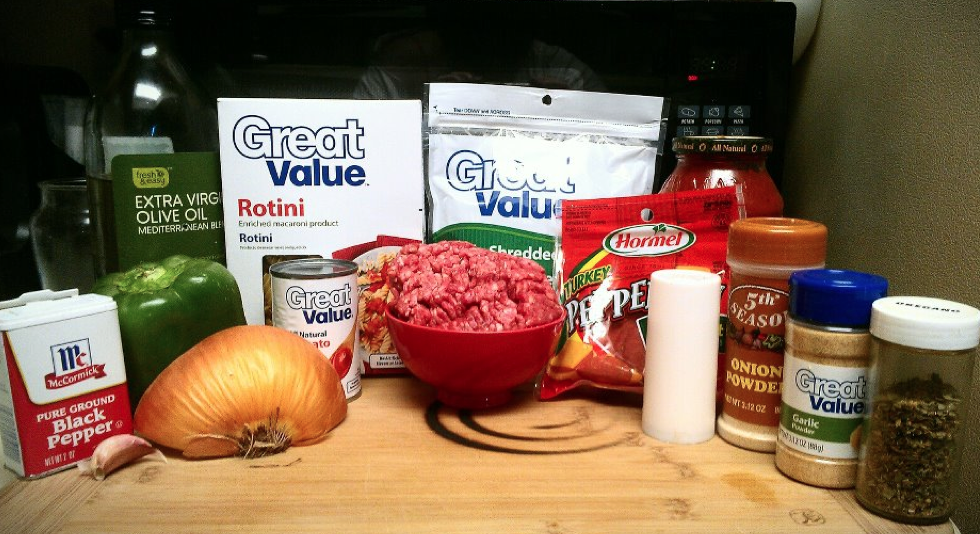 If you like this recipe then PIN IT on Pinterest
Everyday at 5 pm PST/ 8 pm EST Budget Savvy Diva posts a NEW RECIPE 🙂
Make sure to follow Budget Savvy Diva on Facebook 🙂
Find Copy Cat Recipes HERE
Find more Recipes HERE
So I know the title is a little misleading but this is what I have always called the dish, so my mom, and so on  – but trust me all the pizza elements will make you forget there is no crust 😉 This dish is so fun because you can really adapt it to any pizza you like. Love Hawaiian Pizza then throw in some ham and pineapple while not adding the pepperoni ( if you want to totally keep the pepperoni – this is your Pizza in a Crockpot 😉 ).
What You Need
1 Pound of Ground Beef
1 Green Pepper Chopped
1 Onion Chopped
1 teaspoon Onion Powder
1 teaspoon of Garlic Powder
1 Clove of Garlic Minced
1 Teaspoon of Pepper
1/2 Teaspoon Salt
24 Ounces of Sauce ( pizza or pasta sauce)
2 Tablespoon Tomato Paste
3 Cups of Cooked Pasta
6 ounce of Pepperoni
3 Cups of Mozzarella
1 Tablespoon of Olive Oil
What To Do
In a pan heat oil then add onions and pepper and cook ( 10 min) add garlic and cook for one minute. Add ground beef and cook till browned – make sure to drain.
Stir in sauce, tomato past, salt, pepper, garlic powder; onion powder.
In your crock pot place cooked pasta on the bottom.
Then add beef mixture.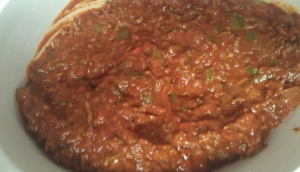 Then Pepperoni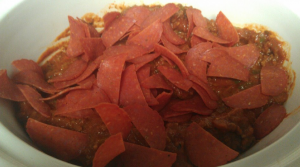 Then add 2 cups of cheese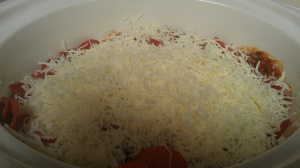 Set the crock pot to low and cook for 3 hours. Mix then add last cup of cheese and cook for 30 more minutes.
Enjoy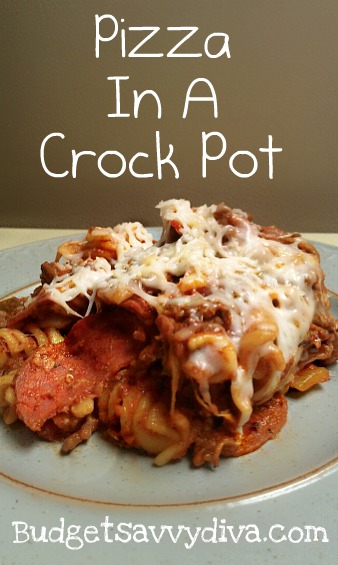 Pizza in a Crock Pot
Ingredients
1 Pound of Ground Beef
1 Green Pepper Chopped
1 Onion Chopped
1 teaspoon Onion Powder
1 teaspoon of Garlic Powder
1 Clove of Garlic Minced
1 Teaspoon of Pepper
½ Teaspoon Salt
24 Ounces of Sauce ( pizza or pasta sauce)
2 Tablespoon Tomato Paste
3 Cups of Cooked Pasta
6 ounce of Pepperoni
3 Cups of Mozzarella
1 Tablespoon of Olive Oil
Instructions
In a pan heat oil then add onions and pepper and cook ( 10 min) add garlic and cook for one minute. Add ground beef and cook till browned - make sure to drain.
Stir in sauce, tomato past, salt, pepper, garlic powder; onion powder.
In your crock pot place cooked pasta on the bottom.
Then add beef mixture.
Then Pepperoni
Then add 2 cups of cheese
Set the crock pot to low and cook for 3 hours. Mix then add last cup of cheese and cook for 30 more minutes.
Enjoy