If you like this recipe then PIN IT on Pinterest
Everyday at 5 pm PST/ 8 pm EST Budget Savvy Diva posts a NEW RECIPE 🙂
Make sure to follow Budget Savvy Diva on Facebook 🙂
Find Copy Cat Restaurant Recipes HERE
Find Crock Pot Recipes HERE
Find Gluten Free Recipes HERE
Find more Recipes HERE
I love the simple things in life like potatoes, crock pots, cheese; ranch dressing. This recipe is all that goodness rolled into one 😉 One can make this recipe without breaking a sweat. This dish is gluten -free.
What You Need
3 Pounds of Red Potatoes – Quartered
1 Cup of Water
2 Cloves of Minced Garlic
1/2 Cup of Ranch Dressing
1/4 Cup of Cheddar Cheese
1/4 Cup of Parmesan Cheese
Pinch of Salt
1/2 Teaspoon of Garlic Powder
1/2 Teaspoon of Onion Powder
1/2 Teaspoon of Pepper ( I use 1 Teaspoon but I LOVE pepper 😉 )
1/4 cup of Minced Fresh Chives
What To Do
Add Water, Potatoes, and Garlic to the crock pot. Set the crock pot to low and cook covered for 6 – 8 hours or high 3 – 5 hours.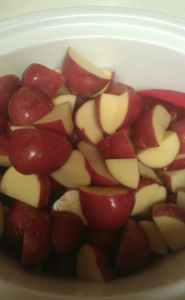 Stir in cheeses, pepper, salt, onion powder, garlic powder, chives; ranch dressing.
Enjoy 🙂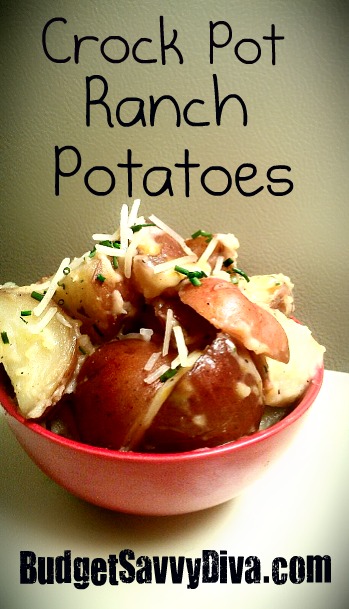 Crock Pot Ranch Potatoes
Perfect easy crock pot potatoes your family will love. Recipe is Gluten - Free
Ingredients
3 Pounds of Red Potatoes - Quartered
1 Cup of Water
2 Cloves of Minced Garlic
½ Cup of Ranch Dressing
¼ Cup of Cheddar Cheese
¼ Cup of Parmesan Cheese
Pinch of Salt
½ Teaspoon of Garlic Powder
½ Teaspoon of Onion Powder
½ Teaspoon of Pepper ( I use 1 Teaspoon but I LOVE pepper 😉 )
¼ cup of Minced Fresh Chives
Instructions
Add Water, Potatoes, and Garlic to the crock pot. Set the crock pot to low and cook covered for 6 - 8 hours or high 3 - 5 hours.
Stir in cheeses, pepper, salt, onion powder, garlic powder, chives; ranch dressing.
Enjoy 🙂