How To Save Money At Disney World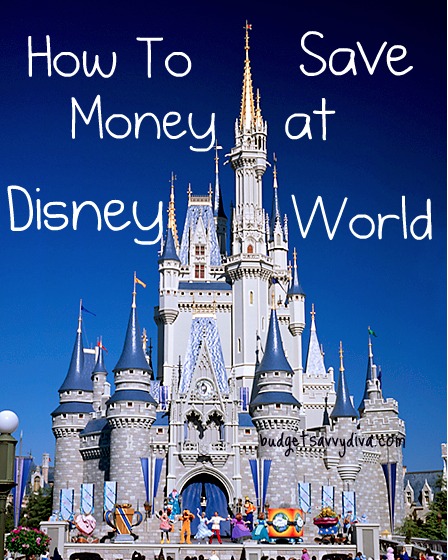 Please PIN This Guide On Pinterest

Make sure to check out –  How To Save Money at Disneyland
Walt Disney World vacation is one of the greatest most magical getaway experiences you can plan.  It's also very costly if you don't plan it carefully.  Under and over planning is also a danger to your ability to enjoy the time you've worked so hard for.  The pressure to get the most out of your trip is almost unavoidable, but with some simple strategies and money saving tips you can have a guilt free and relaxing time away from the 'rat race'.
Save money, breathe easy.
Travel and Lodging:
It's never too early to start planning a vacation you already know you are going to take.  Check out airfare around the time you want to take your trip and see if you can find dates with especially low rates, ie. the middle of the week, as opposed to a Saturday, or Sunday.  Looking on a discount booking site like Travelocity, or Bookit.com is great, but don't limit yourself to just one.  Take your time.  Don't rush.  We fell in love with three hotels before we found a great discount on one of them.  Be sure to read customer reviews whenever you can.
Also, know how much you want your vacation to cost.  Spending money on a budget is a lot more carefree than handling expenses on the fly.  Expect to pay so much for lodging, food, transportation, etc.  Don't forget taxis they are pricey, but terrific in a bind and it's better to plan to use them once or twice in a bind.
Booking a hotel with a flight is usually a money saver.  While it's recommended to stay at one of Disney's many themed hotels, there are some nice non-Disney hotels just outside the boarder by Lake Buena Vista that will save you money and not sacrifice too much of the charm a Disney resort has to offer.  Hotels inside Disney World rely on buses to transport guests across the vast stretch of land.  Outer hotels offer free shuttle service that is very reliable and some are just a short leisurely walk from Downtown Disney a free place flush with Disney ambiance and a vast range of dining options.  If you are looking at one of the low end Disney Hotels a hot deal on on a non-Disney establishment may be an upgrade.
Food: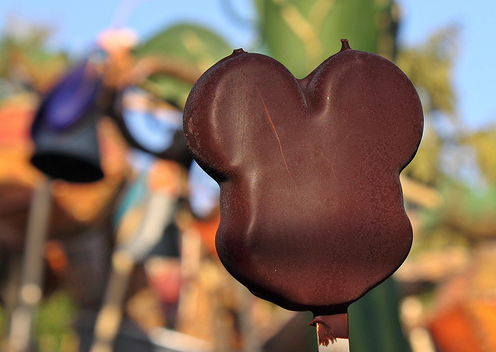 Another advantage to staying outside the boundaries of the Disney property is the option to not be in Disney World.  You will need time off to relax, go resort hopping and maybe even just recuperate in your room for a day.  It sounds like a waste, but you will seriously thank yourself after hitting up two or three parks in a row.  On off days you can check out nearby non-Disney, budget friendly eateries and stock up on snacks at Walgreen's that you can bring into the parks later.  One night we got Olive Garden to go and ate it in our room.  A few times, we got Q doba which is a lot like Chipotle.  As part of your planning its good to start asking for gift cards you can use on the trip.  Any gift giving occasion can help with your budget and ease up the strain of planning where to eat.  T.G.I. Fridays is another place we frequented, because we had gift cards, they were a lifesaver.  Dinner is a dish best served near your room.
When planning your meals on the inside (parks) be sure to bear in mind your eating habits for a realistic budget.  Start high and see what can be eliminated as you hone in on your desired price range.  It's surprisingly easy to spend less when you bring prepared snacks and water bottles in a backpack and target the many counter service eateries in the parks.  Counter service saves time and money by eliminating a wait staff and giving you more control over what how much you order and what you do with it.  Its easy to share and mix a la cart items to satisfaction and the food is often priced lower at a counter than their dine in counterparts.  If you drink, budget for it.  Give yourself a limit and don't go beyond it.  Disney World has a lot of great beer and cocktails.  The beer is very reasonably priced in most places, but alcohol in general is bad for budgets.  Web forums like Disboards are an excellent resource for seeing what is offered where as far as pricing and food options.  You can also determine when and where you want to put in the little extra for a nice sit down meal.  There are some really nice restaurants around the resort for a very special night.  They may require a reservation six months in advance.
Also there is the Disney Dining Plan in which you pay upfront in exchange for credits to be used on snacks, entrees and such – this is PERFECT for families.
Parks: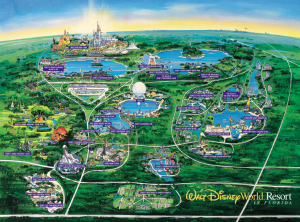 While you are planning when and where it eat is also the perfect time to think about where you are going to spend your days.  Parks offer special tours and experiences that cost extra, but can really make your trip.  We personally loved the aqua tour at Epcot that allowed us to go snorkeling in the enormous tank of their Seas pavilion with sharks, turtles and other gorgeous fish.  Epcot is our favorite park and time there is easily split up.
We recommend a two day minimum for Epcot:  One for Future World and at least one for the World Showcase.  Go HERE to order free customized maps that will help you plan how to experience each park.  The Magic Kingdom, despite its size is very manageable with the right approach thanks to a very convenient traffic flow and pathways.   A crowded day is no picnic, but you can still do a lot and see the entire park in a day.  Disney Studios is compact and easy and you can have a good day there, but you may want to head back for more.  Themed dining and shows are the main attractions, but the few rides they have are some of the most thrilling in the entire resort.  When choosing what days to go where, consider park hours, including Early Entry times.  That will indicate projected park attendance.  Early Entry and Magic Hours mean big numbers.  Parks have different attendance projections so look for the ones without extended hours.
Having a basic knowledge of the lay of the land and the crowd factor are the first steps to having an amazing time at any park.  Know when and where you plan to eat, but (this is the good part) allow yourself to change your mind if another option seems better.  This is the time to enjoy, so if you've done your homework on this park you have an idea how to navigate it in the most time effective way.  You've already bought yourself time to stop and smell some of the exotic plants and scented air all around the resort.  Fast Pass is another fantastic queue (pardon the pun)  Not all rides offer them, but find one that does and go there right away.  That's a great start point.  The pass tells you when to come back.  You may think, you can just go on the ride while there's no line, but it's better to do other things instead and wait less when there is an actual line.
Another trick to being able to take it easy is show schedule knowledge.  If you want to see a show, you'll have to plot your day around it, if you don't it's still good to know when and where to expect congestion along parade routes or theater exits.  Be sure to grab a show schedule and a park map at the entrance and if you lose it, don't hesitate to ask any cast member for another.  As former Disney cast members we can safely say that that's probably one of the big things we did most of the time.
We also saw too many people walk away from an attraction with a line.  Most attractions post wait times that are set by a dial and have a minimum time window (eg. 10 min.) no matter how short the wait.  If you are interested in a ride, never turn down a ten minute wait.  Disney staff is usually pretty good at moving things along compared to other parks, so the lines tend to move faster than expected and the queues are usually designed to entertain and enchant.  They won't kill you like wandering around looking for something to do will.
As I said before, it's important to relax when your there.  Trust your schedule and your budget, and be sure to give yourself an extra day in a park you really enjoy.  Gift cards are a great way to aid park admission and dining expenses, when you plan your trip, consider how many days you have and where you would like to spread them.  At least ten days is ideal if you want to visit all four parks.  Remember, you will want down time during the trip and there is a lot to see and do that won't cost anything.  Exploring the grounds of a beautiful hotel, taking a boat ride, or monorail around the seven seas lagoon, strolling through Downtown Disney are all free and there are low rental fees for kayaks, fishing,  and scenic carriage rides to name a few.  Planning these things is fun and working them into a practical budget is extremely gratifying.  Best of luck!