Southwestern Supreme Chicken Soup
If you like this recipe then PIN IT on Pinterest
Everyday at 5 pm PST/ 8 pm EST Budget Savvy Diva posts a NEW RECIPE 🙂
Make sure to follow Budget Savvy Diva on Facebook 🙂
Find Copy Cat Recipes HERE
Find more Recipes HERE
This soup is one of my guilty pleasures because it tastes like something you would get in a restaurant but it is SO easy to make 🙂 The soup has so many level of flavors – there is a little heat in this recipe but just enough. Enjoy – From My Kitchen To Yours.
Gluten Free
What You Need
1/2 cup chicken broth
2 cups milk
1 Teaspoon Pepper
1 Teaspoon Cumin
1/2 Teaspoon Salt
1 can  – (15 ounce)  kidney beans – Drained
1 can –  (14.5 ounce) Rotel (diced tomatoes and jalapenos)
1 can (14.5 ounce) corn, Drained
1/2 cup onion, chopped finely
1/2 bell pepper, diced
1 lime – Zest and Juice
1 (16 ounce) can green enchilada sauce
1 Jalapenos Seeded and Diced
3 boneless, skinless chicken breasts
Garnish (optional)
Cheddar Cheese
sour cream
diced avocado ( HIGHLY Recommended)
What To Do
This soup is SO simple – Ready?
Add all the ingredients into your crock pot and mix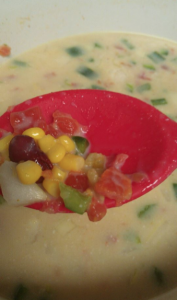 Add chicken ( I normally cut the chicken breast into 2) . Set crock pot to low for 6 – 8 hours or high for 3 – 4.
Around hour 5 or 2.5 take out the chicken and shred the chicken ( this part is optional but highly suggested)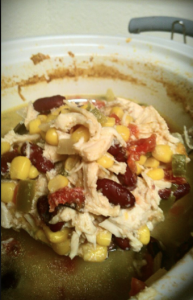 Let it cook till done.
Add garnish
Enjoy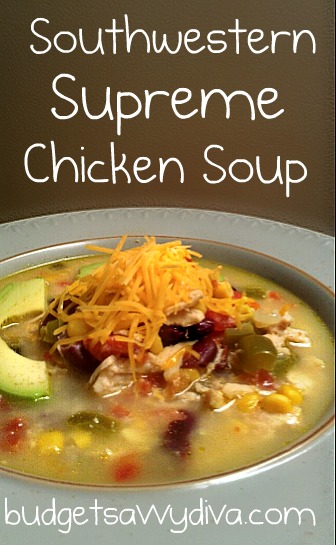 ( I just got hungry writing up this post 😉 )
Southwestern Supreme Chicken Soup
Ingredients
½ cup chicken broth
2 cups milk
1 Teaspoon Pepper
1 Teaspoon Cumin
½ Teaspoon Salt
1 can - (15 ounce) kidney beans - Drained
1 can - (14.5 ounce) Rotel (diced tomatoes and jalapenos)
1 can (14.5 ounce) corn, Drained
½ cup onion, chopped finely
½ bell pepper, diced
1 lime - Zest and Juice
1 (16 ounce) can green enchilada sauce
1 Jalapenos Seeded and Diced
3 boneless, skinless chicken breasts
Garnish (optional)
Cheddar Cheese
sour cream
diced avocado ( HIGHLY Recommended)
Instructions
Add all the ingredients into your crock pot and mix.
Add chicken ( I normally cut the chicken breast into 2) . Set crock pot to low for 6 - 8 hours or high for 3 - 4.
Around hour 5 or 2.5 take out the chicken and shred the chicken ( this part is optional but highly suggested)
Let it cook till done.
Add garnish
Enjoy