Brag Worthy Shopping Trip: Couponer Made $9.63 !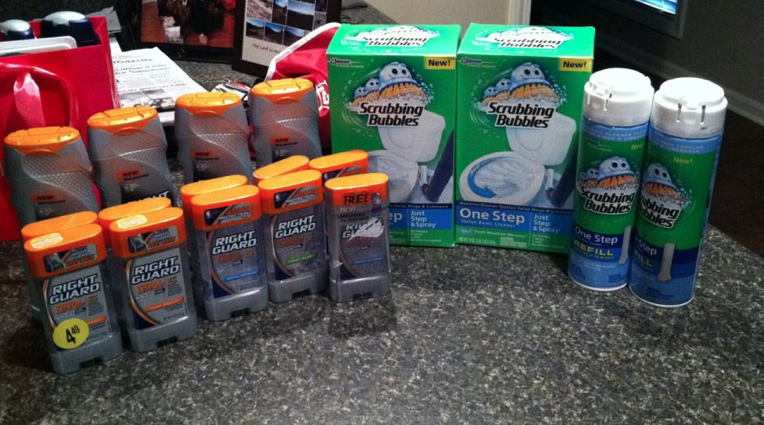 What do YOU think about this Shopping Trip?
Check Out MORE BRAG PICTURES
If you have a Awesome Shopping Trip Photo – please send it to [email protected]!
Thanks! Reader DeShawnna
3/11/2012 Shopping Trip to Walgreens
4 Right Guard Body Washes
10 Right Guard Deodorants
2 Scrubbing Bubbles One Step Toilet Bowl Cleaner
2 Scrubbing Bubbles One Step Toilet Bowl Cleaner refills
Would have cost $90.82 but paid $20.21 out of pocket (less tax) and received $21 back in Register Rewards to use on my next shopping trip. So Walgreens paid me $.79 to shop there!!!
Right Guard Body Wash was Regular $4.49 – Walgreens sale was BOGO Free and I had $3.00/2 coupon making Body washes $.74 each. Same scenario with deodorant. I had a coupon for all of them. 2 of them were on sale for $2.29 and I had $1 on 2 so I paid $.64 for those two. I received $13 back in Register Rewards from this transaction.
Scrubbing Bubbles One Step Toilet Bowl Cleaner was regular $9.99 but was on sale for $8.99 and I had a $4 off coupon for both of them. Plus you received $4 in Register Rewards back making each of these 0.99.
The two refills were free when you bought the starter kit. They were regular $3.99.
A total savings of $90.82 plus a $.79 moneymaker!!!!
I also went back to another Walgreens and bought more Right Guard Deodorant, Scrubbing Bubbles, Dial Soap, and Kotex Tampons and paid $3.16 out of pocket and received $11 in RR back making that a $8.84 moneymaker but I don't have a picture. I forgot to take one. Here is the scenario.
1st Transaction
4 Right Guard Deodorants = $2.98 (uses 2 $3/2 coupons)
1 Dial Soap = $3.19
Total = $6.17 and used a $4 RR from previous shopping trip makes this $2.17 (received $4 RR back)
2nd Transaction
1 Scrubbing Bubbles Starter Kit = $4.99 (used $4 coupon)
1 Refill = Free (used free coupon when you buy starter kit)
3 boxes 18ct Kotex Tampons = 3 for $9
Total = $13.99 and used $13 RR from previous shopping trip makes this $.99 (Received $7 RR back).
So in two shopping trips, Walgreens paid me $9.63 to shop there!! Talk about a bargain!!!