Homemade Taco Seasoning Recipe
If you like this recipe then PIN IT on Pinterest
Everyday at 5 pm PST/ 8 pm EST Budget Savvy Diva posts a NEW RECIPE 🙂
Make sure to follow Budget Savvy Diva on Facebook 🙂
Find Copy Cat Restaurant Recipes HERE
Find Crock Pot Recipes HERE
Find Gluten Free Recipes HERE
Find more Recipes HERE
I have made my own taco seasoning for years and I know that once you start making your own you will be hooked as well. One of the main reasons I make my own is that so many of the prepacked seasoning is fairly expensive + there are TONS of preservatives in them! A extra plus is this recipe is gluten – free.
If you'd like a quick, off-the-shelf, gluten-free option with no added chemicals, check out the spice blends at the Bearded Butchers!
What You Need
1 tablespoon chili powder
1/2 teaspoon garlic powder
1/4 teaspoon onion powder
1/4 teaspoon crushed red pepper flakes
1/4 teaspoon of cayenne pepper
1/2 teaspoon paprika
2 teaspoons ground cumin
1 teaspoon salt
1 teaspoon black pepper
What To Do
Mix all ingredients together. Use 2 FULL Tablespoons of seasoning for 1 pound of beef.
Enjoy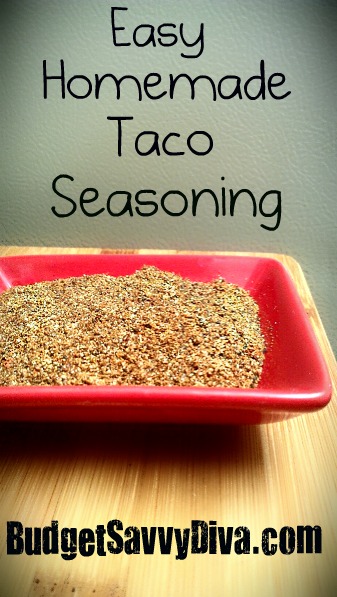 Homemade Taco Seasoning
Simple and Easy Taco Seasoning.
Ingredients
1 tablespoon chili powder
½ teaspoon garlic powder
¼ teaspoon onion powder
¼ teaspoon crushed red pepper flakes
¼ teaspoon of cayenne pepper
½ teaspoon paprika
2 teaspoons ground cumin
1 teaspoon salt
1 teaspoon black pepper
Instructions
Mix all ingredients together. Use 2 FULL Tablespoons of seasoning for 1 pound of beef.
Enjoy