The Best Crock Pot Chicken Tacos Recipe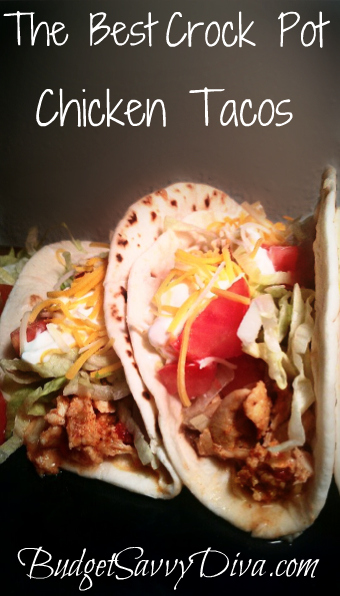 Make sure to PIN This Recipe or Repin 🙂

One of the easiest recipes I have. It taste like it came from a restaurant… so yummy. Easily made gluten – free by using corn tortillas.

Everyday at 1 pm PST/ 4pm EST Budget Savvy Diva posts a NEW RECIPE 🙂 I might miss this time every now or then – but I know you understand
Make sure to follow Budget Savvy Diva on Facebook 🙂
Find Copy Cat Restaurant Recipes HERE
Find Crock Pot Recipes HERE
Find Gluten Free Recipes HERE
Find more Recipes HERE
What You Need
1.5 – 2 pounds of skinless chicken breast – frozen or thawed
1.5 ounces of taco seasoning ( about one packet worth)  – I used my homemade seasoning HERE
1 can ( 10) ounces of Rotel
All your taco fixings – corn or flour tortillas, cheese, sour cream, Chipotle guacamole , lettuce, tomatoes
What To Do
Set your crock pot to low and place taco seasoning, chicken, rotel together – mix.
Set aside for about 6 hours if chicken is frozen if thawed it will be done in about 3 -4 hours. Take two forks and pull-apart the chicken and mix into the awesome juices.
If there is not enough liquid use a little chicken stock.
Enjoy — Simply scoop up the chicken in that tortilla and go topping crazy 🙂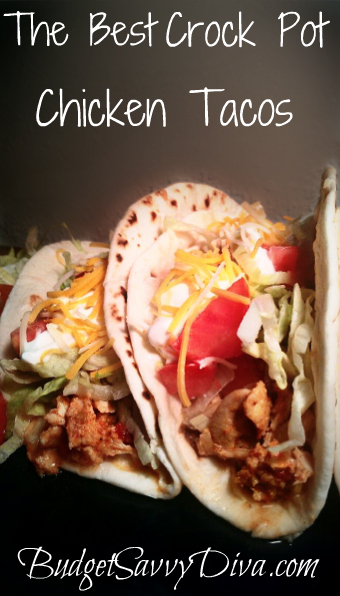 The Best Crock Pot Chicken Tacos
Perfect Recipe
Ingredients
1.5 - 2 pounds of skinless chicken breast - frozen or thawed
1.5 ounces of taco seasoning ( about one packet worth) - I used my homemade seasoning HERE
1 can ( 10) ounces of Rotel
All your taco fixings - corn or flour tortillas, cheese, sour cream, Chipotle guacamole , lettuce, tomatoes
Instructions
Set your crock pot to low and place taco seasoning, chicken, Rotel together - mix.
Set aside for about 6 hours if chicken is frozen if thawed it will be done in about 3 -4 hours. Take two forks and pull-apart the chicken and mix into the awesome juices.
If there is not enough liquid use a little chicken stock.
Enjoy -- Simply scoop up the chicken in that tortilla and go topping crazy 🙂