One Pan Enchilada Pasta Recipe
Make sure to REPIN this recipe
I have talked again and again how much I love making enchilada dishes – since they are so flavorful and simple to make ( shhhh we only need to know that 😉 )
I thought it would be fun if I did something a little different – I found this great recipe for enchilada pasta dish that you make in one POT! Well in my case I used a skillet — I am a skillet type a gal ( whatever that means) — but I do notice that I really like using skillets instead of tall stock pots –I think it is because I am a little shorty with short little arms.
I ended up putting olives on this dish – if you did not know – I hate olives with a passion. You know there is that food that you cannot even smell without wanting to run out of the room… Olives are that food for me — I cannot stand them at all. Now that I have ended my olive rant – lets get into the recipe 🙂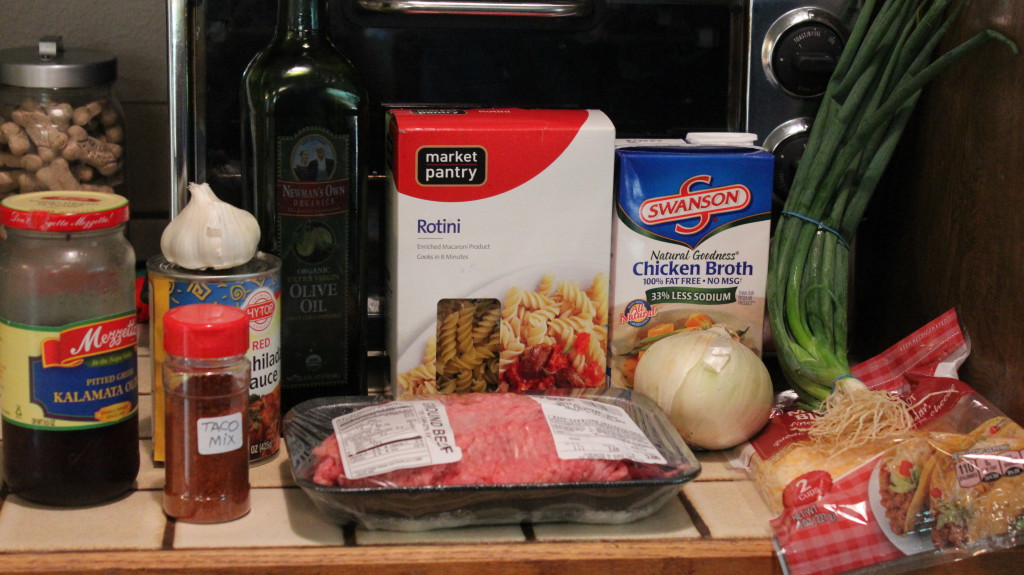 My favorite thing about this recipe is that instead of water you are cooking the pasta in chicken broth and enchilada sauce! The result is super flavorful pasta
You might also notice that I am not using a packet of taco seasoning – because I make my own. You can make your own taco seasoning for only pennies (every penny counts in my house) Go HERE for the recipe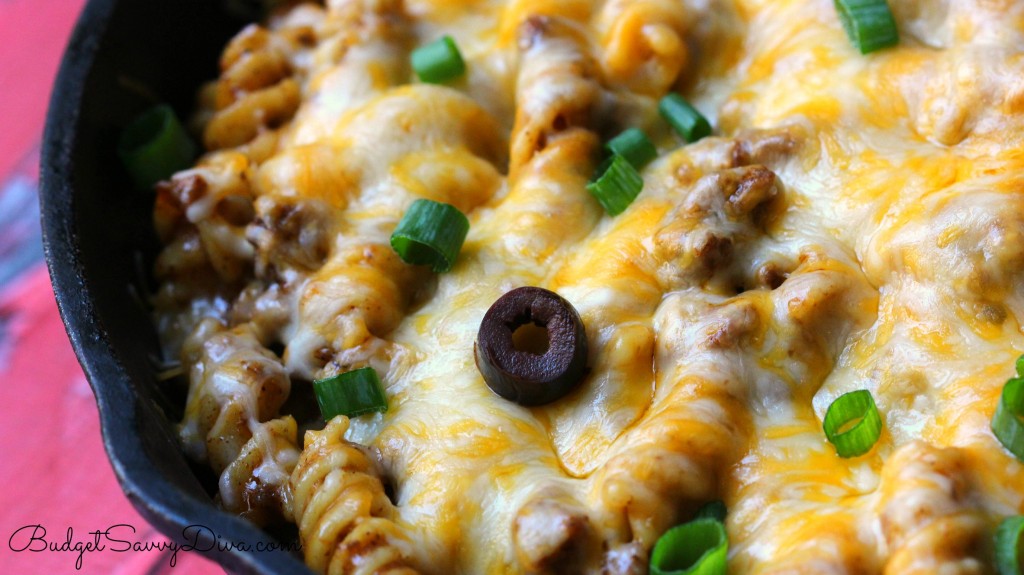 If you do make the One Pan Enchilada Pasta Recipe make sure to comment if you try it 🙂
Love You Guys!
One Pan Enchilada Pasta Recipe
Ingredients
2 garlic cloves, minced
½ cup of white onion, chopped
1 pound of beef
1 tablespoon of taco seasoning
2 Cups of Chicken Broth, low sodium
1 Can of Red Enchilada Sauce
2½ Cup of Dried Rotini Pasta
2 Cups of Mexican Cheese
Olive Oil
Garnish
Olives
Green onions
Instructions
In a large skillet - add a bit of olive oil - add onion cook for 5 minutes over medium heat - add garlic cook for 2 minutes
Add beef and taco seasoning - cook till the meat is brown
Add pasta, chicken broth, and enchilada sauce
Bring to a boil then lower the heat and cover
Cook for 15 minutes
Check the pasta - cook for 5 - 10 more minutes uncovered
Add cheese on top - cover and cook till cheese is melted
Garnish and Serve
Enjoy!
Recipe is adapted from Number 2 Pencil Site