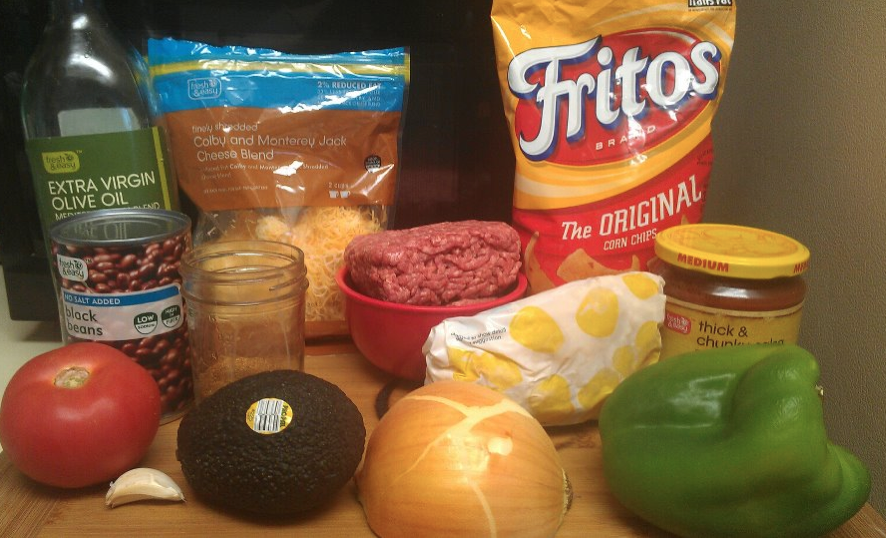 If you like this recipe then PIN IT on Pinterest
Everyday at 5 pm PST/ 8 pm EST Budget Savvy Diva posts a NEW RECIPE 🙂
Make sure to follow Budget Savvy Diva on Facebook 🙂
Find Copy Cat Restaurant Recipes HERE
Find Crock Pot Recipes HERE
Find Gluten Free Recipes HERE
Find more Recipes HERE
This dish is delish 😉 It is on the table within 30 minutes! I love the fact that I am able to use some of my homemade taco seasoning in this dish.
Enjoy
What You Need
1 lb ground beef 1 package taco seasoning or 2 Tablespoons of Homemade Taco Seasoning –> HERE is the recipe takes only 1 minute to make 🙂
1 (15 ounce) can refried beans or Black Beans
2 cups monterey jack cheese
1 cup salsa
1 clove of garlic minced
1 cup of corn ( thawed)
1 Tablespoon of Olive Oil
1 Green Bell Pepper, chopped1 tomato , chopped
1 avocado – cut into bite size pieces
1 cup of diced onions
2 cups corn chips
What To Do
Preheat oven to 350
Heat oil in a large skillet – add onions and green peppers and cook on medium heat till tender. Add garlic and cook for 1 minute.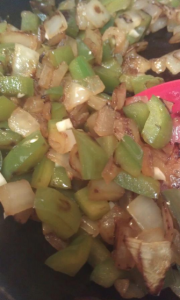 Add beef and cook till no longer pink ( drain fat)
Add taco seasoning to beef and mix.
In a small bowl mix 1 cup of cheese and salsa together.
In a 8×8 dish place beef on the bottom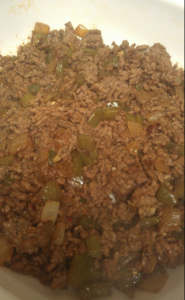 then layer the salsa cheese mixture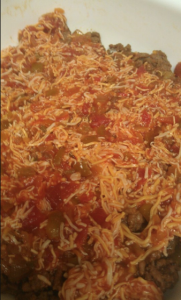 then layer with beans and corn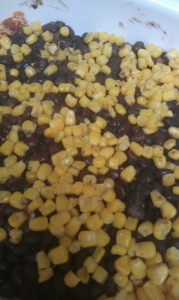 Last layer is the rest of the cheese
Place in the over for about 15 minutes – till the cheese is nice and melted.
Garnish with tomatoes, avocado and chips.
Enjoy 🙂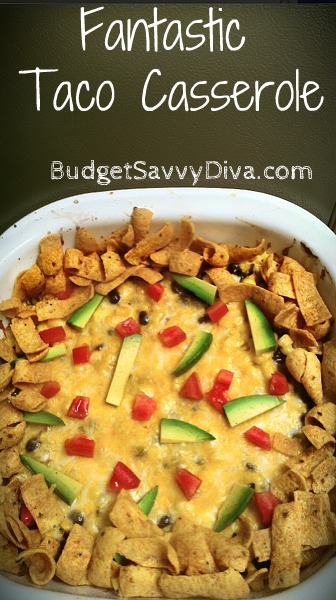 Fantastic Taco Casserole
Fantastic and Easy - FULL of flavor.
Ingredients
1 lb ground beef
1 package taco seasoning or 2 Tablespoons of Homemade Taco Seasoning --> HERE is the recipe takes only 1 minute to make 🙂
1 (15 ounce) can refried beans or Black Beans
2 cups monterey jack cheese
1 cup salsa
1 cup of diced onions
1 clove of garlic minced
1 cup of corn ( thawed)
1 Tablespoon of Olive Oil
1 Green Bell Pepper, chopped
1 tomato , chopped
1 avocado - cut into bite size pieces
2 cups corn chips
Instructions
Preheat oven to 350
Heat oil in a large skillet - add onions and green peppers and cook on medium heat till tender. Add garlic and cook for 1 minute.
Add beef and cook till no longer pink ( drain fat)
Add taco seasoning to beef and mix.
In a small bowl mix 1 cup of cheese and salsa together.
In a 8x8 dish place beef on the bottom
then layer the salsa cheese mixture
then layer with beans and corn
Last layer is the rest of the cheese
Place in the over for about 15 minutes - till the cheese is nice and melted.
Garnish with tomatoes, avocado and chips.
Enjoy 🙂
This recipe is adapted from Food.com