Hawaiian BBQ Pulled Chicken Recipe
If you like this recipe then PIN IT on Pinterest
Everyday at 5 pm PST/ 8 pm EST Budget Savvy Diva posts a NEW RECIPE 🙂
Make sure to follow Budget Savvy Diva on Facebook 🙂
Find Copy Cat Restaurant Recipes HERE
Find Crock Pot Recipes HERE
Find Gluten Free Recipes HERE
Find more Recipes HERE
This dish is plain yummy 🙂 I serve this dish over rice but feel free to use as a filling in a sandwich, eat it alone, or any which way you want to 😉
What You Need
2 Cloves of Garlic, Minced
1/2 Teaspoon of Pepper
1 Bottle of BBQ Sauce ( I go with original flavor)
2 skinless chicken breasts ( I cut my into halves )
12 oz of a 20oz can of Pineapple
1 Cup of Onion, Diced
1/4 Teaspoon of Cayenne Pepper
1 Tablespoon of Olive Oil
What To Do
Heat oil in a medium – size skillet and cook onions till tender ( 10 minutes), then add garlic and cook for one minute.
Place in a crock pot ( set to low) the following:
Chicken Breasts, BBQ Sauce, Pineapple ( include 1/2 the liquid), Cayenne Pepper, cooked onion and garlic, pepper.
Cook for  6- 8 hours
Using 2 forks shred the chicken.
Serve over rice or use it as filling in a sandwich.
Enjoy 🙂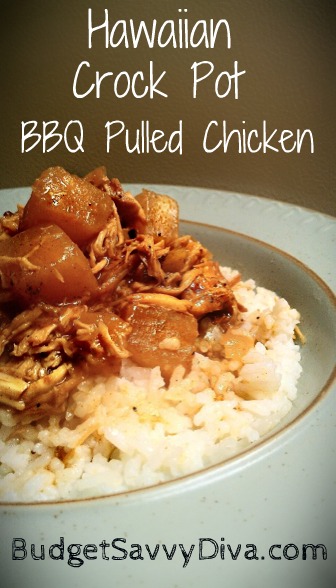 Hawaiian BBQ Pulled Chicken
Yummy and Easy and Wallet-Friendly.
Ingredients
2 Cloves of Garlic, Minced
½ Teaspoon of Pepper
1 Bottle of BBQ Sauce ( I go with original flavor)
2 skinless chicken breasts ( I cut my into halves )
12 oz of a 20oz can of Pineapple
1 Cup of Onion, Diced
¼ Teaspoon of Cayenne Pepper
1 Tablespoon of Olive Oil
Instructions
Cloves of Garlic, Minced
/2 Teaspoon of Pepper
Bottle of BBQ Sauce ( I go with original flavor)
skinless chicken breasts ( I cut my into halves )
oz of a 20oz can of Pineapple
Cup of Onion, Diced
/4 Teaspoon of Cayenne Pepper
Tablespoon of Olive Oil
Heat oil in a medium - size skillet and cook onions till tender ( 10 minutes), then add garlic and cook for one minute.
Place in a crock pot ( set to low) the following:
Chicken Breasts, BBQ Sauce, Pineapple ( include ½ the liquid), Cayenne Pepper, cooked onion and garlic, pepper.
Cook for 6- 8 hours
Using 2 forks shred the chicken.
Serve over rice or use it as filling in a sandwich.
Enjoy 🙂