Chocolate Chip Pumpkin Spice Muffins Recipe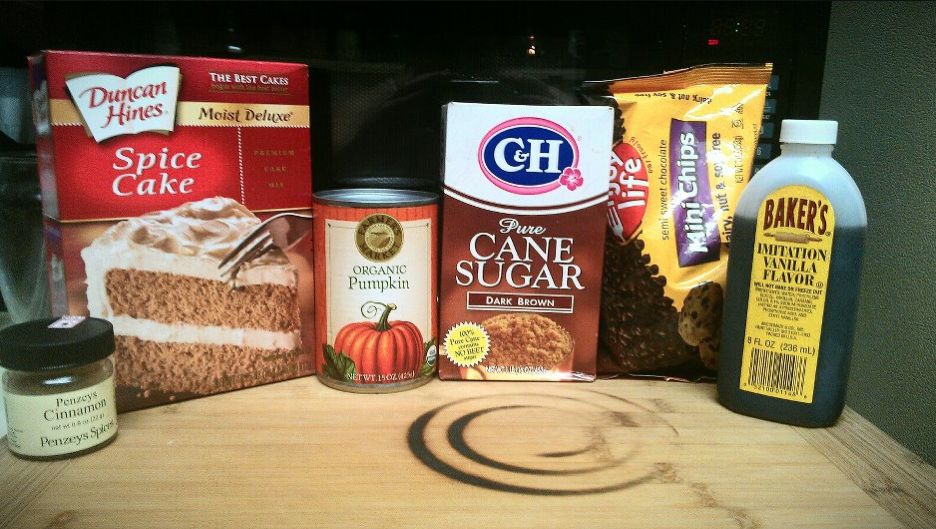 If you like this recipe then PIN IT on Pinterest
Everyday at 5 pm PST/ 8 pm EST Budget Savvy Diva posts a NEW RECIPE 🙂
Make sure to follow Budget Savvy Diva on Facebook 🙂
Find Copy Cat Restaurant Recipes HERE
Find Crock Pot Recipes HERE
Find Gluten Free Recipes HERE
Find more Recipes HERE
Two things I love easy recipes and baking… wait also chocolate — so I guess it is three things and this recipe has all three!
I learned about using pumpkin in baking years ago – it is a great way to cut the fat and calories out of baking without taking away from taste 🙂
I was able to whip up this muffins within minutes without much effort and Mr.Savvy loved them!
Baking Tip: You can freeze the batter in the cupcake holders so they are ready for bake in the morning or when company is over.
From Budget Savvy Diva's Kitchen to Yours.
What You Need
Box of Spice Cake Mix
Can of Pumpkin ( not pumpkin filling)
1/2 Teaspoon Cinnamon
1 Tablespoon of Vanilla Extract
1/3 Cup of Mini Chocolate Chips
Extra Chocolate Chips and Brown Sugar for Topping
What To Do
Preheat Oven to 350
Mix Spice Cake ( you will not need to add any of the ingredients on the back of the box of the cake mix) with Pumpkin, Vanilla, and Cinnamon.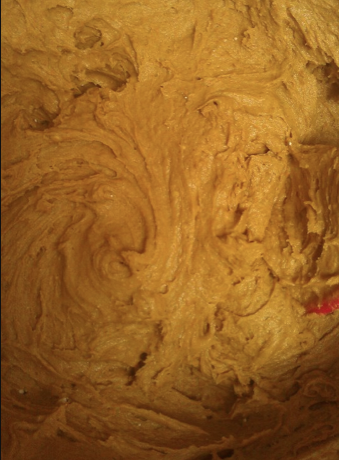 Add Chocolate Chips and Mix.
Fill Cupcake Sleeves about 3/4th Full.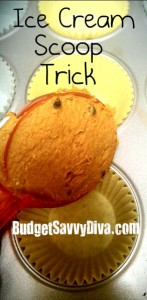 You can add brown sugar and/or chocolate chips to the top of the muffins
Bake for about 20 minutes – If the toothpick comes out "clean," meaning there is no batter on them they are ready.
Enjoy 🙂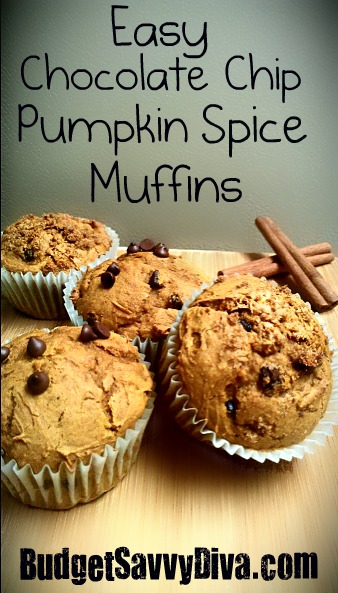 Click the little print icon below to print recipe 🙂
Chocolate Chip Pumpkin Spice Muffins
Perfect Muffins Anytime.
Ingredients
Box of Spice Cake Mix
Can of Pumpkin ( not pumpkin filling)
½ Teaspoon Cinnamon
1 Tablespoon of Vanilla Extract
⅓ Cup of Mini Chocolate Chips
Extra Chocolate Chips and Brown Sugar for Topping
Instructions
Preheat Oven to 350
Mix Spice Cake ( you will not need to add any of the ingredients on the back of the box of the cake mix) with Pumpkin, Vanilla, and Cinnamon.
Add Chocolate Chips and Mix.
Fill Cupcake Sleeves about ¾th Full.
You can add brown sugar and/or chocolate chips to the top of the muffins
Bake for about 20 minutes - If the toothpick comes out "clean," meaning there is no batter on them they are ready.
Enjoy 🙂