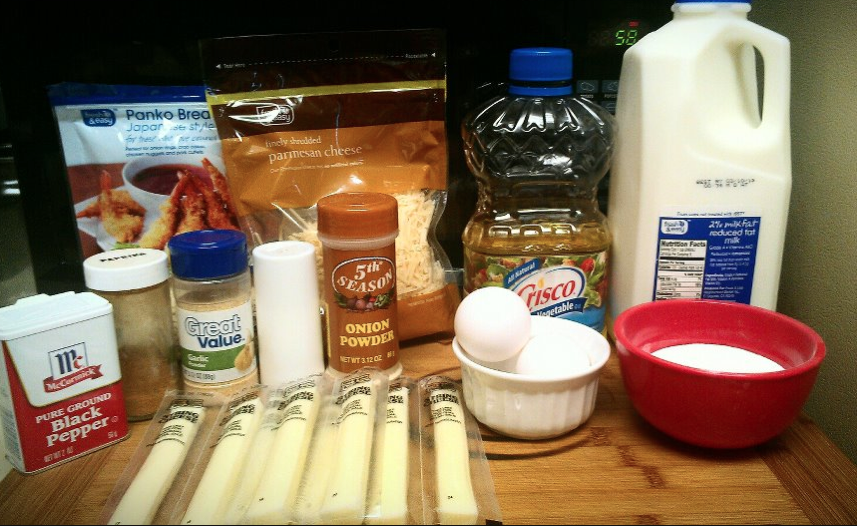 If you like this recipe then PIN IT on Pinterest
Everyday at 5 pm PST/ 8 pm EST Budget Savvy Diva posts a NEW RECIPE 🙂
Make sure to follow Budget Savvy Diva on Facebook 🙂
Find Copy Cat Restaurant Recipes HERE
Find Crock Pot Recipes HERE
Find Gluten Free Recipes HERE
Find more Recipes HERE
I am going to keep this short and sweet. Everyone I know LOVES Mozzarella Sticks – why spend the money at a restaurant when you can whip up these babies at home in just a couple of minutes 🙂
What You Need
8 String Cheeses
1/2 Cup of Finely Chopped Parmesan Cheese
Sprinkle of Salt
1/2 Teaspoon of Pepper
1/2 Teaspoon of Paprika
½ cups All-purpose Flour
1 whole Eggs
2 Tablespoons Milk
Vegetable Oil
1/2 Teaspoon of Garlic Powder
1/2 Teaspoon of Onion Powder
1 cups Panko Bread Crumbs
What To Do
Cut each stick of cheese into half – 16 pieces.
Place flour into a bowl and roll each mozzarella stick into the flour.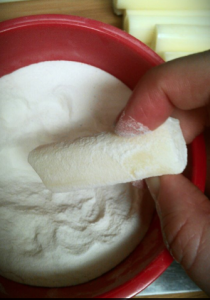 Whisk Eggs and Milk together and dip each stick of cheese into it.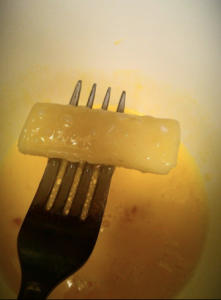 In another bowl mix: Panko Bread Crumbs, Salt, Pepper, Paprika, Parmesan Cheese, Garlic Powder, Onion Powder.
Coat each stick of cheese into the panko mix.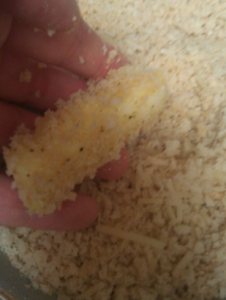 Place coated cheese sticks onto a cookie sheet.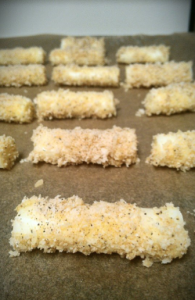 Place cookie sheet into the freezer for 20 minutes.
In a large skillet heat up about a inch of oil. Add mozzarella sticks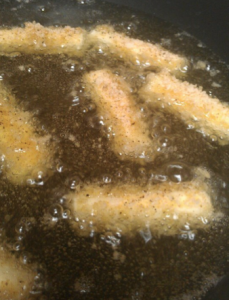 These babies cook fast – about 45 seconds each side.
Place cooked sticks onto a paper towel.
Serve with marinara sauce.
Enjoy 🙂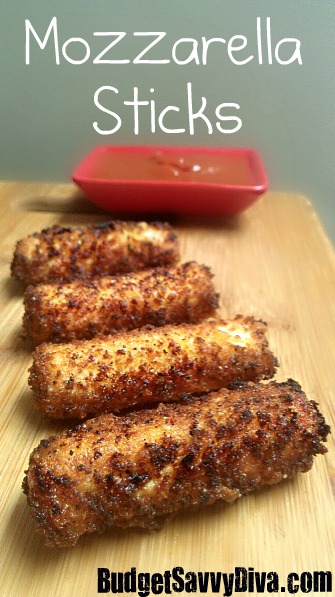 Click the little printer icon to print out the recipe.
Mozzarella Sticks
A Yummy Treat 🙂
Ingredients
8 String Cheeses
½ Cup of Finely Chopped Parmesan Cheese
Sprinkle of Salt
½ Teaspoon of Pepper
½ Teaspoon of Paprika
½ cups All-purpose Flour
1 whole Eggs
2 Tablespoons Milk
Vegetable Oil
½ Teaspoon of Garlic Powder
½ Teaspoon of Onion Powder
1 cups Panko Bread Crumbs
Instructions
Cut each stick of cheese into half - 16 pieces.
Place flour into a bowl and roll each mozzarella stick into the flour.
Whisk Eggs and Milk together and dip each stick of cheese into it.
In another bowl mix: Panko Bread Crumbs, Salt, Pepper, Paprika, Parmesan Cheese, Garlic Powder, Onion Powder.
Coat each stick of cheese into the panko mix.
Place coated cheese sticks onto a cookie sheet.
Place cookie sheet into the freezer for 20 minutes.
In a large skillet heat up about a inch of oil. Add mozzarella sticks
These babies cook fast - about 45 seconds each side.
Place cooked sticks onto a paper towel.
Serve with marinara sauce.
Enjoy 🙂
Recipe adapted from The Pioneer Woman