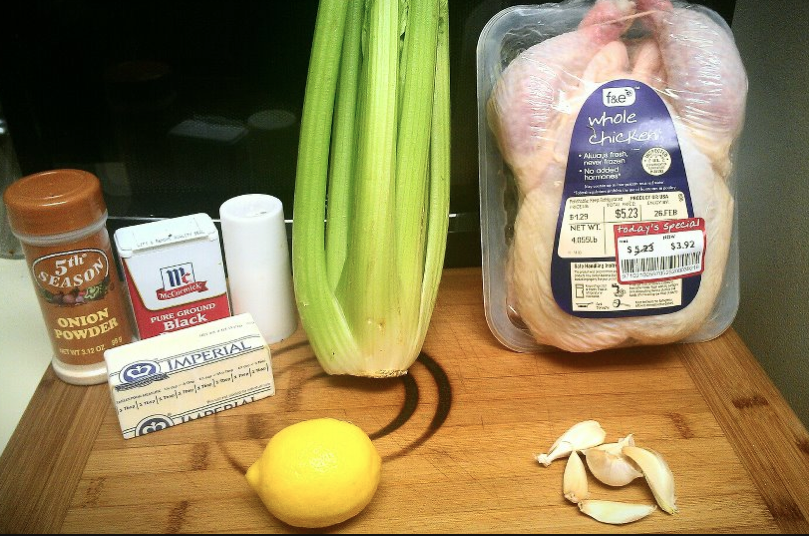 If you like this recipe then PIN IT on Pinterest
Everyday at 5 pm PST/ 8 pm EST Budget Savvy Diva posts a NEW RECIPE 🙂
Make sure to follow Budget Savvy Diva on Facebook 🙂
Find Copy Cat Restaurant Recipes HERE
Find Crock Pot Recipes HERE
Find Gluten Free Recipes HERE
Find more Recipes HERE
Is there anything better then a simple whole roasted chicken? This type of recipe should be in every cook's arsenal. I had previously posted Crock Pot Whole Chicken  ( which is amazing fall off the bone goodness).
This recipe is gluten free.
Enjoy 🙂
What You Need
Whole Chicken ( around 3 pounds)
1 Teaspoon of Onion Powder
1 Teaspoon of Garlic Powder
1 Teaspoon of Pepper
1/2 Teaspoon of Salt
1/2 Cup of Margarine
Lemon
Stalk of Celery
5 Whole Garlic Cloves
What To Do
Preheat oven to 350 F
Mix Salt, Pepper, Onion Powder, Garlic Powder together.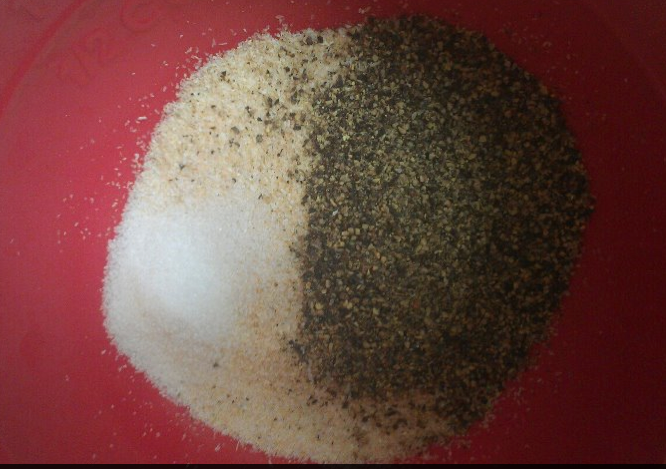 Place Chicken in a roasting pan season inside and out with seasoning. Squeeze lemon over the out of the chicken place the "used" lemon inside the chicken cavity.
Place 3 Tablespoons of the margarine in the Chicken Cavity. Arrange dollops of margarine remaining. Cut celery in half and place into the chicken cavity. Stick whole garlic cloves under the chicken's skin.
Bake uncovered for 1 hour and 15 minutes.
Make sure the chicken's internal temperature is 180 F.
Let the chicken rest for about 15 minutes then serve.
Enjoy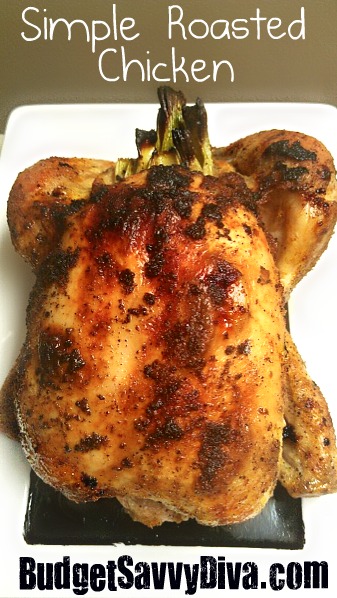 Simple Roasted Chicken
Simple Roasted Chicken - Very rustic.
Ingredients
Whole Chicken ( around 3 pounds)
1 Teaspoon of Onion Powder
1 Teaspoon of Garlic Powder
1 Teaspoon of Pepper
½ Teaspoon of Salt
½ Cup of Margarine
Lemon
Stalk of Celery
5 Whole Garlic Cloves
Instructions
Preheat oven to 350 F
Mix Salt, Pepper, Onion Powder, Garlic Powder together.
Place Chicken in a roasting pan season inside and out with seasoning.
Squeeze lemon over the out of the chicken place the "used" lemon inside the chicken cavity.
Place 3 Tablespoons of the margarine in the Chicken Cavity.
Arrange dollops of margarine remaining.
Cut celery in half and place into the chicken cavity.
Stick whole garlic cloves under the chicken's skin.
Bake uncovered for 1 hour and 15 minutes.
Make sure the chicken's internal temperature is 180 F.
Let the chicken rest for about 15 minutes then serve.
Enjoy
This recipe is adapted from All Recipes