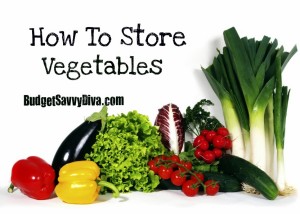 If you like this cooking tip then PIN IT on Pinterest
Make sure to follow Budget Savvy Diva on Facebook 🙂
Find Copy Cat Restaurant Recipes HERE
Find Crock Pot Recipes HERE
Find Gluten Free Recipes HERE
Find more Recipes HERE
Here is the Budget Savvy Diva Cook Tip
Uncooked Vegetables should be kept in the fridge wrapped in parchment paper.
Do NOT wrap vegetables in plastic bags because the plastic traps moisture and can cause mildew.
FREEZING Vegetables
– Wrap Vegetables in parchment paper then in foil. However the texture of the vegetable will be lost when it is thawed.