Update On The Apartment Drama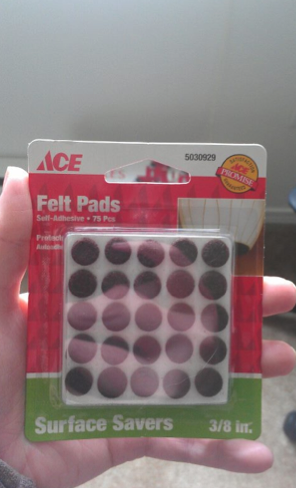 First off I want to thank everyone who has taken the time to read and write comments – I have been reading each one.
To find out all about our apartment drama please go HERE
Since I posted about the problem yesterday I realized that I forgot to mention a couple of things.
   – The units are only 6 years old.
– This apartment complex received very good reviews and is considered to be higher end.
– My dad is actually an attorney but is in trademark infringement – so cannot really help in this situation.
The whole apartment is carpet.
– If they do transfer us it will most likely not be on the top floor but between two floors.
——-
Mr. Savvy and I decided we needed a little break from the apartment and we took Watson to my parents house. Side Note – Watson loves to travel and he is having a hard time with the noise as well ( he cannot seem to be able to relax) so this is why we took him with us – I did not want y'all to think we travel everywhere with him.
As a family we read all the comments and came up with a game plan.
This morning at 8:30 am a door slammed ( I think it might of been the front door which would be the opposite side of the apartment from me) and the glass of water on my desk shook  – so there is still a noise problem. Though I am not certain it was the people right under us.
My dad came over today with little pads to put on the cupboard since the complaint against us was because Watson was messing with the cupboard door causing noise.
Well guess what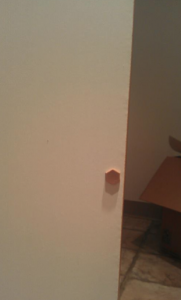 All the cupboard doors already have pads on them. So even with pads a 13 pound cat was able to make enough noise that our neighbors under us were disturbed enough to complain about it *cough cough* Not because they were upset that we complained about them talking on the phone outside at 11 pm at night and being able to hear their conversations through the floors. ( sorry I just had to throw that in there) .
We decided to add even MORE pads to all the doors – it does not really seem to make much of a difference about the noise though.
While we were placing pads on the bathroom cabinets we heard a soft cabinet door open and close. We went to check it out – this is what we found… He would not even look at us in the eyes.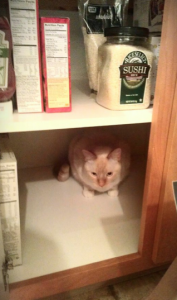 Now we are going to be writing and sending a email to the management office. My husband and I are concerned about the noise level and why this information was not told to us when we asked. We do have email records of us asking about the noise level and how important it was to us when we were still back in Phoenix, AZ but they never responded to it. Another concern we will raise is why were either party told what the other one said – it should of been completely anonymous.
We are also going to be buying some baby proof locks for the cabinets 😉
It took us about 4 months to save the money to make this move and get into this apartment so it is not in our budget to pay the penalty to break the lease.
Again I would love to hear your thoughts and suggestions please leave them in the comment section.