Crock Pot Creamy Spaghetti Recipe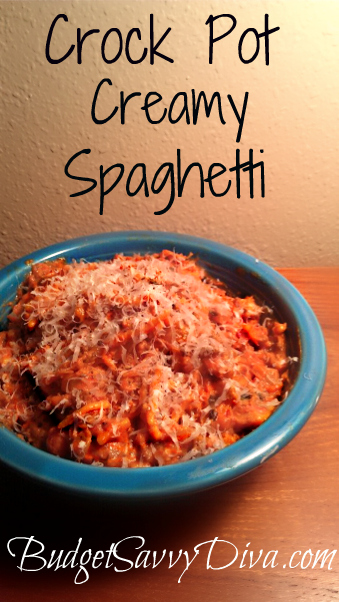 Make sure to PIN this recipe 🙂 Button is right over there or REPIN

 This is one amazing crock pot recipe. Creamy and delicious spaghetti.
PLEASE NOTE – I used corn pasta which is why it turned out to be a little mushy – normally it is much better texture
Everyday at 1 pm PST/ 4pm EST Budget Savvy Diva posts a NEW RECIPE 🙂 I might miss this time every now or then – but I know you understand
Make sure to follow Budget Savvy Diva on Facebook 🙂
Find Copy Cat Restaurant Recipes HERE
Find Crock Pot Recipes HERE
Find Gluten Free Recipes HERE
Find more Recipes HERE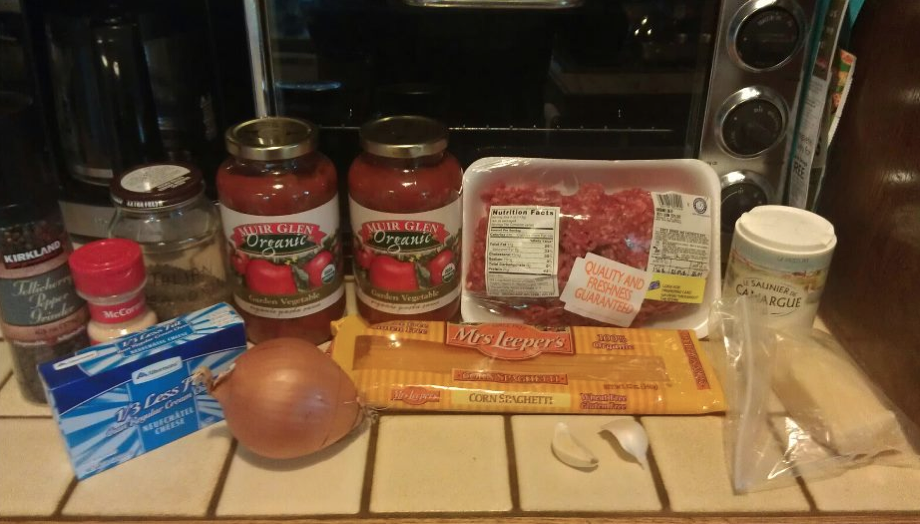 What You Need
1 pound lean ground beef
1/2 teaspoon kosher salt
1/4 teaspoon freshly ground black pepper
2 Minced garlic cloves
1/4 teaspoon garlic powder
2 jars  of pasta sauce – should be around 70 ounces of sauce
1 pound spaghetti noodles
1/2 cup Parmesan Cheese
4 ounces cream cheese
1 cup of chopped onions
1 Teaspoon of Italian Seasoning
1-2 cups chicken broth
Olive Oil ( Not Pictured)
What To Do
Heat up a small amount of oil in a pan – sautee onions. Add garlic and cook for 1 minute. Add beef and brown. Add all seasonings.
In your crock pot over high heat add one jar of pasta sauce.
Layer next with broke spaghetti noodles ( you just break them in half)
Layer with beef.
Layer with  Parmesan cheese and dollops of cream cheese.
Layer with 2nd jar of pasta sauce.
Cook for 3 hours – stir once add chicken stock ( amount will depend on how little moisture is left) and cook for one more hour.
Enjoy 🙂 I like to sprinkle a little more cheese on top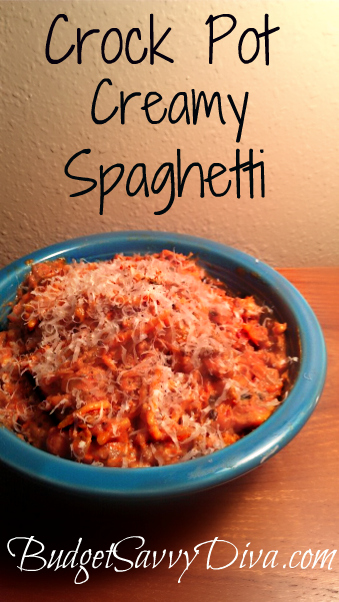 Crock Pot Creamy Spaghetti
Ingredients
1 pound lean ground beef
½ teaspoon kosher salt
¼ teaspoon freshly ground black pepper
2 Minced garlic cloves
¼ teaspoon garlic powder
2 jars of pasta sauce - should be around 70 ounces of sauce
1 pound spaghetti noodles
½ cup Parmesan Cheese
4 ounces cream cheese
1 cup of chopped onions
1 Teaspoon of Italian Seasoning
1-2 cups chicken broth
Olive Oil
Instructions
Heat up a small amount of oil in a pan - sautee onions. Add garlic and cook for 1 minute. Add beef and brown. Add all seasonings.
In your crock pot over high heat add one jar of pasta sauce.
Layer next with broke spaghetti noodles ( you just break them in half)
Layer with beef.
Layer with Parmesan cheese and dollops of cream cheese.
Layer with 2nd jar of pasta sauce.
Cook for 3 hours - stir once add chicken stock ( amount will depend on how little moisture is left) and cook for one more hour.
Enjoy 🙂 I like to sprinkle a little more cheese on top
Recipe is adapted from HERE