Crock Pot Creamy Potato Cheese Soup Recipe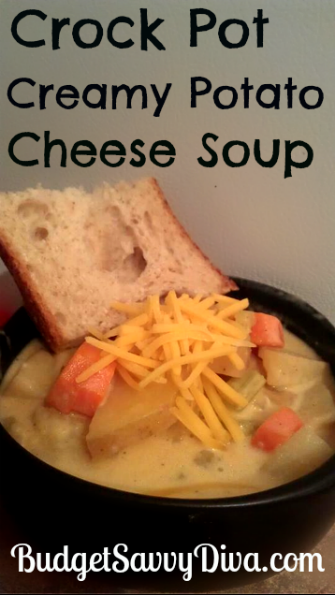 Make sure to pin the recipe or REPIN IT!
Did you pre-order Budget Savvy Diva's Book Yet ?! Over 40 Recipes
Find out all the details HERE
Everyday at 1 pm PST/ 4pm EST Budget Savvy Diva posts a NEW RECIPE 🙂 I might miss this time every now or then – but I know you understand
Make sure to follow Budget Savvy Diva on Facebook 🙂
Find Copy Cat Restaurant Recipes HERE
Find Crock Pot Recipes HERE
Find Gluten Free Recipes HERE
Find more Recipes HERE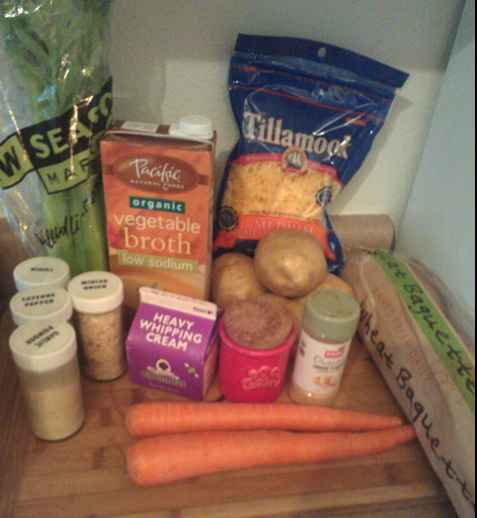 What You Need
2 lbs Yukon Gold Potatoes ( sliced into bite size chunks)
3/4 cups of carrots, chopped
1 tsp pepper
1/2 tsp garlic powder
1/2 tsp onion powder
1/2 tsp onion flakes
pinch of cayenne pepper
1/2 tsp cumin
3/4 Cup of Celery Chopped
3 cups Veggie or Chicken Broth, red.sodium & fat free
1 cup Heavy Cream
2 cups 2% Shredded Cheddar Cheese
Bread
What To Do
Set Crock Pot To Low
Place the potatoes, carrots, celery,  and broth in the crock pot.
Let is cook for (at least 6 hours) until veggies are tender.
Add all the seasonings and cream – stir and let heat for 15 minutes
Add cheese and Enjoy! Serve with bread
Ingredients
2 lbs Yukon Gold Potatoes ( sliced into bite size chunks)
¾ cups of carrots, chopped
1 tsp pepper
½ tsp garlic powder
½ tsp onion powder
½ tsp onion flakes
pinch of cayenne pepper
½ tsp cumin
¾ Cup of Celery Chopped
3 cups Veggie or Chicken Broth, red.sodium & fat free
1 cup Heavy Cream
2 cups 2% Shredded Cheddar Cheese
Bread
Instructions
Set Crock Pot To Low
Place the potatoes, carrots, celery, and broth in the crock pot.
Let is cook for (at least 6 hours) until veggies are tender.
Add all the seasonings and cream - stir and let heat for 15 minutes
Add cheese and Enjoy! Serve with bread