5 Unexpected Ways to Use Toothpaste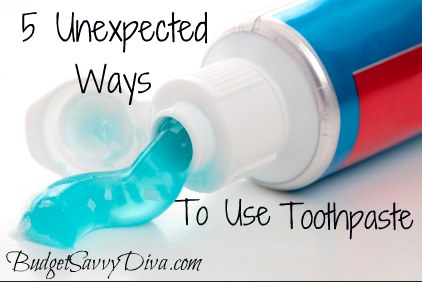 For more Budget Tips go HERE
Other great tips
5 Strange But Amazing Uses For Apples
Lemonade Kool-Aid as Dishwasher Cleaner
Use Aluminum Foil as Dryer Sheet
5 Unexpected Ways to Use Toothpaste
ALL THESE TIPS ARE FOR THE "White Type" Of Toothpaste – Not the Gel Type In The Picture!
Wall patch – Fill in nail holes with toothpaste 🙂 Easy and Simple
Bug Bites–Easy that itch with a dab of toothpaste
Nail Buffer – Use a little toothpaste on your nails to give them a shine 🙂
Wall Cleaner– Writing on the wall ? No problem use  a damp rag and a touch of toothpaste will make the mess go away.
Bathroom Mirror Defogger – Scrub a little toothpaste on your mirror and wipe it away. Result – a mirror that is shower fog resistant.