5 More Unexpected Uses for Toothpaste!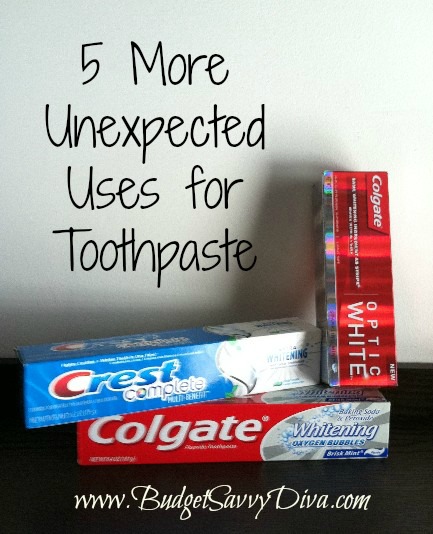 For more Budget Tips go HERE
Other great tips!
5 Strange But Amazing Uses For Apples
Lemonade Kool-Aid as Dishwasher Cleaner
Use Aluminum Foil as Dryer Sheet
5 More Unexpected Uses for Toothpaste
I had previously posted about 5 Unexpexted Uses for Toothpaste.  Well here are 5 more!
All of these tips are meant to be used with the generic white toothpaste.  Not gel or with any "extras".
1.  Help clean up your sneakers – Toothpaste can help clean up the rubber soles around your sneakers.  Just apply a dab and rub with a cloth.
2. Help soothes a burn – Apply a dab to a fresh burn.  Never use on a burn with an open sore!
3. Help decrease the size of a facial blemish – Apply a dab to a bad blemish.  Works best when used overnight.  Just wash off in the morning.
4. Help clean up old jewelry – Just rub jewelry gently with toothpaste and toothbrush and then wipe clean.
5. Help remove scratches from DVDs.  Just apply a thin coating of toothpaste directly to the scratch and rub gently then rinse clean.  Works the majority of the time on surface scratches.