Chicco Polly High Chairs Recall 2012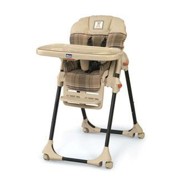 JULY 12, 2012 – U.S. Consumer Product Safety Commission is recalling nearly 500,000 Chicco Polly High Chairs sold at Babies R Us, Toys R Us, Target.com, Amazon.com among other retail outlets.What's the reason? Children can fall on or against the pegs or near the legs of the high chair causing injury or harm. For full details, go to Chicco Polly High Chairs Recall 2012.
If you have any of the products stated, be sure to request your FREE Peg Cover Kit to help prevent injuries or make sure to contact Chicco USA toll-free at (800) 807-8817 for information on how to return the affected product and get your refund.
Thanks CouponPro!