On-Cor Frozen Meals Recall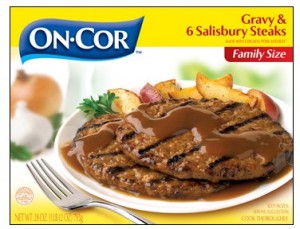 WASHINGTON, Aug. 16, 2012 – On-Cor Frozen Foods, a Geneva, Ill. establishment, is recalling approximately 605 pounds of frozen boneless rib-shaped patties with barbecue sauce because they may have been mispackaged and labeled as Salisbury steak products, the U.S. Department of Agriculture's Food Safety and Inspection Service (FSIS) announced today.
The products subject to recall include: 28-oz. packages of "On-Cor Gravy & 6 Salisbury Steaks made with chicken, pork and beef, Family Size" with the number "EST. 1044G" inside the USDA mark of inspection.
The products, which were produced on July 9, 2012, have a product UPC number of "070575040091" and the following code date located on the right end panel: "BEST BY Jul 09 2013, 1912 11:__ EST 1044G." The products were distributed to retail establishments in Iowa.
Find all the details on this recall HERE.