Recall Roundup: 54,960 pounds of Jennie-O Recalled!!!!!!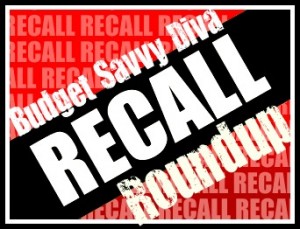 BIG RECALL TODAY!!!!!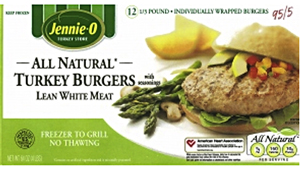 The recall affects approximately 54,960 pounds of frozen, raw turkey products sold in 4-pound boxes, according to a statement from the U.S. Department of Food and Safety Inspection Service.
The recall was prompted after a case of salmonellosis was detected in Wisconsin. After further investigation, the number of people affected grew to 12 people in Arizona, California, Colorado, Georgia, Illinois, Mississippi, Missouri, Ohio, and Washington.
The last known illness was reported on March 14.
Affected products include the All Natural Turkey Burgers with seasonings Lean White Meat with a use by date of "DEC 23 2011" and lot codes between "32710" and "32780." These numbers can be found on the side panel of each box above the opening tear strip.
They recommend washing hands with warm soapy water for "at least 20 seconds before and after handling raw meat and poultry, and cook poultry, including ground turkey burgers, to 165° F, as determined with a food thermometer."