FDA Simply Thick Warning 2012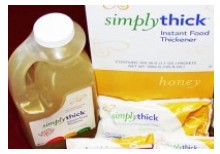 The Food and Drug Administration (FDA) wants parents, caregivers and health care professionals to be aware that infants of any age may face an increased risk of developing a life-threatening condition if fed a thickening product called SimplyThick.
Since May 2011, the agency has identified 22 infants who developed necrotizing enterocolitis (NEC), a condition in which tissue in the intestines becomes inflamed and dies, after being fed SimplyThick. Seven of those infants died.
Symptoms to Watch for:
bloated stomach
greenish-tinged vomiting
bloody stools
Contact your health care professional if your baby has any of the symptoms listed above or if you have other concerns related to using SimplyThick.
If you have any  Simply Thick products, just throw them away.  No refund is being offered at this time.
Thanks CouponPro!