Coca-Cola Text Spam Class Action Lawsuit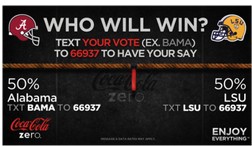 Coca-Cola Text Spam Class Action Lawsuit
A class action lawsuit has been filed against the Coca-Cola Co. claiming they violated the Telephone Consumer Protection Act (TCPA) by sending out unsolicited text messages to thousands of consumers.
The texts in question happened during the 2011 football game between the University of Alabama and Louisiana State University when fans were asked to vote for which team they thought would win. Then were asked to sign up for the Coke Zero Mobile List. And even if you didn't request to join, users still received text messages from Coke Zero.
This class action lawsuit is open to anyone who received text messages from Coca-Cola within the past four years.
Find all the details HERE.