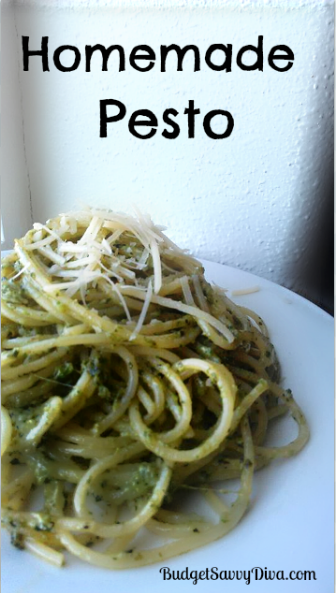 Make sure to pin the recipe or REPIN IT!
Did you pre-order Budget Savvy Diva's Book Yet ?! Over 40 Recipes
Find out all the details HERE
Everyday at 1 pm PST/ 4pm EST Budget Savvy Diva posts a NEW RECIPE 🙂 I might miss this time every now or then – but I know you understand
Make sure to follow Budget Savvy Diva on Facebook 🙂
Find Copy Cat Restaurant Recipes HERE
Find Crock Pot Recipes HERE
Find Gluten Free Recipes HERE
Find more Recipes HERE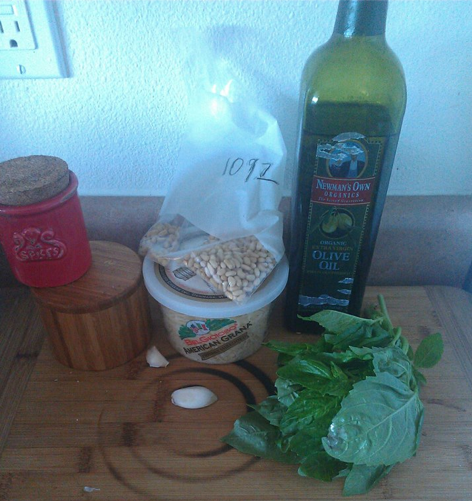 What You Need
1 cup of fresh basil – packed
2 cloves of garlic
3 Tablespoons of Pine Nuts ( I like to roast them on the stove top )
3/4 Cup of grated Parmesan cheese
pinch of salt and pepper
1/2 Cup of Olive Oil
What To Do
Either in a blender ( I use a magic bullet type machine) or a food processor add all the ingredients. Pulse until mixture is a think puree.
Prefect to pair with bread or pasta
Enjoy! Enough for 3 servings for pasta
Homemade Pesto Recipe
Ingredients
1 cup of fresh basil - packed
2 cloves of garlic
3 Tablespoons of Pine Nuts ( I like to roast them on the stove top )
¾ Cup of grated Parmesan cheese
pinch of salt and pepper
½ Cup of Olive Oil
Instructions
Either in a blender ( I use a magic bullet type machine) or a food processor add all the ingredients. Pulse until mixture is a think puree.
Prefect to pair with bread or pasta
Enjoy! Enough for 3 servings for pasta