How To Make Homemade Cat Treats Recipe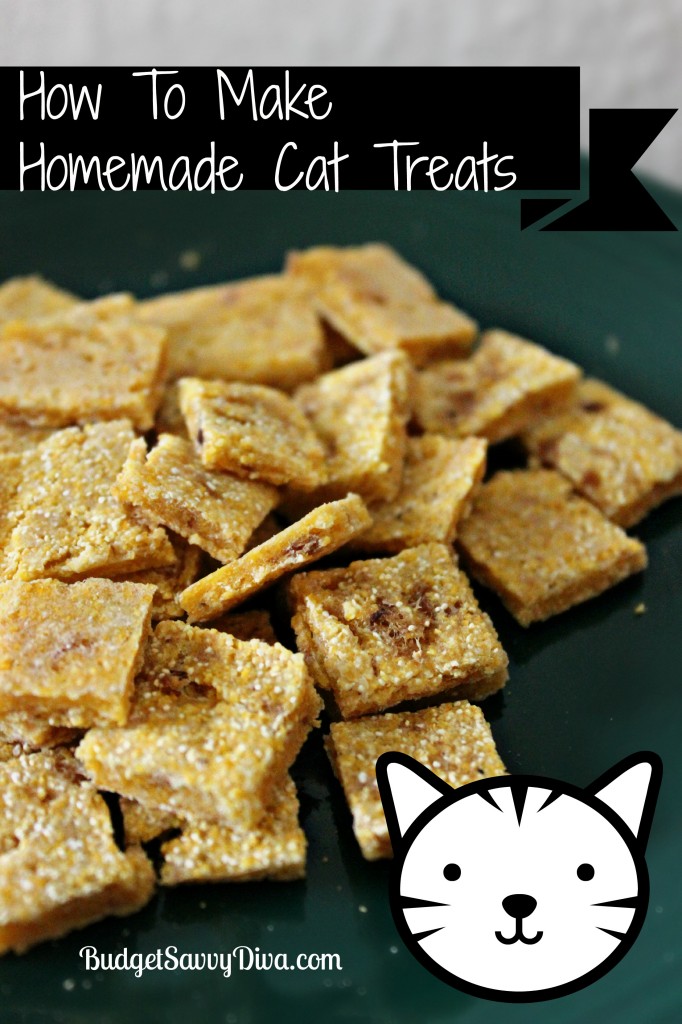 Make sure to REPIN this recipe 🙂
Everyday at 1 pm PST/ 4pm EST Budget Savvy Diva posts a NEW RECIPE 🙂 I might miss this time every now or then – but I know you understand
Make sure to follow Budget Savvy Diva on Facebook 🙂
Find Copy Cat Restaurant Recipes HERE
Find Crock Pot Recipes HERE
Find Gluten Free Recipes HERE
Find more Recipes HERE

What You Need
6 Ounces Undrained tuna
1 Cup Cornmeal
1 Cup Flour
1/3 Cup of Water
What to Do
Preheat the oven to 350
Place all the ingredients in a bowl — until a dough is made
Roll out until pretty thin – 1/4 inch and place on parchment paper lined cookie sheet
Bake for 20 minutes
Break up sheet of "treat" into bite size piece
Give to your kitty 🙂
Enjoy!!!
How To Made Homemade Cat Treats
Yummy Treats for Cats --- but safe enough for humans to eat by accident
Ingredients
6 Ounces Undrained tuna
1 Cup Cornmeal
1 Cup Flour
⅓ Cup of Water
Instructions
Preheat the oven to 350
Place all the ingredients in a bowl -- until a dough is made
Roll out until pretty thin - ¼ inch and place on parchment paper lined cookie sheet
Bake for 20 minutes
Break up sheet of "treat" into bite size piece
Give to your kitty 🙂
Enjoy!!!
Recipe was given to me by a reader 🙂