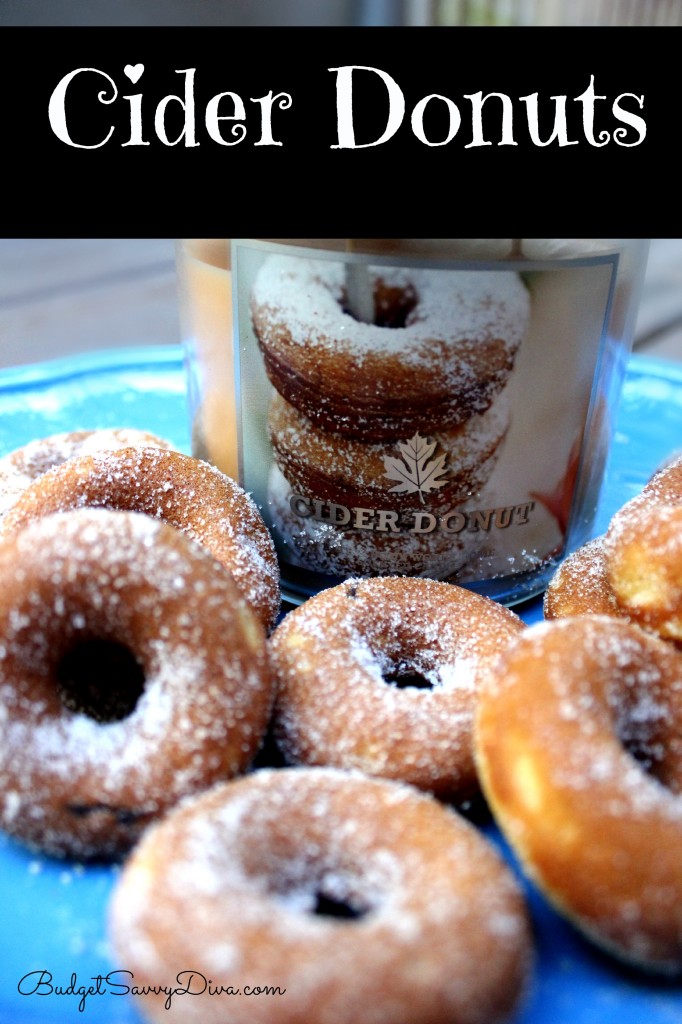 Make sure to pin the recipe or REPIN
Everyday at 1 pm PST/ 4pm EST Budget Savvy Diva posts a NEW RECIPE 🙂 I might miss t his time every now or then – but I know you understand
Make sure to follow Budget Savvy Diva on Facebook 🙂
Find Copy Cat Restaurant Recipes HERE
Find Crock Pot Recipes HERE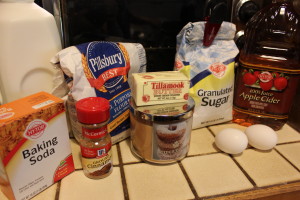 My husband LOVES the Bath and Body Works Candle Cider Donut – he said he wanted to "eat" the candle because it smelled so yummy. I set out to develop a cinder donut recipe 🙂 It came out perfectly
Ingredients
1 1/2 Cups Flour
1 Teaspoon of Baking Soda
1/2 Cup Butter –  Softened
2 Eggs
1 Cup of Sugar
1/3 Cup of Cider
1/2 Cup of Milk
Cinnamon ( 2 teaspoons)
Directions
I ended up buying a mini donut maker for $12 at Bed, Bath and Beyond. You can fry the batter if you like but I rather bake the donuts
Place sugar and cinnamon in a brown paper bag. Close and shake. Set aside
In a stand mixer – cream sugar and butter together
Add eggs and mix
Add milk and cider
Fold in flour and baking soda. Do NOT over mix or your donuts will be tough
You can either fry the batter OR use a baked donut maker
Once the donuts are cooked place them in the sugar bag
Shake  – and enjoy!!!
If you make any of my recipes or crafts please take a picture and place it on Instagram or Twitter – use the hashtag #budgetsavvydiva so I can easily find it 🙂
For more Halloween Ideas Please Check out the Budget Savvy Diva Halloween Pinterest Page
Make sure you are following Budget Savvy Diva on Pinterest
Cider Donuts Recipe
Ingredients
1½ Cups Flour
1 Teaspoon of Baking Soda
½ Cup Butter, Softened
2 Eggs
1 Cup of Sugar
⅓ Cup of Cider
½ Cup of Milk
Cinnamon ( 2 teaspoons)
Instructions
I ended up buying a mini donut maker for $12 at Bed, Bath and Beyond. You can fry the batter if you like but I rather bake the donuts
Place sugar and cinnamon in a brown paper bag. Close and shake. Set aside
In a stand mixer - cream sugar and butter together
Add eggs and mix
Add milk and cider
Fold in flour and baking powder. Do NOT over mix or your donuts will be tough
You can either fry the batter OR use a baked donut maker
Once the donuts are cooked place them in the sugar bag
Shake - and enjoy!!!
Recipe is adapted from HERE