Green Bean Casserole with Bacon Recipe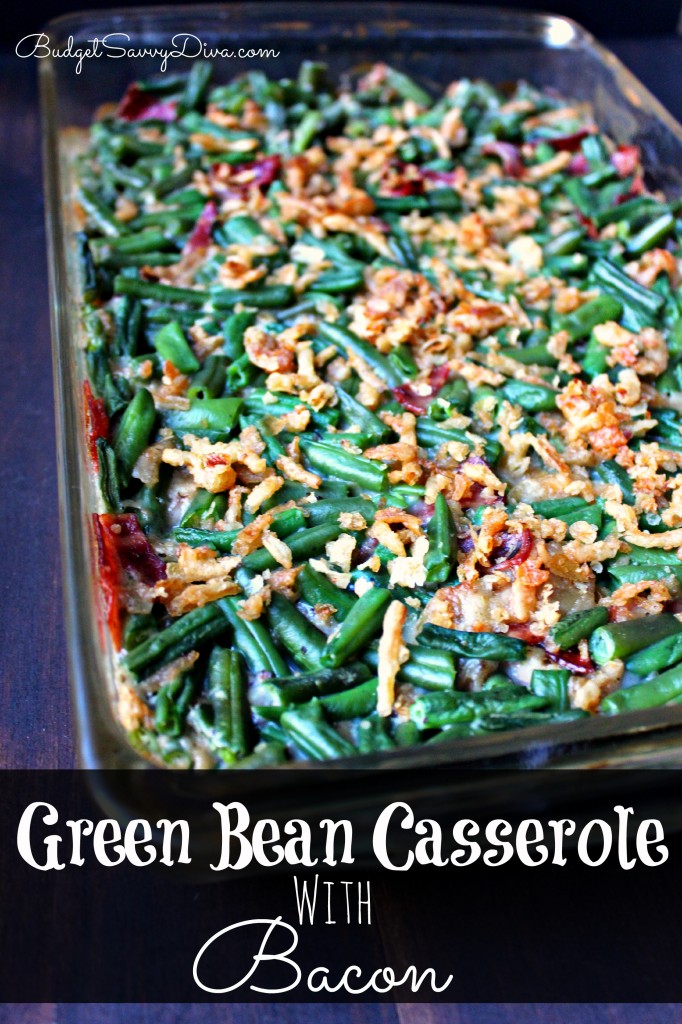 Every Thanksgiving in my family has a Green Bean Casserole – this is how we roll and it actually one of the first recipe that I started making myself ( little fact about me)
My mom came up with the idea to add bacon to the casserole one year ( really can you go wrong with bacon?)
If you add any goodies to your green bean casserole dish let me know – we might try to change up the recipe this year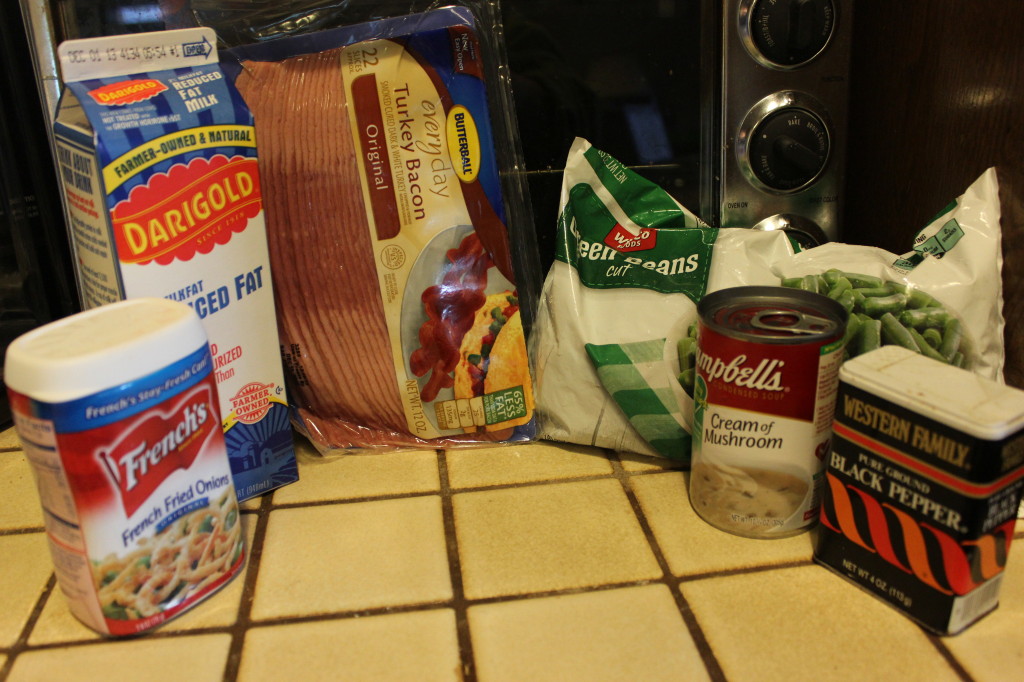 You might notice in the picture above that we use Turkey Bacon — a little know fact about me is that I do not personally eat pork ( now there is a story to this – if I get enough interest I will post the story but you need to comment on this post that you want to hear it)
You can use regular pork bacon I use turkey bacon ( enough said)
You can use fresh green beans – but it is weird but my family has ALWAYS used frozen green beans for this recipe so here we are
You can increase the amount of fried onions used – my husband is not a fan of onions ( and garlic, olives, mayo, mustard, beets, lettuce,  and the list goes on) so I usually go pretty light on the amount of fried onions in the recipe – feel free to double the amount used for the topping.
Enjoy a random shot I took while making this recipe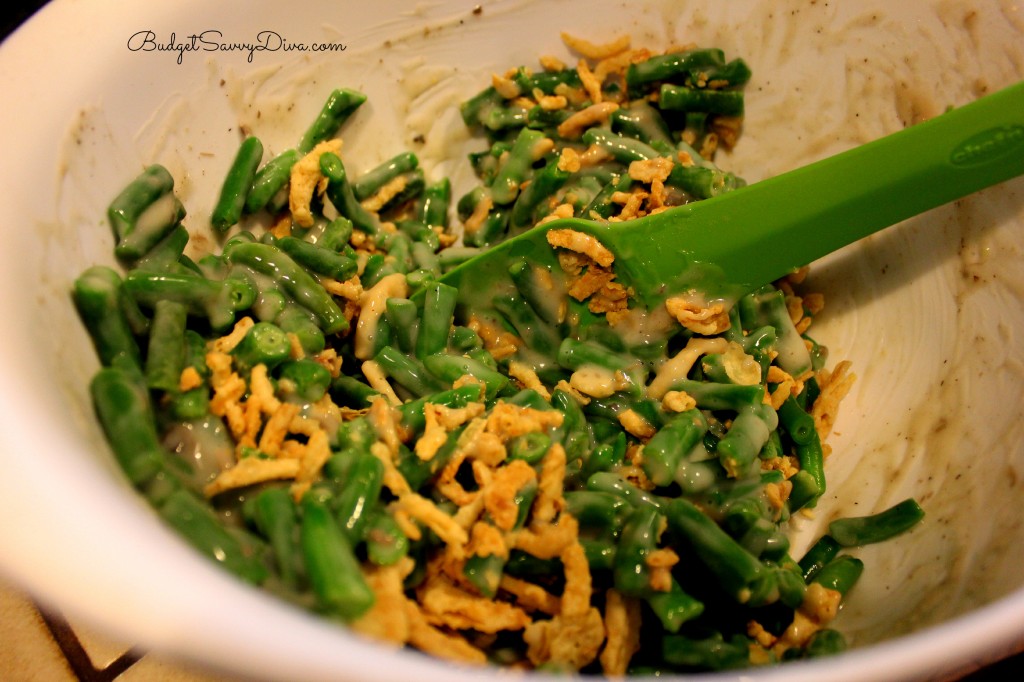 Now let's take a look at some finished photos 🙂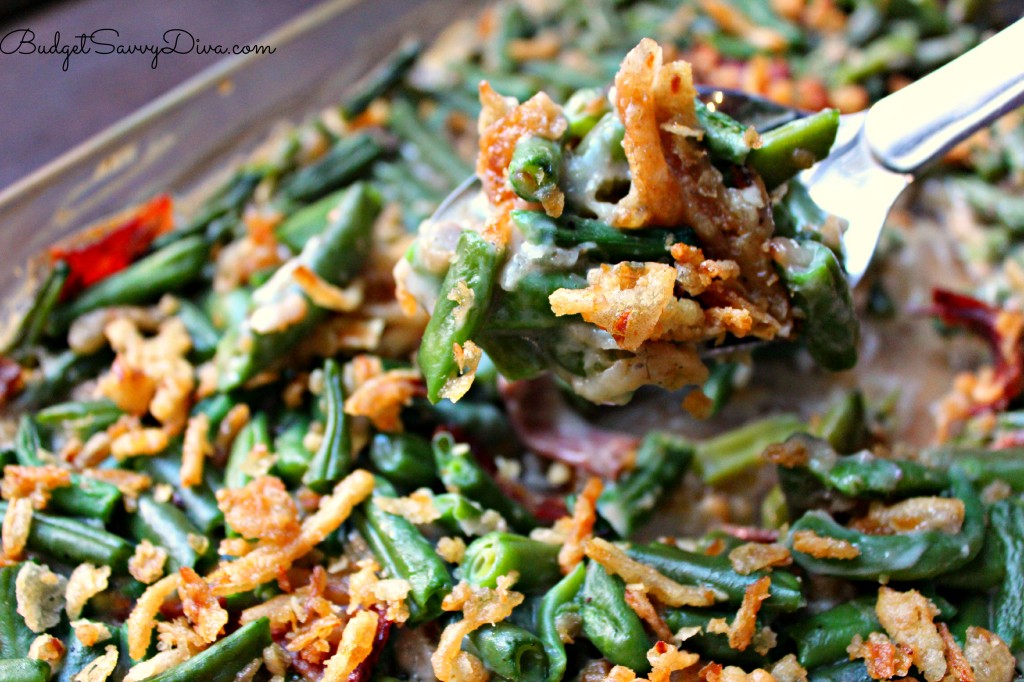 ( Big thanks to my dad for holding the spoon 🙂 )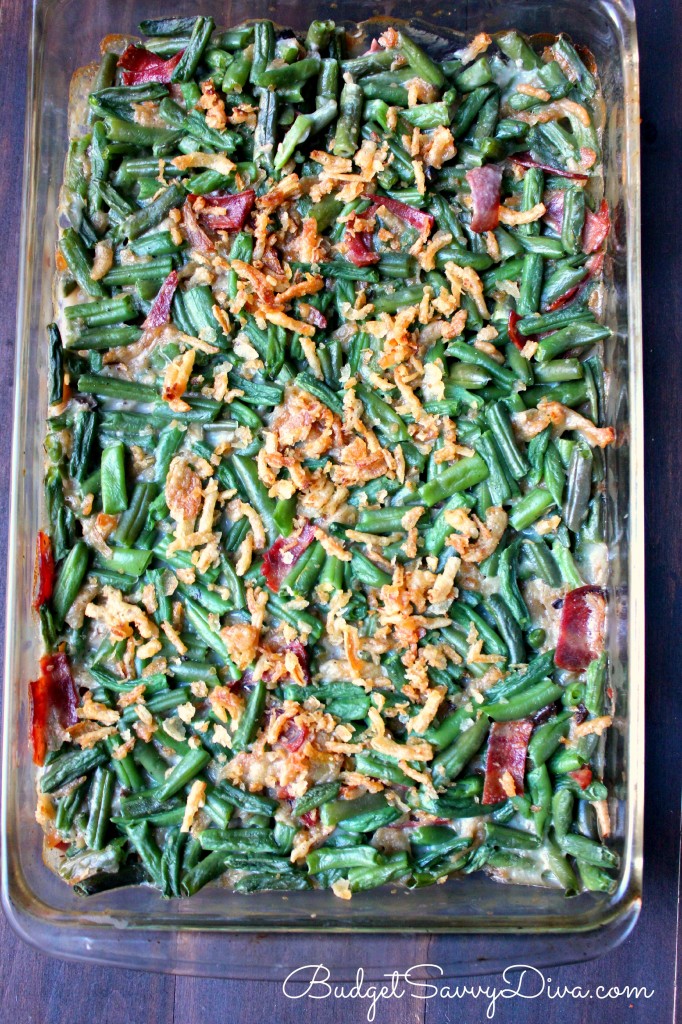 The recipe is enough to feed 6 and it is completely done from start to finish in about 45 minutes 🙂
If you make this recipe or any of my recipe I would love to know what you think — just comment on the recipe and I will be able to see it 🙂
Enjoy the recipe – love you all!
Green Bean Casserole with Bacon Recipe
Ingredients
1 Can ( 10¾) of Condensed Cream of Mushroom soup
⅓ Cup of Milk
¼ tsp of pepper
28 ounces of cooked green beans ( if frozen cook them)
1½ cup of fried onions ( French's work best)
4 Strips of Cooked Bacon - Chopped
Instructions
Preheat oven to 350
In a bowl combine the following - cream of mushroom soup, milk, pepper, beans, bacon, and ⅓ cup of fried onions
Spread into a lightly greased 9x13 casserole dish
Bake for 25 minutes
Sprinkle with the rest of the onions
Bake for 5 - 10 more minutes
Enjoy!