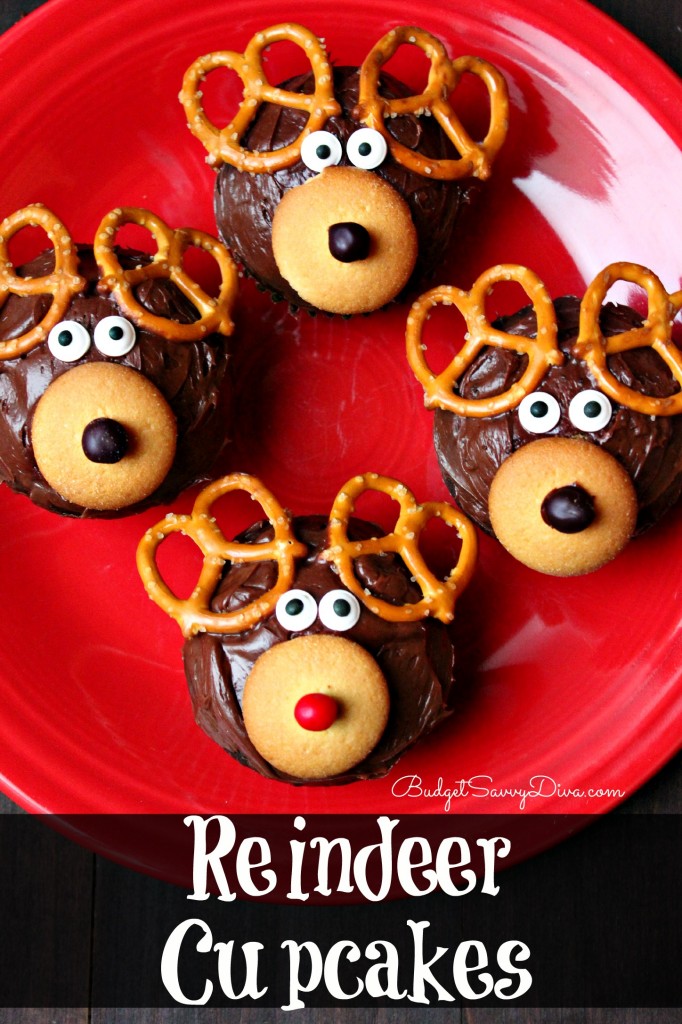 Make sure to REPIN this post 🙂
How cute are these babies!!! It does not take much to whip these up. This is the perfect treat to make for a potluck or if you want a ton of delicious cupcakes for yourself 😉
Can you spot Rudolph?
To make this treat gluten – free simple use a gluten – free cake mix and pretzels which can easily be found at your local grocer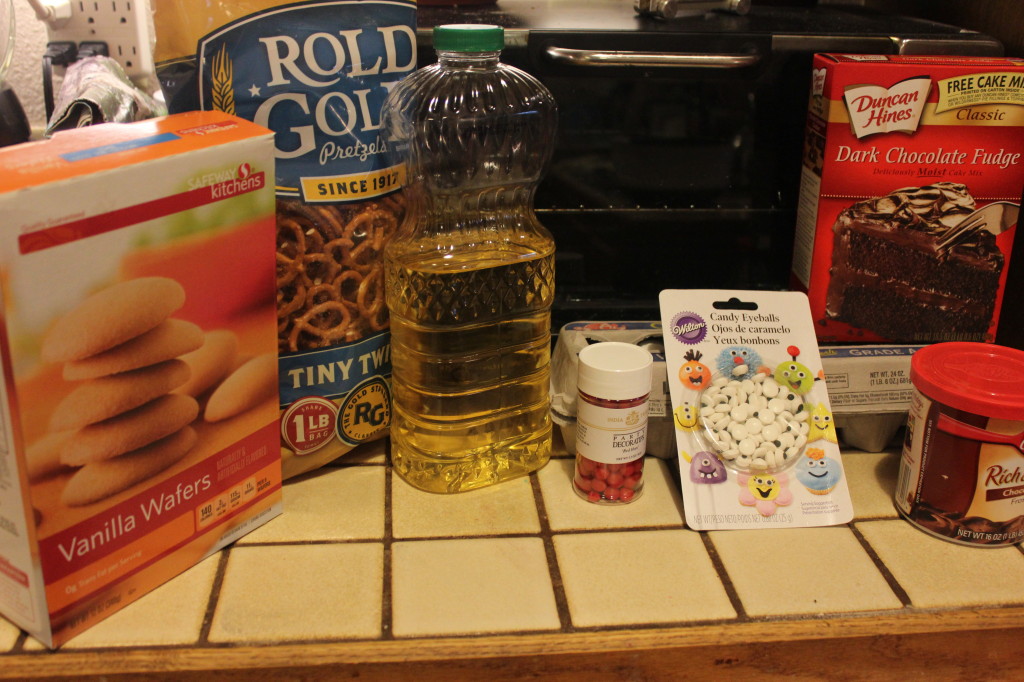 Everything you need to make this recipe is above — everything was pretty easy to find except for those darn candy eyes. I thought I was going to have to go to Michaels to get them ( which is about a 20 minute) drive; however, I lucked out and found them in the baking aisle at Safeway!
I used red dot candies for the noses which were $1.49 from Winco ( found in the baking section) but you can cut the cost by using red hots
I would say this recipe cost me about $4.00 ish for 15 cupcakes completed — which is not too shabby!
Let's get some close up shots 🙂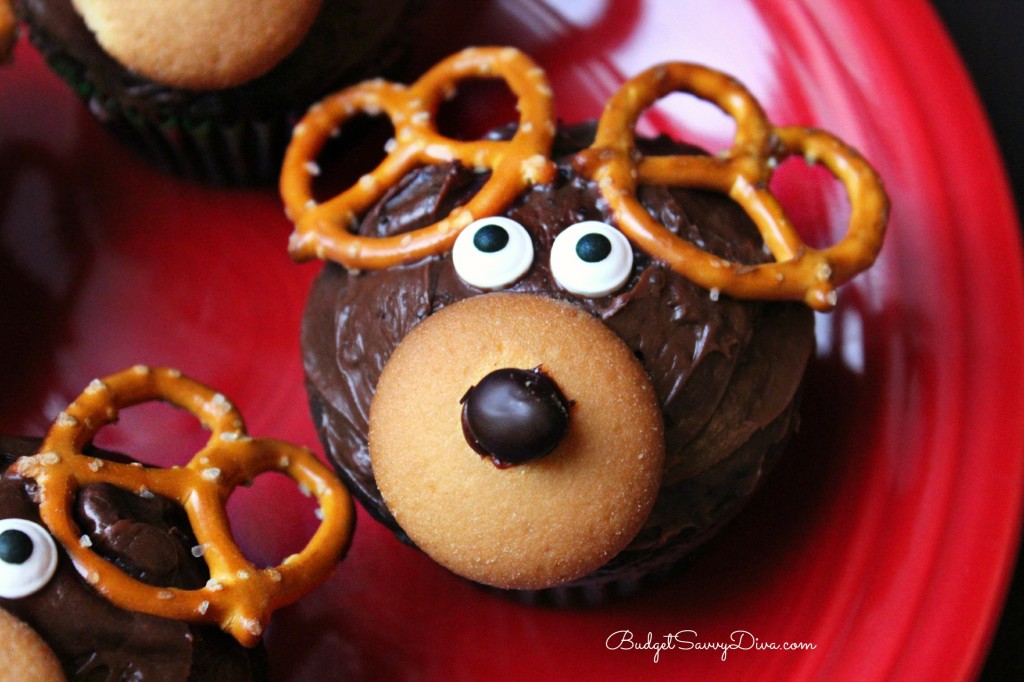 But my favorite is the reindeer with that red nose!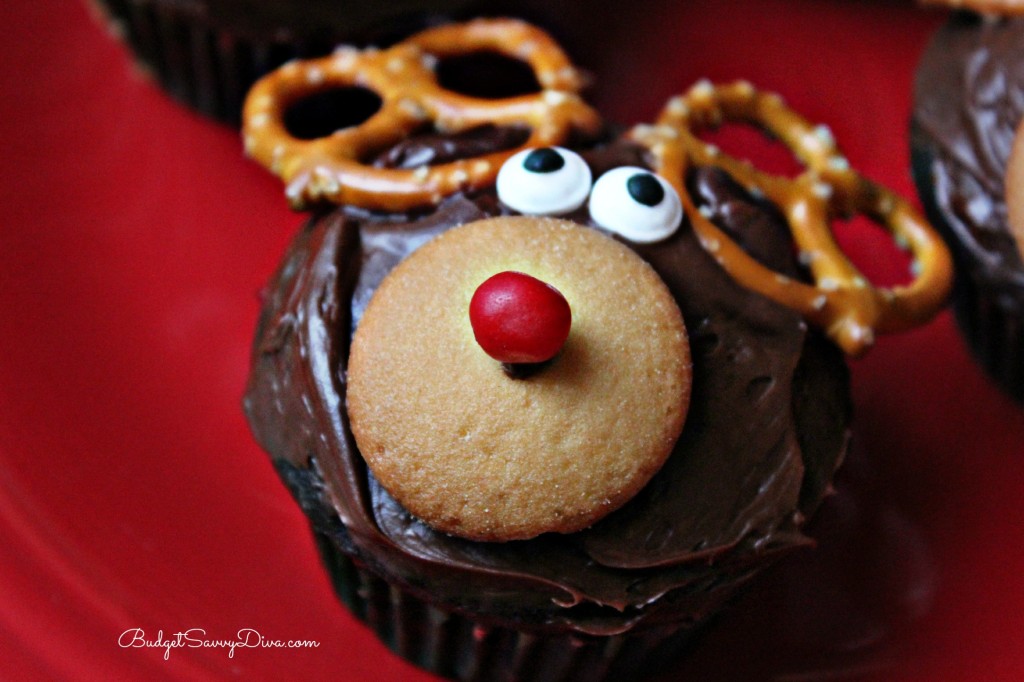 If you make any of my recipes please make sure to comment on the recipe what you thought 🙂 Also if you happened to snap a picture I would love to see it just put it on instagram and use the #budgetsavvydiva 🙂
Love You All!
Reindeer Cupcake Recipe
Ingredients
1 Box of Cake Mix ( look on the box to know how much oil and eggs to add)
Chocolate frosting
Candy Eyes
Red Candies
¼ of Melting chocolate
Vanilla Wafer Cookies
Pretzels
Instructions
Mix the cake mix and preheat the oven according to the instructions on the box
Fill cupcake liners with the mix and bake
Let the cupcakes fully cool
Frost each cupcake and place 2 pretzels on each
Then add the eyes under the eyes place the wafer
Put a little frosting on the red candy and place on the wafer
Enjoy!
If you want brown noses - melt the chocolate in the microwave and dip the red candy into the melted chocolate then place on the wafer