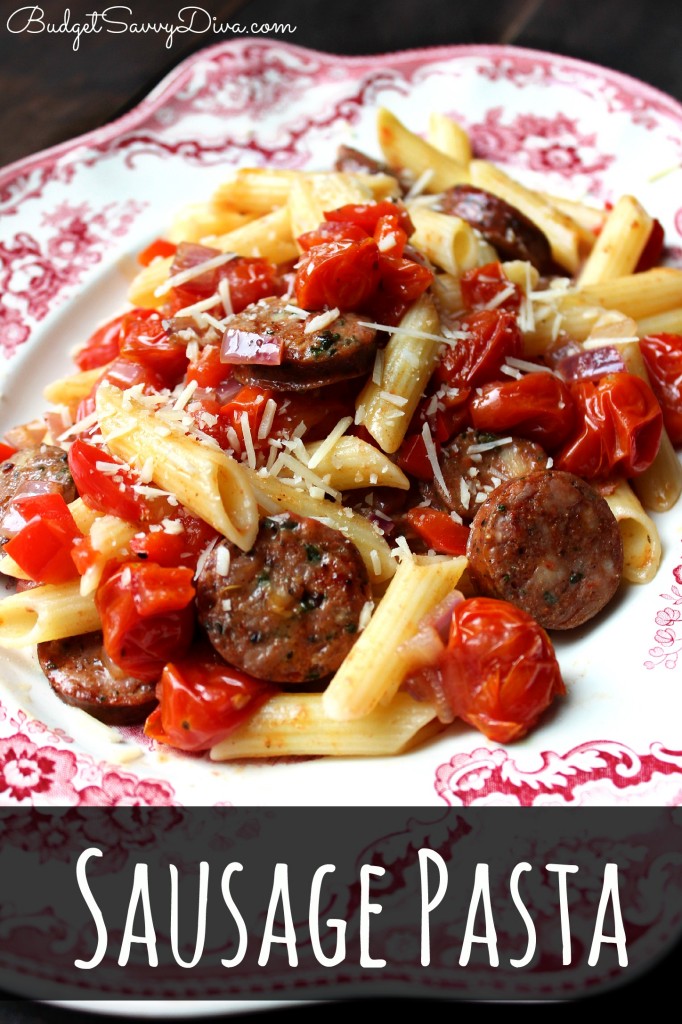 Before anything else why not be awesome and Pin this recipe before you forget 🙂
I have to say without a doubt this is one of my favorite pasta dishes I have ever made
One of my favorite ways to serve pasta is to saute grape tomatoes in a skillet with a big of olive oil. After about 12 minutes the tomatoes will burst and the result is a great light sauce for your pasta which is simple yet so complex in flavor at the same time.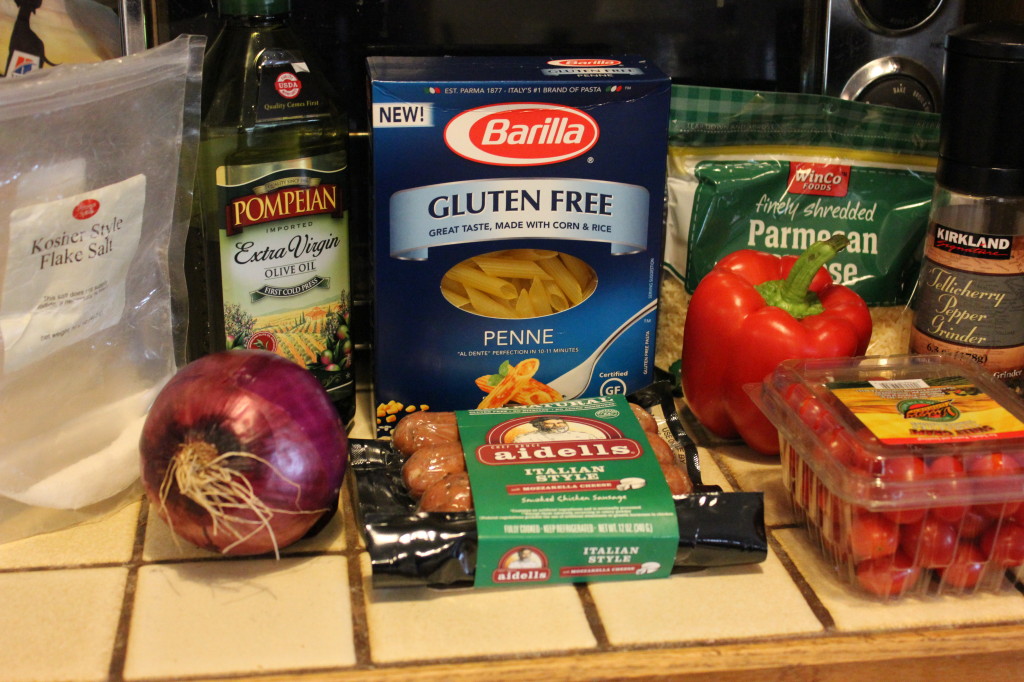 I am using my gluten – free Barilla pasta ( because it is AWESOME) – it is seriously the best gluten – free pasta I have ever has PLUS it is not much more expensive than regular pasta
We are using a red pepper and red onion because it would pair well with the grape tomatos
Now for the sausage we went with a simple Italian style sausage – you can use whatever type of sausage you would like
This dish is gluten – free depending on what sausage you use it could not be gluten – free – just check the label 🙂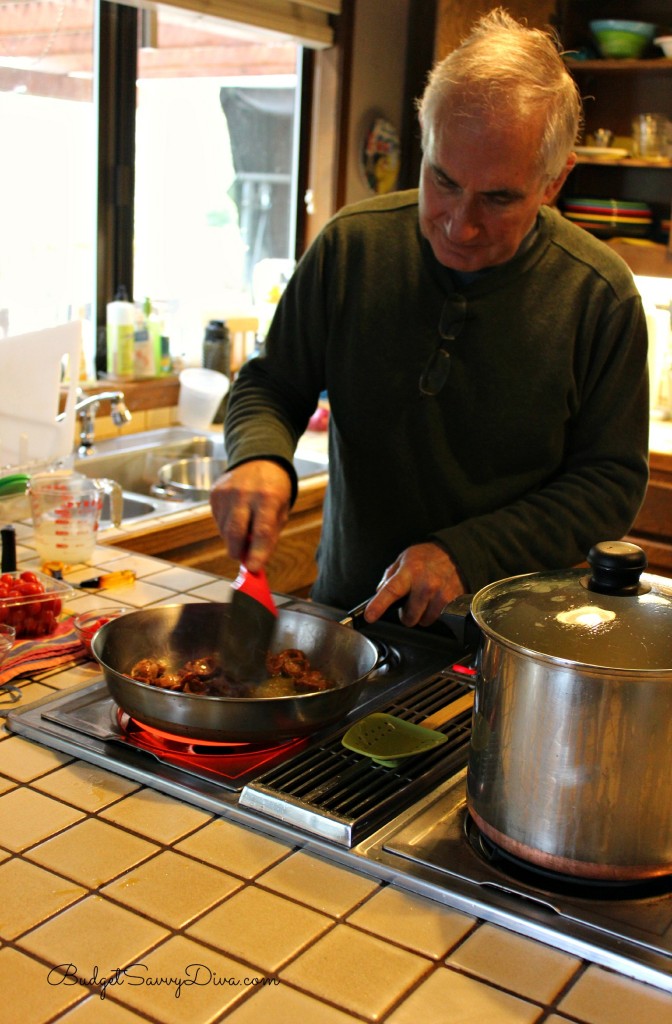 Here is my dad for cooking up the sausage ( go DAD)
I did a video last week of our cooking day – where I show us making this recipe check it out 🙂
This dish is enough for 4 hungry people – rustic but FULL of flavor 🙂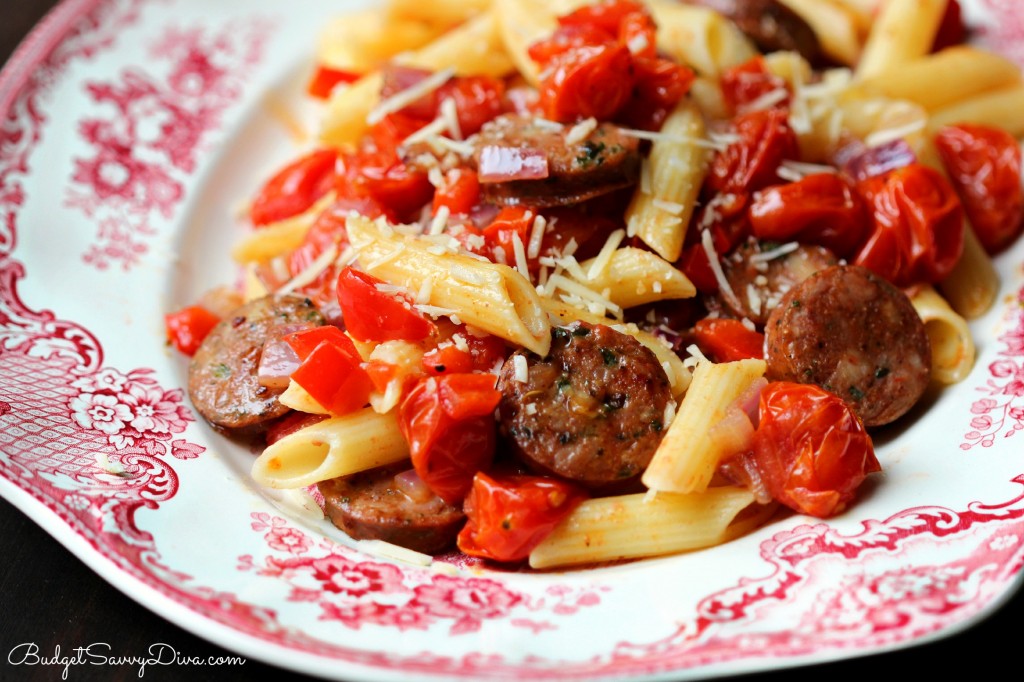 What I love about this dish is that it reheats very well – prefect for leftover for the next day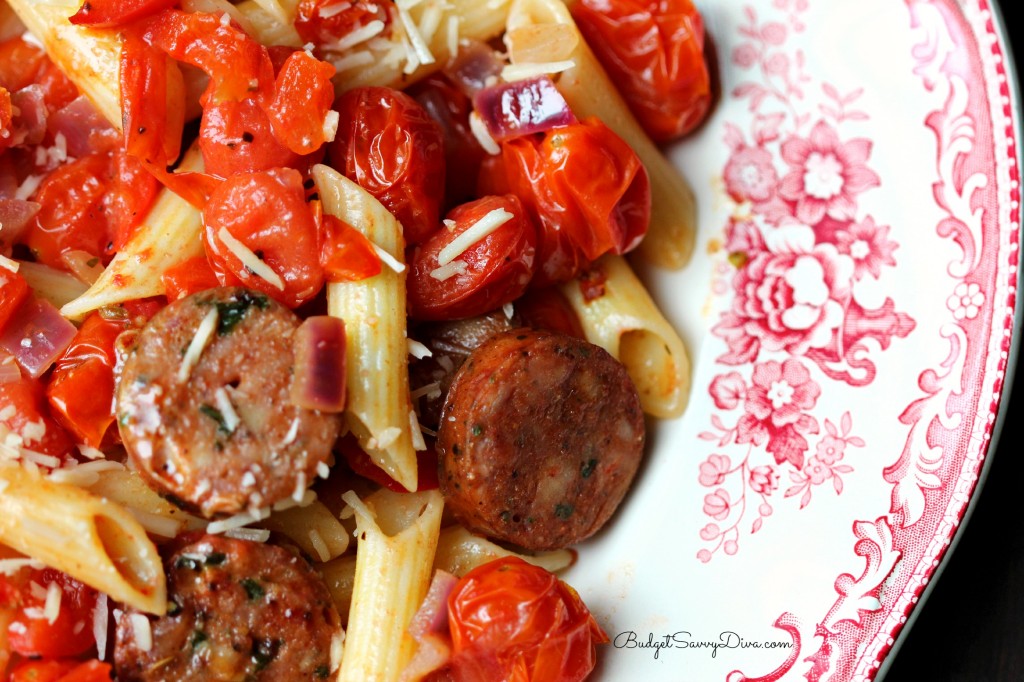 Okay now I am hungry….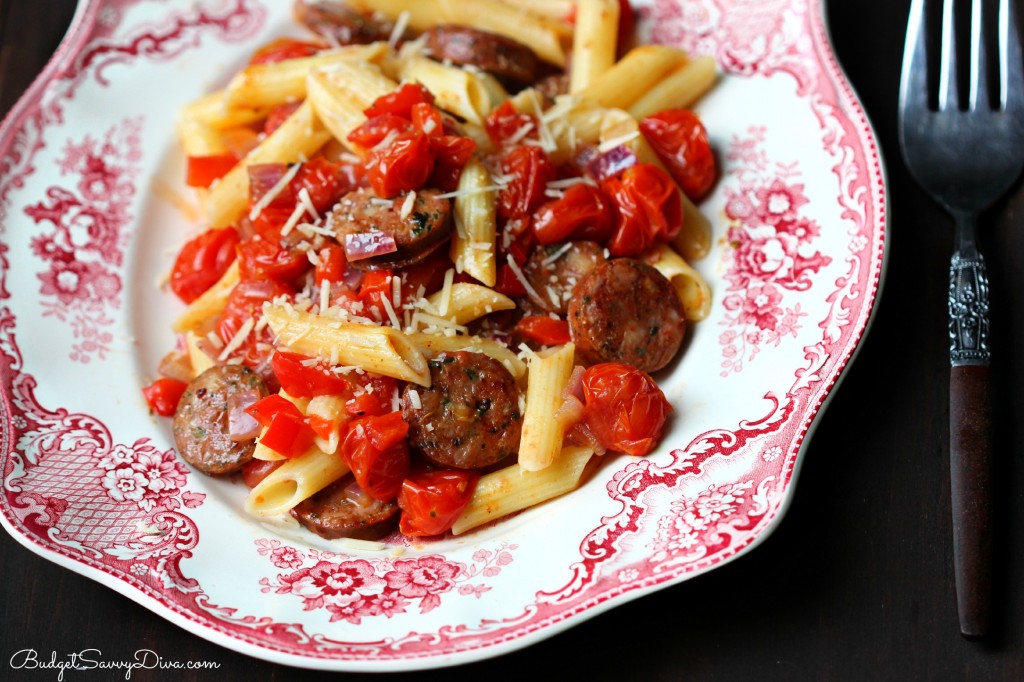 So many of you do not know but I almost did not buy this red platter from an antique store – but I am SOOO glad I did now 🙂
PS Red is my favorite color 🙂
PSS – I really hope you make this recipe 🙂
Sausage Pasta Recipe
Ingredients
12 oz of Penna Pasta ( or 1 box of Barilla Gluten - Free Penne Pasta)
¼ Cup of Olive Oil
¾ Pint of Grape Tomatoes
¼ Red Onion - Chopped
Parmesan Cheese ( garnish)
½ Red Bell Pepper - seeded and diced
½ tsp of Oregano - dry
¼ tsp of salt
½ tsp of pepper
2 sausage links cut into ¼ inch sliced
Instructions
Cook pasta according to box instruction - drain and place back into pot
Heat olive oil in a skillet ( medium heat) add tomatoes - season with salt and pepper. Cook for 3 minutes. Add onions and bell pepper. Cook until tomatoes have popped
In another skillet cook sausage links - once browned add sausage to tomatoes
Cook together for 5 minutes
Add pasta to sausage mixture
Garnish with oregano and Parmesan cheese
Disclaimer – Barilla sent me gluten – free pasta to make some awesome recipe but all the thoughts are my own.