Take Back Opening Day with Kingsford!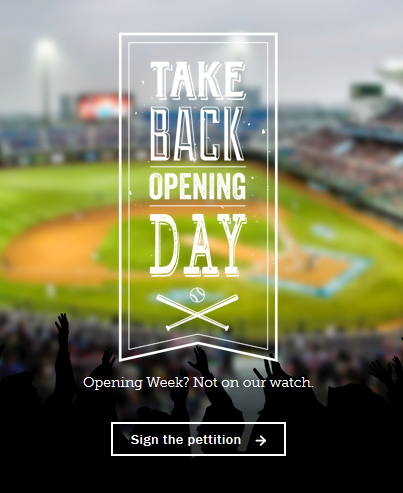 My family has always been big on sports. Even as a child I can recall family game day, where my family would gather at a designated house and watch a big game together. This was usually followed by a big home cooked meal and a rehashing of the game around the dinner table. When I was old enough I was even enrolled in softball myself, so my family had plenty of new fodder to whet their appetite for sports. I remember being so excited on my first day, when our sports complex hosted their annual Opening Day events. It was such a fun experience. There were always food vendors, fair like booths and even the occasional cake walk. Families of the players would come together for a fun afternoon and a gathering of teams to celebrate opening day of the new season.
Even though I've long since graduated from my days of playing sports myself, having children has let me reclaim that little piece of my childhood. Though my own kiddos are only old enough for tee ball at this point in the game, it's always fun to head out to our local sports complex and attend the festivities on game day. It's always a good day for my family after it's all said and done but one thing I've noticed in recent years is that Opening Day is no longer the simple affair that it used to be when I was growing up. Now, instead of having one day dedicated to the new season, the celebration is spread out over the course of several days and it's usually a big to-do.
This is especially true when it comes to major league baseball, a sport that we follow pretty religiously. The days where Opening Day was a day long affair are long gone and now game day approached much like Opening Day in little league: with flourish and spread over the course of 2 days and nights. If you ask me, it's a little overkill and I much prefer the one day celebration that brings everyone together and celebrates the start of the new season for all of us baseball lovers.

I recently partnered with
Kingsford Charcoal
to bring awareness to a petition they have drawn up that is aiming to bring the fun back to Opening Day. With the help of hall of fame catcher, Johnny Bench, Kingsford Charcoal hopes to spread the word amongst baseball enthusiasts with their petition Take Back Opening Day in the hopes of bringing back the much loved traditional Opening Day festivities.
HERE
is a link to the videos and petition PLUS all the details.
If you've become chagrined at the spectacle that is now known as Opening Day and miss the old traditional version that we used to know, you can sign the petition yourself and help get the word out. You can also share the petition with your friends and fellow sportsfans; the more signatures earned the louder our voice and the more effective the petition will be!
This is a sponsored conversation written by me on behalf of Kingsford. The opinions and text are all mine.