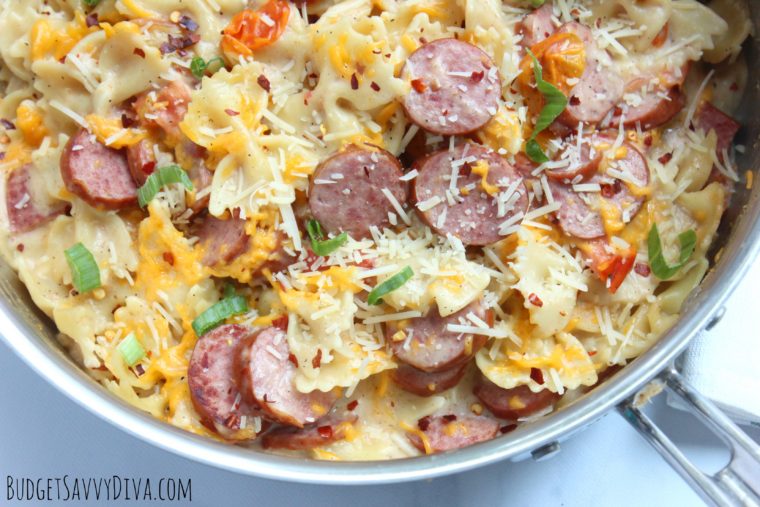 Cheesy Sausage Pasta
Ingredients
1 Tbls olive oil
1 pound sausage
2 Tablespoons of Green Onion
2 cloves garlic, minced
3 cups short cut pasta
1 Cup of diced tomatoes
2 cups milk
¾ cup chicken stock
1 teaspoon of garlic powder
½ teaspoon of salt
½ teaspoon of pepper
Instructions
Place olive oil into your pan over medium heat - add garlic and sausage - cook for 5 minutes
Add sausage and all seasonings - cook for 2 minutes
Add chicken broth, tomatoes, milk, and pasta - bring mixture to a boil - lower heat and cover for 15 minutes Stir in cheese
Serve and garnish
This is cheesy pasta weather – heck anytime is cheesy pasta time. The only thing I would try different with this recipe next time is different style pasta. No one in my family digs bow tie style pasta – even my husband of 6 years told me recently he hates penne pasta. This was total news to me – who does not like penne ?! I also will add in some spinach next time – with enough cheese Eric will eat veggies so I think I could have sneaked some more in.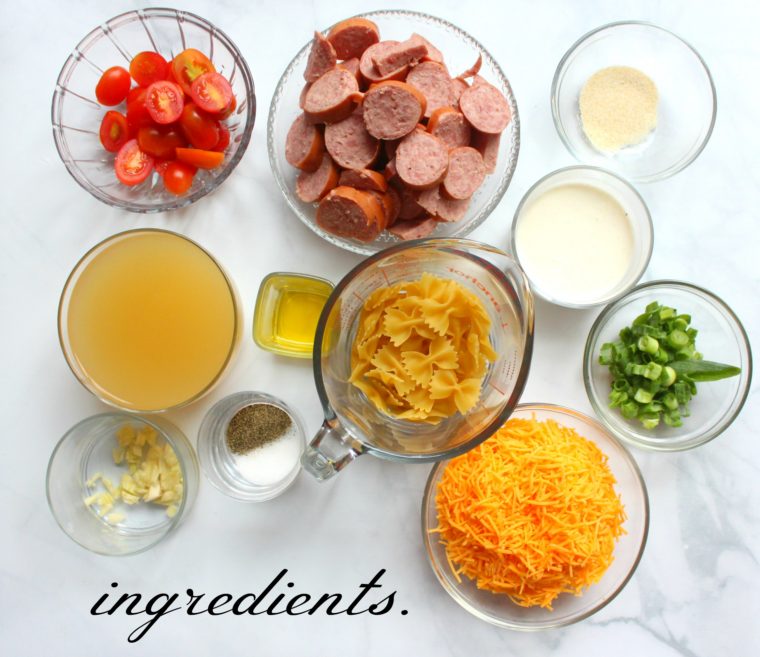 You can use a can of tomatoes if you want – I just had some grape tomatoes from the garden to use up. I would love to add 1 cup of sour cream to this recipe I really think that could take it over the edge. This recipe is enough for 4 hungry people to eat. I would say it is easily 6 servings – but in my family we tend to eat 1 1/2 servings each ( especially Eric).
If you do make my Cheesy Sausage & Pasta please make sure to comment and let me know what you thought – I do think you will like the recipe ( it pleased my husband and he is a pretty picky eater). This is also a one pan meal – meaning everything cooks in one pan which means less clean up.