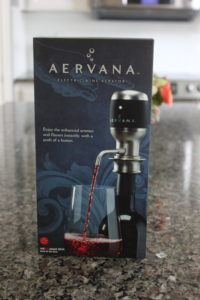 If you have a wine lover on your holiday shopping list, be sure to check out this great wine aerater!
All you have to do is uncork a bottle of red (works best with wines you would normally want to let "breathe" for awhile), place your Aervana on the bottle, push the button on top, and— voila— your wine is perfectly aerated, while it's served into your glass by your own, personal, little tap.
When you're trying to get the turkey in the oven, time the Brussel sprouts right, and feed 20 people, who has time to decant, right? Aervana is great because it will make those reds showcase at their best in time for dinner, the push-button tap will be super fun at the table, and it makes a great host gift to boot.
This post is part of the Budget Savvy Diva Holiday Gift Guide 2016 – make sure to check it out! Disclaimer – This product was provided for free so I could get some great photos and add it to this list. Nothing is posted that I have not checked out myself. Everything on this list is something I would buy myself.