Changing Station For Twins
Disclosure: This shop has been compensated by Collective Bias, Inc. and its advertiser. All opinions are mine alone. #FirstMomentsMadeSimple #ForBetterBeginnings #MomsFirsts #CollectiveBias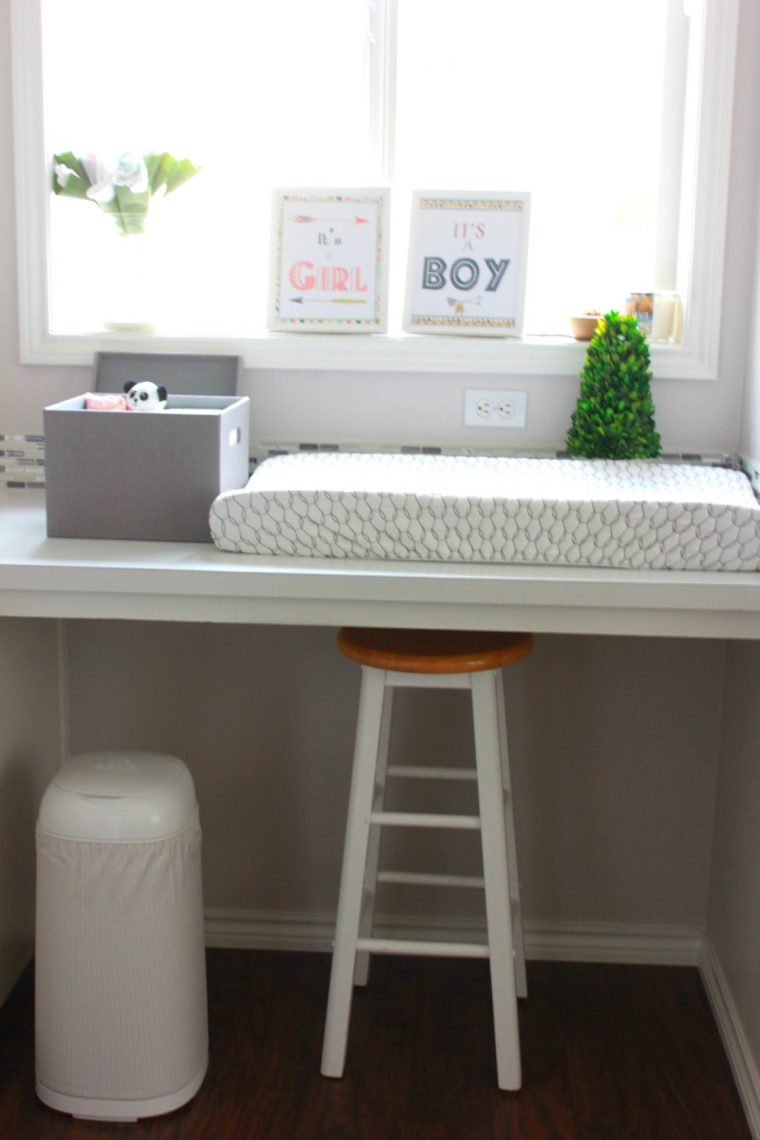 I had another ultrasound yesterday and the technician had to do battle to take on my active babies.  They are rambunctious even now and apparently the word is already spreading around the hospital about how difficult they are being.  It's adorable to watch them move, but I'm afraid Eric and I may be "in for it."  Activity is one thing, and I know they won't start running around the house right out the gate, but if there is one thing that raising Watson has taught us, it's that with great energy comes great amounts of pooping.  Thankfully, we took a class recently for expecting parents of multiples and the diaper changing tutorial was one of the more informative and helpful segments of the class.  Babies "R" Us offers classes with it's registry, which we have signed up for, but this class was through Providence.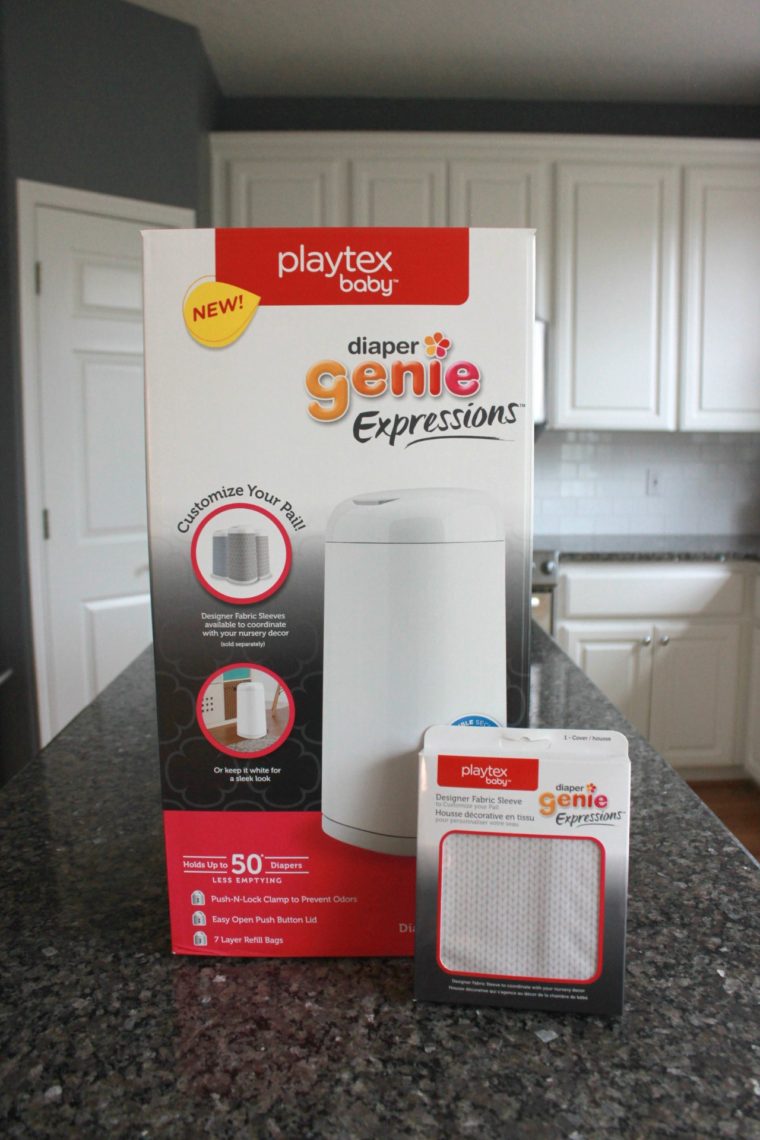 Eric and I are fairly confident that diaper changing will be fairly well executed, but fear of blowouts still lingers in the back of our minds and the putrid smell of soiled diapers is so ghastly.  The concept of throwing diapers away and letting them pile up in a pail is going to take some adjusting.  I right away got a Playtex Diaper Genie Expressions™ at Babies "R" Us, because I know that it is going to get us started off on the right foot. Playtex Baby ™ makes for better beginnings with their Diaper Genie products which is why it is the number one selling diaper disposal brand.  They equip every Diaper Genie pail with Odor Lock System which is great because I want our pretty nursery to smell pretty, too.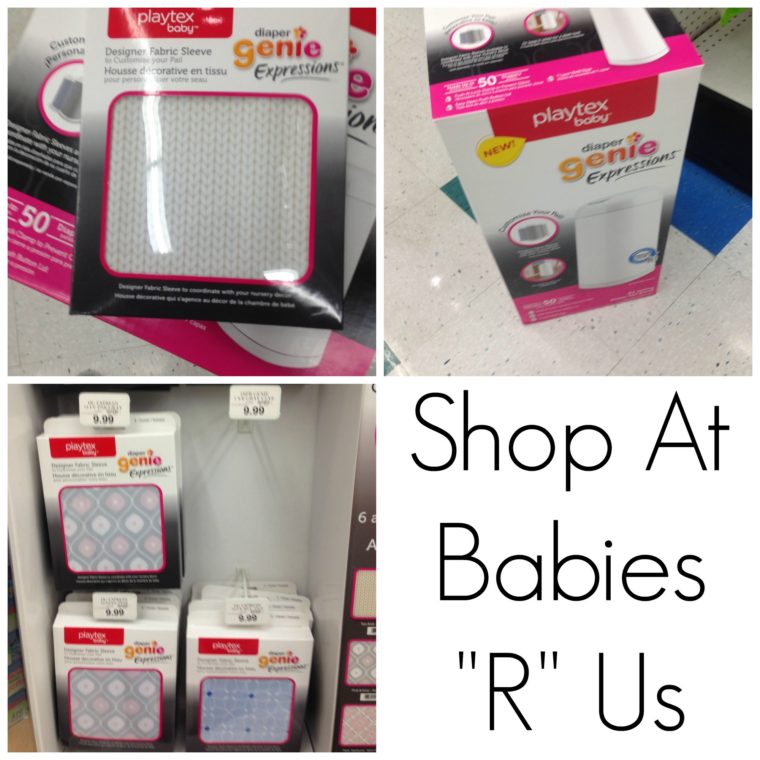 Babies "R" Us has a great selection of Diaper Genie products including Diaper Genie Complete which ranked first in the diaper pail category and was selected as a Moms' Pick Best of 2017) at the Baby Center Awards.  I purchased Diaper Genie Expressions, because I value the ability to customize the appearance.  I was able to get a gender neutral color and design and it will be a nice accent to the diaper changing station, where I have also created a cute little DIY box for all the things I will need when stuff happens.  In addition to maximum odor control, it holds up to 50 newborn diapers.  Customizing it was as easy as 1-2-3 with the simple slip on sleeve.
My box is a perfect sized grey box I assembled from Eric's favorite Swedish furniture/meatball destination.  I filled it with a row of diapers for easy access, and packed in a package of wipes a swaddle and a cute little rattler to hopefully stop them from squirming.  I chose to have a box with a lid so that I can have the option of storing it or keeping out for easy access.

One of those Babies "R" Us registry classes I mentioned is the Registry 101 event.  It's purpose is to help mom's to be who are exploring the baby registration process.  This event is offered nationwide on the first Saturday of the month and you will be guided on what you need by a registry expert.
If you register at Babies "R" Us, be sure to also attend the Completion event after the birth.  On the third Tuesday of the month, the event is held to close out your registry and take advantage of the completion discount for registered that have not been purchased..