Cauliflower Mac and Cheese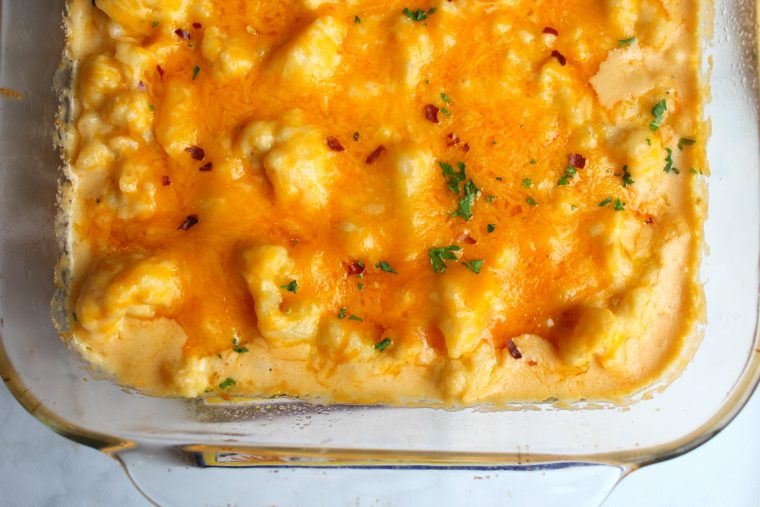 As part of our 2018 health kick I am focusing on vegetables and substitutions.  I've been cooking more with turkey and/or veggie proteins and I made a delicious side dish with cauliflower that is so scoopably delicious.  This dish will make veggies disappear from a plate like magic.  Admittedly it doesn't taste as much like it's namesake as it looks.  It's more like a super cheesy broccoli dish, but it is so, so, sooooooo good.  Plus, it's less filling so you can eat a lot more of it.  Trust me.  You'll want to.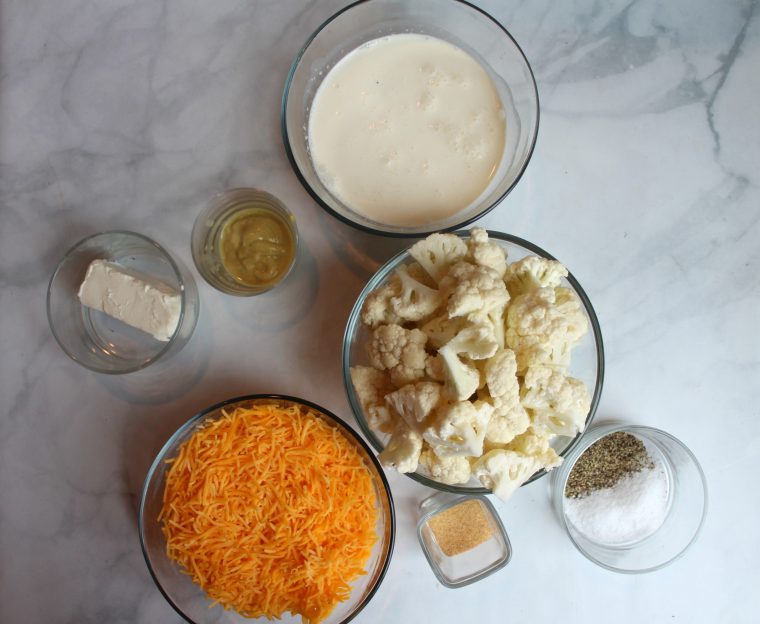 It's very simple to make and way worth the small effort with only 30 minutes total prep/cook time.  This recipe contains 4-6 rich and creamy servings of an ooey-gooey, hot and chewy, cheesy side dish.  This dish yields nearly 10 grams of protein plus calcium, vitamin D, Iron and remarkably little sodium.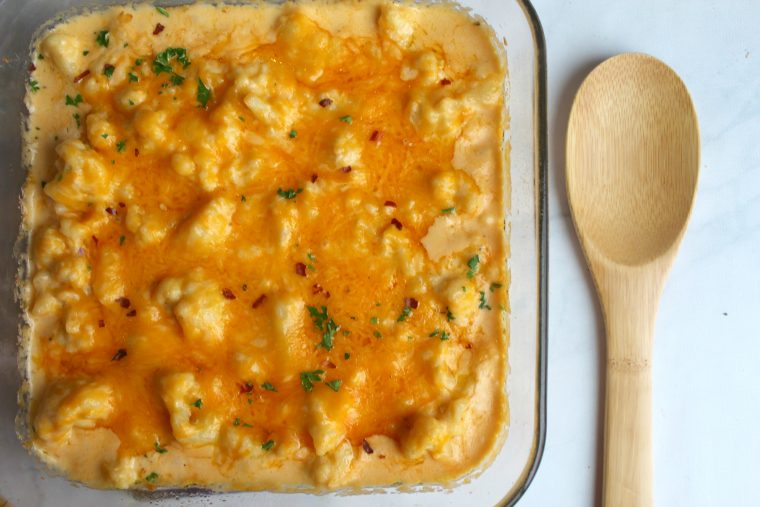 Cauliflower Mac and Cheese
Ingredients
½ tsp salt
1 large head of cauliflower cut into bite-size chunks.
1 cup heavy cream
2 oz. cream cheese
2 tsp dijon mustard
2 cups shredded sharp cheddar (set ½ cup aside)
¼ tsp black pepper
¼ tsp garlic powder
Instructions
Preheat oven to 375° F
Boil water in a large pot. Season with salt.
Coat an 8X8 baking dish with vegetable oil.
Boil cauliflower for about 5 minutes until tender. Drain well and transfer the cauliflower to the baking dish.
Simmer the cream in a small saucepan. Add cream cheese and mustard, whisking until smooth. Continue stirring and add 1 ½ cups cheese, salt, pepper, and garlic. Whisk for 1-2 minutes or until cheese is melted and season to taste.
Remove from heat and pour over cauliflower. Stir until well blended.
Top with ½ cup shredded cheese and bake for about 15 minutes, or until cheese turns brown and bubbly.
Let stand 5 minutes before serving.