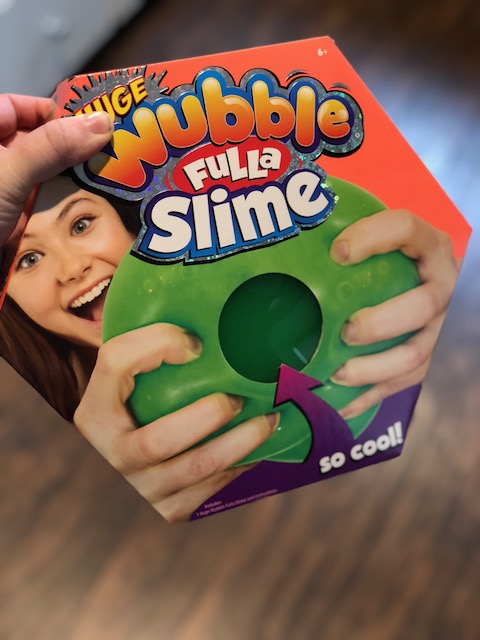 While I was looking for age appropriate toys for my little ones, I came across Wubble Fulla.  These are Wubble balls, which are those crazy bubble looking balls made out of expandium, that are full of marbles or slime.  These awesome toys are for kids aged 6 and up. My husband and I had fun with them. They are all squishy and stretchy. If you love slime like my husband does, but hate mess like I do, this is the perfect toy to keep your kids entertained or even to play with yourself.  I think they kind of work like a stress ball or relaxation tool to free my thoughts. Who am I kidding, It's fun!
Wubble Fulla Marbles
The ball is only 4 inches in diameter.  The plastic is stretchy and– I don't know how else to say it– super weird.  It's full of soft little "marbles" that remind me more of boba. You can pull and stretch to your hearts delight and feel the crazy lumpy texture of the marbles as you play and test the elasticity of this silly sphere.
Wubble Fulla Slime
Slime contained, but just as squishy and goopy as always.  The ball is super strong, but the way Eric stretches and pulls at it I can't believe it stays intact and doesn't get all over the place.  You can grip the top and hold it up like a droopy sack of green go and it bounces back into shape. It is unlike any other slime toy I have ever experienced.
Where to Buy
Get your Wubble Fulla.  Wubble Fulla balls are also available to purchase at Target and Toys "R" Us.  Try and find one that you can actually play with so you can see for yourself how cool it really is. Disclaimer – This is a paid post