GE Premium Finish Options at Best Buy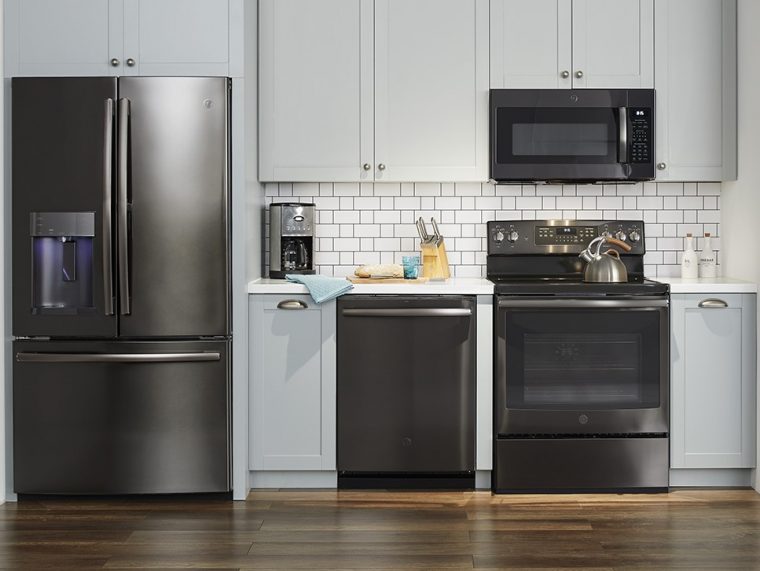 It's that time of year for spring cleaning and dusting off your list of home DIY projects.  There's always some major changes and upkeep to see to at home. Landscaping and gardening for one… For us it is the babies' Playroom.  Of course there is always the laundry room and the kitchen. Especially when those old appliances start becoming less reliable or won't work at all.  When it's time to give your home appliances an update there is no better place to turn to than Best Buy.
They have all the great new GE appliances that are leading the industry in premium finish options to give your kitchen a bold and sophisticated new look.  The options available will help you create a personalzed, stylish appearance. You'll make a statement with a new high gloss finish. Plus they are easy to maintain and clean.
If you want to make a statement with your kitchen update, go for a GE Black Stainless.  It combines the brushed metal appearance we all love in stainless steel, with a sleek and refined black hue that is fresh and bold.
The glossy black finish adds elegance and originality to contemporary stainless steel look to improve your kitchen's design.  It's a bold personal touch GE has added to it's repertoire of finish options. The High gloss finish Is gorgeous and it stays gorgeous with limited upkeep.
Maintaining and cleaning Black Stainless appliances is easy.  They are fingerprint resistant, which means you don't have to worry about smudging the exciting new and elegant fixtures you add to your up to date kitchen.  The surface wipes clean in just seconds, keeping the finish full of character.
Take a look for yourself here.
Whatever it is you are looking for to update your appliances and bring your home up to date, you can find it at Best Buy.