LG Kitchen Packages From Best Buy: Update and Save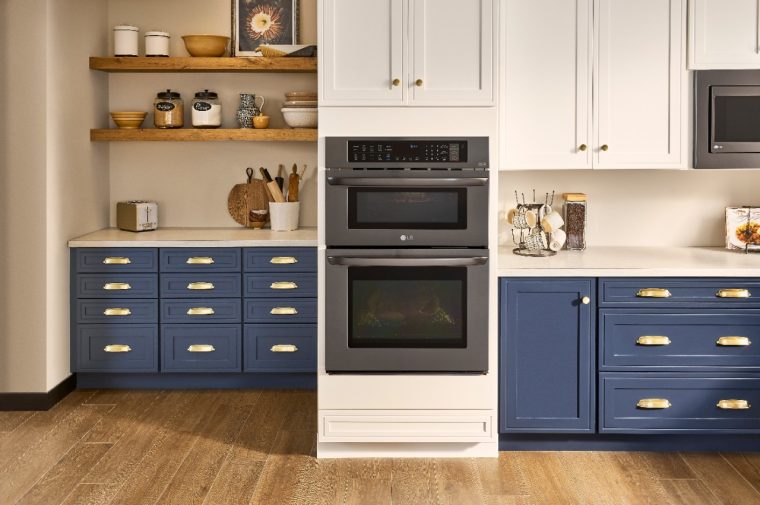 I have an exciting offer for those of you updating your kitchens!  More information below. For those of you who don't know about the newest LG kitchen products they are super smart and they really take cooking technology to the next level.  The LG combination double wall oven gives us the even cooking of a convection oven and the speed of a microwave.  That's only the beginning!
LG COMBINATION DOUBLE WALL OVEN
This is one of many incredible new life simplifying LG appliances available at Best Buy.  It has amazing features and there is an offer right now at Best Buy that will make updating your kitchen for spring an even easier decision!
Dramatically Reduced Cook Time
LG has a TurboCook TM Speed Oven that brings the best of microwave and convection cooking in one incredible machine.  You cut cook time in half with this double wall oven. Just think about eliminating preheating alone! This new technology gets things done up to 4 times faster than a conventional oven.  You can bake whole chickens, and pizzas with more flexibility.
LG Precision
The speed without sacrificing quality is what really attracts me to the LG combination double wall oven.  True Convection bakes crisp delicious food with precise heat and it's easier to do than ever before. Continual evenly distributed precise temperatures are the secret to getting the right flavor and texture when your meal comes out of the oven.
LG Luster
I even love the black stainless steel.  It takes traditional stainless steel and elevates it in true LG style.  The new twist on the standard stainless steel look in most kitchens gives the finish a warmth and sophistication, not to mention a smooth satin shine.  It's new yet timeless and it matches with anything.
Best Buy Special Offer!
Now the goat news.  Update your kitchen with LG appliances at Best Buy and save $500!  Between now and 3/6/19 When you purchase a 5- piece LG Kitchen Package, you save $500.  Get the details here!