Best Buy – GE Appliances Remodeling Sales Event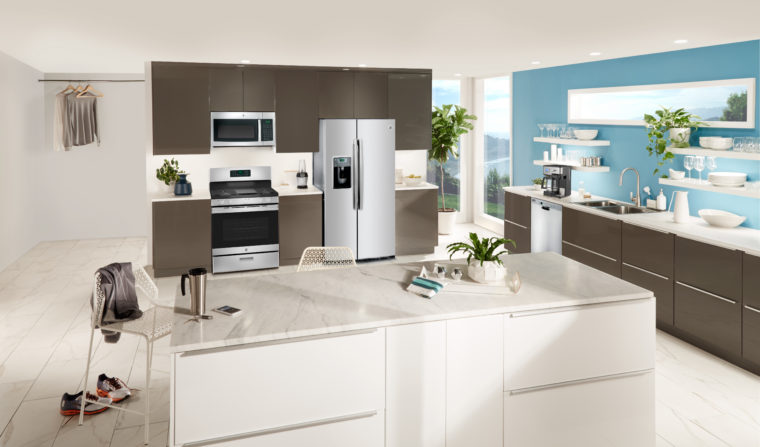 There is a brand new look that America's kitchens are rocking that seamlessly blends sophistication and convenience.  If you're like me when it comes to kitchen appliance finishes, you want them to have a certain elegance, but also be super easy to maintain and keep that amazing look!  I have always opted for stainless steel.  It used to be a fresh new look, but now it just seems like the go-to finish because there hasn't been a suitable alternative.
Enter the slate finish.  GE appliances now come in a premium slate finish that rivals the freshest premium finishes and works well with all of the most popular and commonly used modern materials.  You can go to Best Buy and easily update your kitchen with a simple splash of this smooth, matte, stone inspired finish.
The slate finish is different and intriguing, but most importantly, it's easy to keep it looking great.  It's easy to clean and fingerprint resistant, so it naturally hides smudges and dirt!
Whatever your kitchen looks like, you can pair it with a slate finish GE appliance from Best Buy for an instant upgrade.  The elegant modern look pairs with virtually any modern kitchen.  From granite, to wood and organic glass, slate harmonizes with today's finishes and colors with a broad palette of complimentary finishes that appeal to every taste.
With a bold new look that enhances the kitchen space and easily complements other appliances, the fingerprint resistant, easy to maintain GE New Slate Finish is a powerful new statement of elegance and convenience in with one unique and exciting look, finished with bold brushed metal touch points.  And yes—it holds magnets!
At Best Buys Great American Kitchen Event You can get up to $1500 back in the mail when you purchase 2 or more select GE profile collection appliances.  There are lots to choose from:  refrigerators, ranges, wall ovens, microwaves, cooktops, dishwashers, range hoods, washers and dryers.  You'll receive a minimum of $100 in the form of a prepaid Visa Card, up to $1500 depending on the number of eligible appliances purchased.
Go here to learn more and submit your redemption value application!  The offer is valid now through 04/26/2016!