Whirlpool Convection Over-the-Range Microwave at Best Buy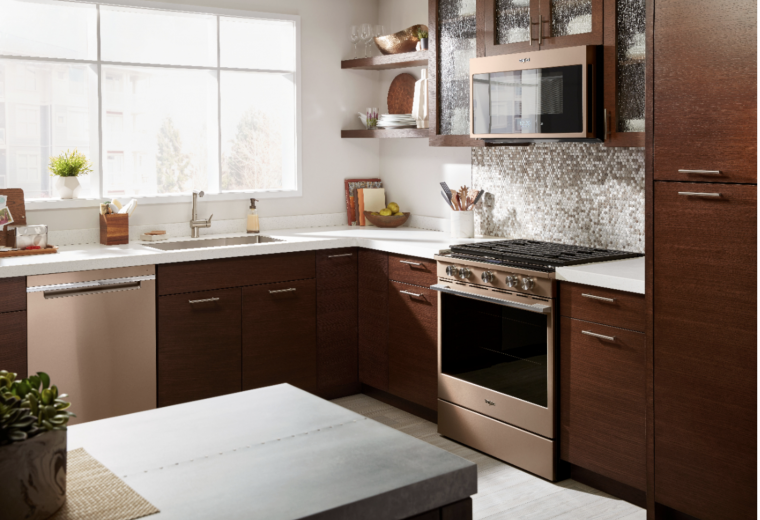 The coolest new thing in cooking has finally happened.  I swear I saw something like this on an old timey newsreel about the future.  Whirlpool® now has Smart home technology supported appliances. You know how much I love this house of the future stuff, and anything that makes household chores easier and more economical is totally my thing.  With a WiFi connection and an App, Whirlpool now offers hassle free control. The Whirlpool Convection Over-the-Range Microwave for example makes accurate cooking and customized recipes a breeze.
Hassle Free Control of Whirlpool Smart Home Appliances
These cutting edge appliance are designed purposely for how you live.  The Control from anywhere feature gives you a connection with your appliances through your device.  You can control your cooking from any room in the house with one click of a button. You only need an internet connection and to have your appliance set to remote enable in order to control mealtime through your app.  Holiday entertaining and meals are going to be so much easier with connected appliances from Whirlpool! Features are subject to change. Get more info about these amazing appliances here.
Whirlpool Convection Over-the-Range Microwave Features
Barcode Scanner
There are two things I love about the new convection Microwave from Whirlpool.  One it the barcode scanning feature on the app. Just scan the barcode on a frozen dinner and automatically send the correct cooking instructions directly to the microwave.  That's awesome enough, but this feature is also customizable, which means you can have frozen meals cooked perfectly the way you like them, every time.
Anticipatory Suggestions
My other favorite feature is how smart this appliance actually is.  The touchscreen learns and adapts to your families routines. It suggests custom presets based on tracking preferences within your household.  It learns what you cook, when you cook and how you cook in order to anticipate your needs.
Best Buy Offers on Whirlpool Kitchen Packages
Save money with this offer from Best Buy.  Select Whirlpool packages can save you up to $400 before 10/31.