Kohl's Shopping Hacks (Great Ways to Save)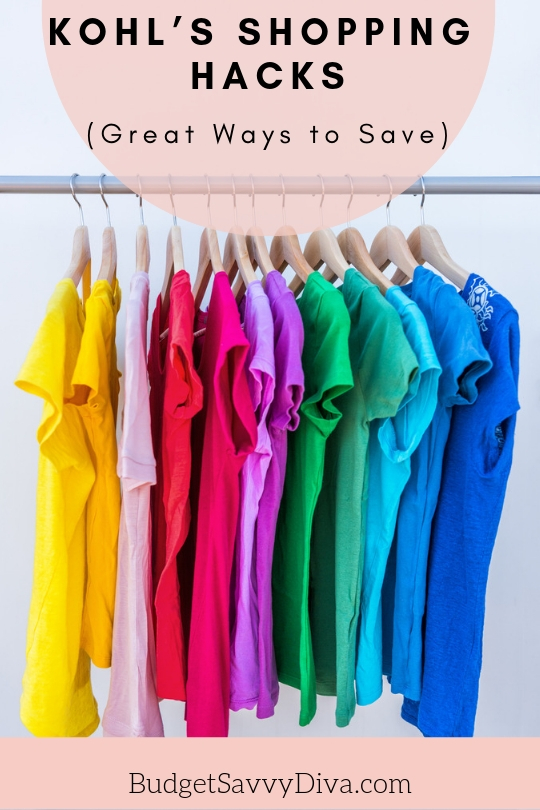 Check out these great tips to help you save 50% or more every time you shop at Kohl's.
Kohl's Coupon Stacking
One great thing about shopping online with Kohls.com is that you can stack up to FOUR coupon codes, and there always seem to be some that overlap on your purchase. For example you may have an overall 20% off coupon code that you can stack with a $10 off $50 toy purchase.
Kohl's Cash
Kohl's Cash is great but did you know you only have to spend $48 to get your $10 Kohl's Cash even though it says $50? Try it out! That is $48 after all other discounts and before tax.
Rebate Apps
If you use iBotta, be sure to check out apparel deals and save even more.
Price Tag Tips
If you see a square in the upper-right hand corner of the LCD price tag, it means that item has reached the lowest price of the season. So now is a great time to buy. It may drop again if it goes on clearance but there is no guarantee it will still be around by that time.
Some other price tag codes include:
BB = Bonus Buy
BGH = Buy One, Get One Half Off
PP= Product Placement: The sale price is fixed and not a percent discount.
S = Sale: The item will be on sale for 1-2 weeks.
Best Times to Shop
If you are looking for the best time to shop at Kohl's, show up between 3pm Friday and 1pm Saturday. These are the hours that Kohl's tends to have additional savings both in store and online. These extra savings are usually available a couple times each month so keep an eye on your weekly ads or check online.
Get Sale Price AFTER You Buy
For up to 14 days after you buy something at Kohl's, if the price drops further you can show your receipt and get the difference. Clearance and BOGO items are excluded.
Price Matching
Kohl's does offer some price matching options for in-store items only. Plus you can still use up to a 15% off coupon on the lower price. So be sure to check out their website for their latest price matching policy.
Kohl's Rewards
Signing up for Kohl's Rewards is like saving an extra 5% off every time you shop because you get a $5 reward for every $100 you spend.
What great tips do you have for shopping at Kohl's?