WW Freestyle: New Weight Watchers Plan — 10% More Effective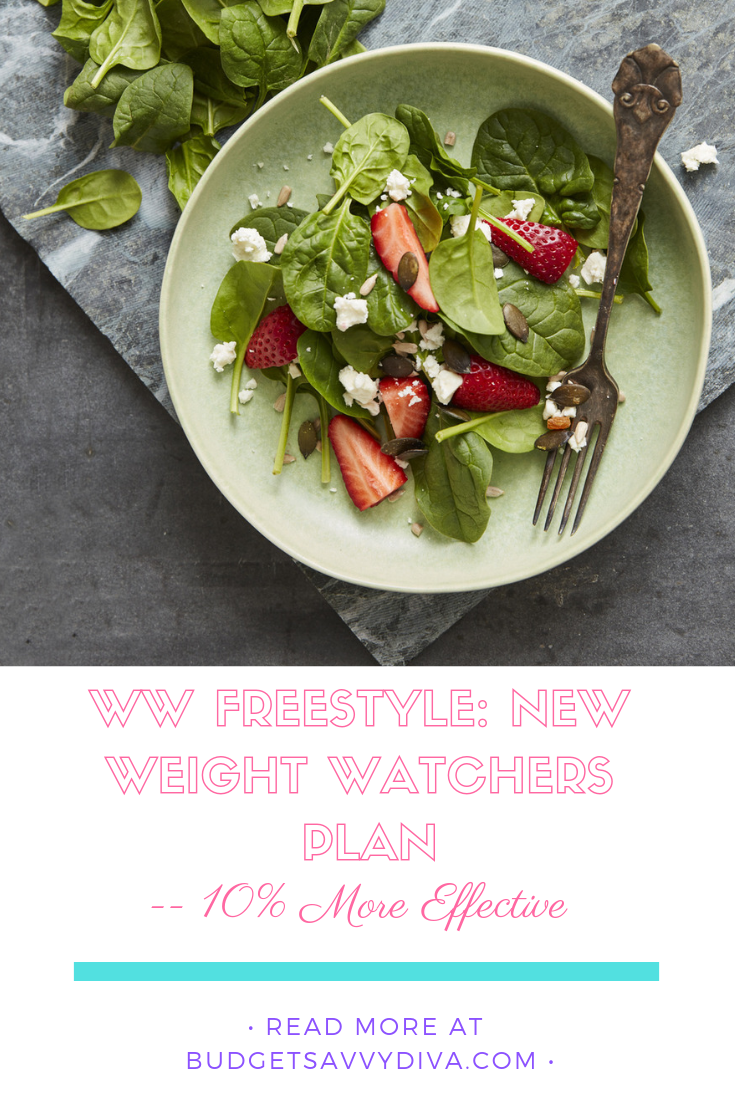 Weight Watchers is now WW, and with that name change came big positive changes to the way they do diets. WW Freestyle is an evolved weight loss plan. It involves digital tracking, online support and personal coaching to help you reach your weight loss goals. The new system puts more power in your hands, provides access to more support and makes sticking with the diet easier than ever. The results from member studies show a 10% increase in success over the previous version of Weight Watchers.
WW Freestyle Points
WW assigns points to different foods to help you stay on track as easily as possible. ZeroPoint foods allow for virtually unlimited consumption. They do not need to be weighed or measured under the WW program. ZeroPoint foods have always been exclusively fruits and vegetables. However, now there are over 200 0 point options to consider. These are healthy to consume foods that are clinically proven to track better on their own without you needing to do the work. This alone makes the new WW diet much easier to follow. When you combine ZeroPoint foods with foods that have SmartPoints values you stay on track with more freedom and flexibility. Even though it is "freestyle" and less rigid, WW still works better to achieve weight loss results than ever before.
WW Freestyle Provides More Support Than Ever
WW Freestyle is more than a diet. It's a community. Support is so vital to success in weightless as it is with other endeavors. Especially where habit changing action is involved. WW Freestyle involves many ways to stay connected and have the crucial support members need to stay motivated and accountable to their goals. Low accountability has disastrous results, as it provides an out when follow through becomes difficult.
Through the support of in person meetings and workshops, WW Freestyle members experience the community necessary to achieve success. This weekly support comes from others who have lost weight with the program and can help and access is multi faceted, meaning you can connect through chat and phone calls. You decide what level of support is right for you by choosing between a digital, studio, or coaching plan.
The digital plan is easy to use and gives you access to the tools you need to successfully meet your weight loss goals. You can purchase higher plans for more insights and personal attention.
Take Advantage of Wellness Strategies and Coaching
Beyond the support you get from others in the WW community, you get weekly strategic training under the studio plan; and with the coaching plan you can take it even farther. You will be coached on wellness and lifestyle change so that you have the best knowledge to face your weight loss challenges and meet your goals.
A coaching plan with WW Freestyle gives you access to the digital benefits, but adds the value of one on one training and a personalized action plan that takes your habits, lifestyle, and schedule into account.
Online Tools Make it Easy to Stay with WW Freestyle
No matter how you approach WW Freestyle, you have digital access to the tools that make the new Weight Watchers system more successful than ever before. The digital tools provided let you track food easily and manage your weight and level of activity with the support of WW Freestyle digital tools.
In addition to powerful tools to keep you on track, you will have access to a database of more than 4,000 recipes. The meal planning and tracking you have access to through WW Freestyle digital support is better than anywhere else. That's one reason WW Freestyle is proven to work and it ranks so highly against other diet plans.
USNews.com Rankings
Out of 41 diets that were evaluated for various attributes, WW Freestyle consistently ranks toward the top. The new WW diet is #1 in both best weightless diets and best commercial diet plans. In addition, WW ranks #2 for being one of the easiest diets to follow. WW Freestyle is also ranked #2 for the best fast weight loss diet; proving that it is not only effective, but fairly efficient. Finally WW ranked in fourth place for best diet overall, meaning that it's highly respected for health and wellness benefits among non weight loss oriented diets.