Farmhouse Kitchen Ideas On A Budget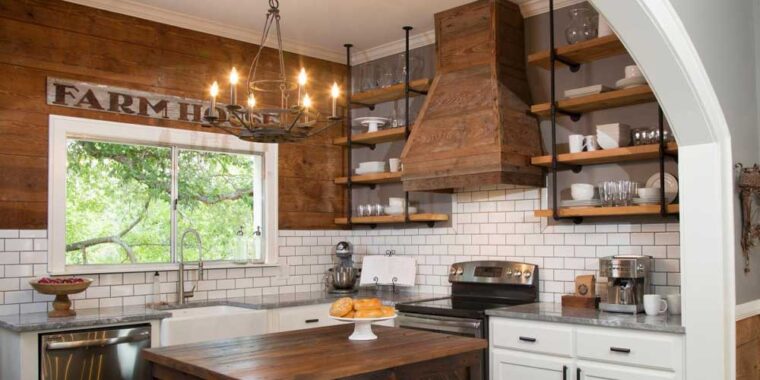 Farmhouse kitchens were, are and will be in fashion for days to come. Some things, I guess, are just timeless classics, despite all the innovation in the world coming to that area. A rustic kitchen it is linked to both a harmonious aura as well as a touch of warmth, comfort, and vintage vibe. With a farmhouse kitchen having a rustic look, you get the best of both worlds. Every part of the interior and décor of the farmhouse kitchen is deliberately designed to produce an country look. 
You may make several simple adjustments when you build your country-style kitchen, which does not entail knocking your kitchen down and beginning from scratch. You will also be amazed by the creative and cheap decoration options that you can find by using a little imagination. If you are looking for farmhouse kitchen ideas on a budget, then we insist you read a little further. This blog contains rustic kitchen ideas on a budget that are not just easy to implement but also add a countryside vintage look to your farmhouse kitchen without costing you a fortune.
Creating A Farmhouse Kitchen Look – The Fundamentals 
You should first focus on creating a base for your farmhouse kitchen before looking out for country kitchen decorating ideas on a budget. The setting of the base may include remodeling the horizontal/vertical surfaces with finishes, window/window opening settings, arches, and redesigning as well as installation of furniture that would complement your farmhouse kitchen. Go through the suggestions given below to get an overall idea of how to get started.
Consider replacing the fronts and doors of your farmhouse kitchen cabinets with some painted and polished elements made up of wood. You can also go for elements made of natural wood that are deliberately carelessly carved to give a rustic farmhouse look.
You should consider going for vintage elements rather than modern-looking appliances for creating a farmhouse kitchen look.
Deliberately use a large exhaust fan or some other kitchen ventilation alternatives to a range hood. You don't want to have your kitchen look all contemporary with a sleek hood over your cooking range.
Use calm and soft colors like beige, white, blue, mint, or their different shades to paint the kitchen cabinets.
It may be quite useful to change the furniture handles and knobs with something more vintage and metal-made.
Install sturdy MDF or wooden doors as their surface texture is the most harmonic one among all. You can leave the authentic appeal of its elements as it is or redesign it according to the color scheme of your farmhouse kitchen design.
The kitchen island is another fantastic concept for decorating a farmhouse kitchen.

 

You can maximize the kitchen space, create a pleasant atmosphere and a comfortable gathering spot if you pick the island appropriately.
Try adding a lot of warm rustic characters to your farmhouse kitchens such as flagstones, stable door, textured walls, open shelves, and other kitchen accents.
Creative Rustic Kitchen Ideas on A Budget 
Introduce Natural Wood Shutters and Accents 
We all know that rustic designs and natural wood aesthetics go hand in hand, especially when it comes to natural wood shutters and accents. You can never go wrong with these posh and elegant natural unpainted wooden shutters that may not only be used for utensils and cooking but also to adapt to a similar decorative style. You can even complement these shutters with a plain drawing on thick white or yellowish paper that contains no unnecessary bright patterns. You can try adding wooden butcher blocks, utensils, cutting boards, etc to give a warm tone to your kitchen. 
It is impossible to bring out the rustic look of your kitchen without the amalgamation of natural wood and metal. However, you need not spend a fortune on this. You can add a beautiful soft grey-colored aged metal to offer an ambiance of comfort. A pleasant twilight may add up to the aesthetics. Natural unpainted wood accents do the job of giving a rustic appearance to your kitchen in the most perfect manner. Wooden spoons and cutlery are a wonderful example that saves money and makes a sweet décor as well. These wooden pieces may be mounted on the wall or their handles may be dipped in paint for a dash of drama. They might work as a helpful utility and ornament for the kitchen anyhow.
Use Open Shelf Cabinets
One of the best country kitchen decorating ideas on a budget is by using open-shelf cabinets.  In addition to offering a rustic vibe appeal, open shelf cabinets contribute to the additional storage facility as well.  Open shelves may be used to exhibit objects that you like from your kitchen, such as recipe books, bowls, plants, or whatever you prefer to showcase. These open shelf cabinets don't contain cabinet doors and sides (occasionally) giving your kitchen a spacious feel. The cookware is also easily accessible in this case. You can add black metal brackets to these chunky wooden open cabinets to offer your farmhouse kitchen a rustic appearance. You can easily install them to any of your walls you have that accommodate no shelves or wardrobes. So, if you are considering farmhouse kitchen ideas on a budget, this is definitely the way to go! You will save money on kitchen doors and wall decorations with open shelves. This is certainly budget-friendly.
Install A Wall Mount Pot Rack  
Whether building, renovating, or just simply looking for farmhouse kitchen ideas on a budget, wall-mounted pot racks are considered a fantastic way to conserve space on countertops and cupboards. These pot racks work wonders if you have some matching sets of pots, pans, etc. This pot rack may also be used to display utensils, bowls, and whatever else you want without taking up space on your kitchen countertop. This is one of the greatest rustic kitchen ideas on a budget. Apartment therapy shares how hanging pots are totally stealing the limelight in real homes with small kitchens and how do lifts works.
The best part is you don't have to search and look insanely for cookware or anything you need while cooking. This is because all that you need (pots and pans) would be hanging over you at your fingertips.
A Deep Apron Sink 
These days, kitchens are no more just confined to cooking, rather a space where you bond with your family, friends, and guests while you gather together. We generally tend to forget about our kitchen sinks but your kitchen sink truly is everything. Redesigning your kitchen sinks to give them a rustic appearance will enhance the overall look of your farmhouse kitchen. If you want to give your farmhouse kitchen a rustic look, an apron sink fits the best for it. Apron sinks are known to make a statement that is hard to ignore for anyone. An apron sink's practical past remains relevant even today as they feature huge basins for washing hands along with front overhangs covering sharp countertop edges. These sinks will provide a classic rustic vibe that you certainly want to include in your farmhouse kitchen. You can either go for a white ceramic for giving a clean utilitarian look or a copper apron sink to get an industrial look.
Glass Jars With Wooden Lids