Things to Consider When Purchasing a Dining Table
A dining table set is the center of attention of any home, acting as convenor for all the meals we take in a day and a maker of memories. In addition, it can connect family and friends over good food. With such a crucial role to play, you should give it the consideration it deserves.
Buying a dining table is a pretty big decision. At first, you might think that it sounds easy to buy a dining table. You visit the furniture store, find the dining set you like, and there you have it. But in reality, it is not as simple as that. There are many things to consider when picking out what best will serve YOUR needs. Before you shop, research and decide what best suits your family's needs.
To assist you in making an accurate decision, we've created this dining table buying guide. Following these steps will help you select the right dining table that perfectly suits your home, lifestyle, and design that you will love for years to come.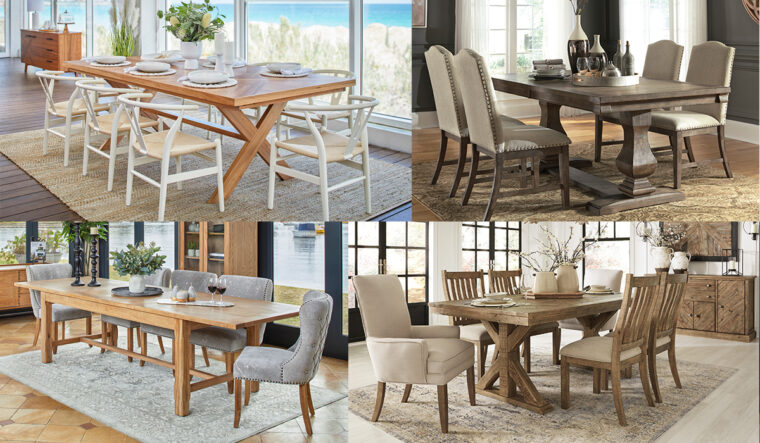 #1 Choose the right size and space for the dining table
Don't have to settle for a certain model if it's not going to adjust in your dining room. Take some time and inspect how much space you have. You should also look at the width, depth, and height of the dining area as it will help you to determine which shape, size, and color will suit your existing furniture and decor.
The ideal dining table space should be at least 3 feet away from any other furniture or walls. This will leave enough room for you to drag your chair and walk across the table and help you avoid a compact feeling.
#2 Choose the perfect shape for your dining room
Now comes the exciting part: what kind of shape do you want for your dining table? While choosing, keep remembering the number of people in your family and the size of your room. 
If you have a compact space, choose a square dining table as it is the best choice for four people and a handy option for two or eight. Additionally, you can use a triangular or circular-shaped dining table as it will not feel tight and awkward on your premises. Both dining tables are ideal for casual gatherings and family conversations.
Rectangular tables generally require a larger room and can be great for parties and conversation. If you have sufficient space, choose the rectangular table, it will be a perfect pick and make your room look classy and elegant.
#3 Choose the right material that suits your lifestyle
Selecting the material for your dining table is not an easy task. While buying, you have to consider some other points like budget, ease of care, and suits your lifestyle to choose the right one, and a table, if not come with all these features, will make you feel regret later. Here are the most common materials that help you choose the perfect dining table.
Wooden Material
This material makes your dining table versatile, durable, and easy to repair. Use it in a modern room, where space is not a problem. You may want to consider something like bespoke wood tables for your home.
Veneer/Wood-Look 
The wood-look dining table is less glamorous but an affordable alternative to solid wood. The benefit of choosing a wood-look dining table is that it effectively fits with your modern decors.
Glass Tables
Glass Tables are a good alternative, especially for modern and contemporary dining rooms. Though the glass tables are not easy to clean, they add a shiner, brighter and vivid feel to the room.
Plastic and Laminates 
If you're on a tight budget and need to keep your costs down, plastic or laminate tables might be the perfect choice for you. These types of materials make the look of tables luxurious and effectively match with other furniture in your room!
#4 Choose The Type of Seating
Add elegance to your dining table by purchasing chairs for the table. Whether you purchase the entire set or go for chairs, totally depends upon your choice. Choose them accordingly that perfectly match the dining table. But in the modern world, the Grantham dining chair is gradually becoming more popular. These chairs add a bold dash of exclusivity to the room and give the space a lot of brighter impact. Also, when it comes to buying your dining table, you can merge the seating options with an Oakdale bench and different chairs.
#5 Choosing The Dining Table According to Your Usage
When deciding what type of dining table to buy, think about how often you will use it. A sturdy but large-sized one is ideal for everyday usage, while more decorative styles are suited for occasionally. 
If you're living in a rented home, make sure to choose lightweight and durable dining table designs. For outdoor use, consider plastic tables instead of wood as they will withstand harsh weather conditions while maintaining the beauty of the outdoor environment.
With this buying guide, selecting the perfect dining table for the home shouldn't be a burdensome job and now you're ready to do a perfect makeover of your dining room.