7 Organization Tricks for a Clean Kitchen
When you are in college, whether living in a dorm or renting, the chances are that you have to share your cooking space with one or several roommates. If that's your case, the importance of keeping your kitchen clean increases. After all, no one will want to cook in a dirty kitchen. What's more, keeping it clean will save plenty of time on cleaning for you and your roommates, which is also important for busy students.
So, the only question is – how do you keep your kitchen neat and clean? The secret is simple. If you organize it well, it will be easy to keep everything in order. Sometimes you need extra help so make sure to check out CHRIStal Clean.
But where should you start? In this article, we have gathered some of the best organization tips that will help students use their space wisely and, at the same time, ensure that their shared cooking space is always clean and decluttered.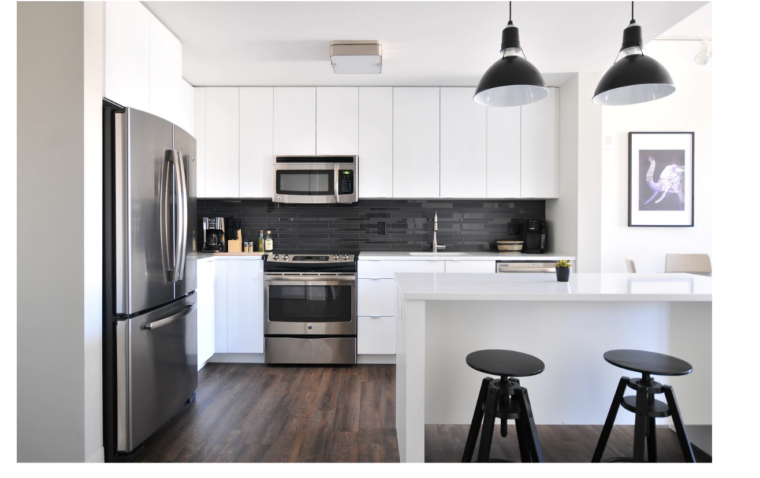 Source: https://unsplash.com/photos/MP0bgaS_d1c 
Plan the Organization of Your Kitchen Cabinets
Planning a convenient and effective organization of the cabinets is probably the hardest and the most time-consuming part of organizing your entire kitchen space. So, at this stage, you might want to pay for papers on WritePaper.com to ensure that you have enough time for this without giving up on your current academic assignments and missing deadlines. 
We know that student lives are busy with all the schoolwork. But rearranging your space also matters. After all, a cluttered space can make you unfocused.
So, where do you start? Take time to study the location and features of all cabinets in the room. Your task is to find a convenient dedicated space for all your kitchen supplies. To do this, you should mostly rely on your own preferences and feelings. Everything in the room should be easy to reach when you need it. So, be mindful.
Ideally, do this together with your roommates to ensure that they also feel comfortable with the location of different things in your kitchen.
Do a Deep Clean
Whether you've just moved in recently or lived in the same apartment for some time, the chances are that you will have to do a deep clean before organizing your kitchen.
To get started, take everything out of your cabinets and drawers. Make a careful revision of everything you store there, including supplies, dishes, foodstuffs, and everything else. Finally, after the revision, throw out everything that's damaged, broken, stale, past its expiration date, etc.
After you are done with stuff from your cabinets, move on to your refrigerator. Do a deep clean of it too. Once ready, move on to organizing your space further.
Organize Your Utensils
Many students tend to keep all their cooking utensils and other stuff in a complete mess. They simply shove everything in one of the drawers and keep it like that. And, of course, this doesn't make it any easier to keep their kitchen clean. Luckily, it is very easy to change this.
To keep all your cutleries in order, all you need is to invest in a regular cutlery tray. Such trays can be put directly into a drawer and used to keep all your spoons, knives, and forks separately. This way, you will never have to dig through a tangle of cutleries to find what you need at the moment.
As for cooking utensils, you can either keep them in the same tray if it's large enough. But many people find it more convenient to store them in a countertop or wall-attached organizer. This way, you will have open access to them while cooking.
Buy Hooks for Your Cabinets
As a student, we bet that you and your roommates always start your mornings with a cup of coffee. So, respectively, you must have quite a few mugs at home. But one thing that you might've never thought about is that mugs always take up too much shelf space. They just don't stack well in your cabinets and, thus, make your space ineffective and somewhat cluttered.
A simple set of hooks can help you change this. All you need to do is to install the hooks in your cabinets so that you can hang your mugs instead of stacking them as you did before.
Invest in Plastic Bins or Glass Jars
The majority of students might not cook too often. Still, there are always plenty of different ingredients such as spices, cereals, coffee, and others in every kitchen, and storing them in their original packaging often looks messy.
A simple solution is to get yourself some plastic bins or glass jars to store all bulk items. By doing so, you can make your cooking space look much better. At the same time, this way, you will always have all ingredients visible, which is very convenient when you cook. So, don't neglect this tip.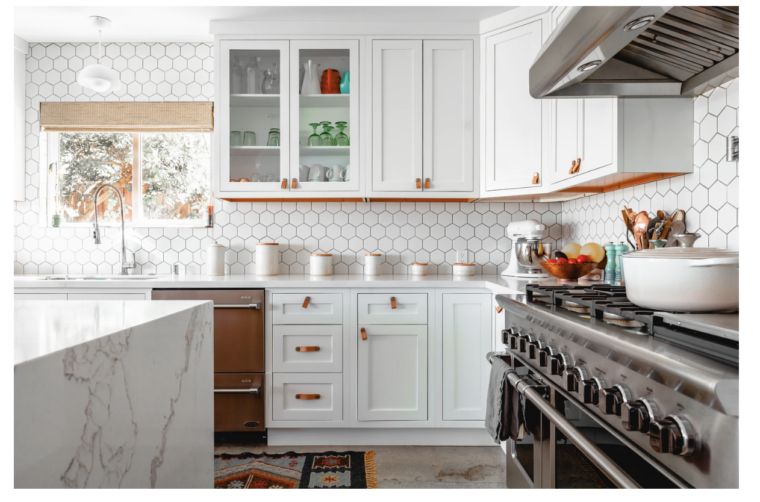 Source: https://unsplash.com/photos/z3QZ6gjGRt4 
Install Magnetic Shelves
If your fridge stands next to the countertop, you can use this as an opportunity to add extra storage space. This trick might not be very common or well-known, but it can really make a difference in terms of the organization of your kitchen.
So, here is the hack – in almost every hardware store, you can find magnetic shelves. These are great for people who are renting because such shelves are easy to install and, most importantly, they can be removed without leaving any marks or holes in the wall. 
Buy such magnetic shelves and simply stick them on the side of your fridge, closer to the countertop. This way, you will have some extra storage space for stuff that needs to be always at hand, such as spices.
Add a Pot Rack
In every kitchen, there is always a variety of pans, saucepans, etc. Keeping them inside your cabinets may not always work because of their size. Even if they do fit inside your cabinets, they always take too much space. And letting them always sit on the stove is too messy. Even if you only have a few pans, they will still create a mess if they are constantly being left just anywhere in the kitchen.
One way to solve this problem and save precious space is to buy and install a pot rack. By doing this, you will be able to hang all your pans and other stuff over the sink or stove and, thus, take advantage of the vertical space in your kitchen. Alternatively, you could also consider installing additional shelves. But this solution is much more rental-friendly.
The Bottom Line
As was already mentioned, the key to keeping your kitchen clean is to get it organized well. This challenge can appear to be too difficult to overcome for someone who is only starting their independent adult life. But don't worry if that sounds like you.
After reading this article, you have all the tips you need to create a convenient and neat cooking space in your apartment or dorm. Use these tricks to make your kitchen look great at all times, and this will help you save plenty of time on cleaning and ensure that you don't get into fights with your roommates because of the mess.