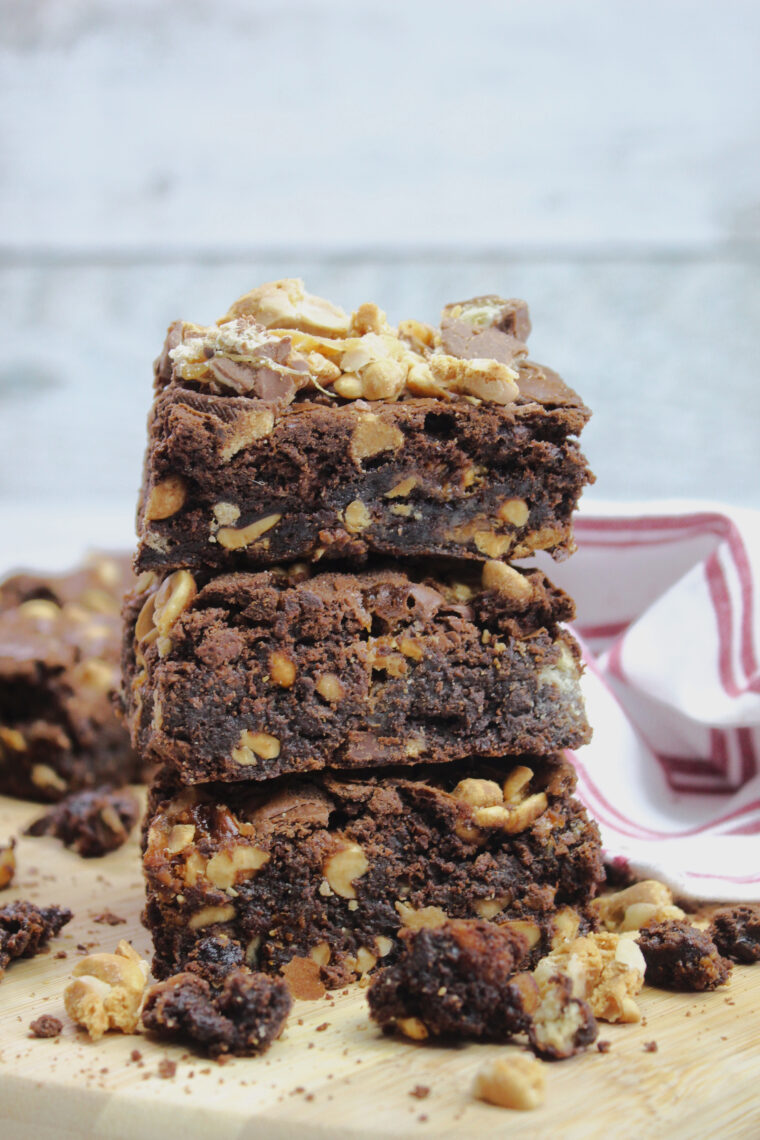 Who doesn't love a good brownie!
I have the perfect recipe for brownies that you must try. I hope you enjoy them.
Candy Bar Brownies 
Makes 24 thick, chewy, rich brownies 
Ingredients : 
¾ C unsalted sweet cream butter, softened 
2 ½ C sugar 
4 large eggs plus 2 egg yolk, cold 
2 tsp pure vanilla extract 
2/3 C Canola oil 
1 ½ C Hershey unsweetened baking cocoa powder 
1 C flour 
¼ tsp baking soda 
2 tbsp cornstarch 
½ tsp kosher salt 
2 ¼ C semisweet chocolate chips 
1 ¾ C peanut butter baking chips 
2 C roasted peanuts 
2 C chopped snickers candy bars 
2 C chopped payday candy bars 
2 C chopped twix candy bars 
Directions 
Preheat oven to 350 degrees and spray and line a 9×13 baking dish 
Using small pot, add the butter and sugar over low to medium heat and occasionally stir while waiting for the butter to melt 
Once the butter is melted, remove from heat and let is cool slightly for 5 minutes One butter has cooled slightly, whisk in the eggs, egg yolk and vanilla until combined Whisk in the oil and the cocoa powder 
Using a small bowl, combine the flour, baking soda, cornstarch and salt until combined 
Gently fold in 1 C of the peanut butter chips, 1 ½ C semi sweet chocolate chips, 1 C roasted peanuts, 1 ¾ C snickers, ½ C payday 
Spread the batter evenly into the prepared baking pan
Sprinkle remaining ingredients on top and bake for 25-45 minutes or until a toothpick comes out clean! 
Enjoy!