Unleashing the Charm: A Comprehensive Guide to Men's Gold Bracelets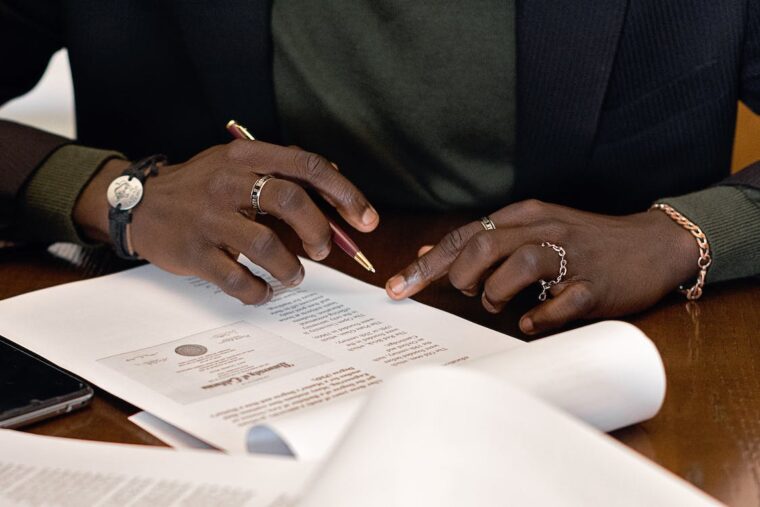 https://images.pexels.com/photos/8730985/pexels-photo-8730985.jpeg?auto=compress&cs=tinysrgb&w=1260&h=750&dpr=1
The charm of men's gold bracelets lies deep in their ability to enhance the natural male charisma and add appealing accents to the overall style. A gold bracelet is the best choice when you're searching for an accessory to complete your look elegantly, showcasing your sophisticated taste, but you're not too excited about making a great effort. It takes a bare minimum of your time and effort to create a sharp and stylish image using gold bracelets as a finishing touch. But there are still some tips that might come as handy for you to make the right decisions while picking a men's gold bracelet, and we're willing to share.
Types of Gold Bracelets for Men
Cuff bracelet. A gold cuff bracelet is a sure way for a man to demonstrate his status and confidence. These bracelets are typically made of solid gold and feature a wide, sturdy band that wraps around the wrist in a sleek and elegant design. Cuff bracelets are great for adding a bold statement to any outfit and make a clear message about the wearer's taste and wealth. Another advantage of gold cuff bracelets is their durability. Unlike other types of this jewelry, which can be easily damaged or broken, a well-made gold cuff bracelet is built to last. It can withstand daily wear and tear, and will continue to look great for years to come.
Bangle bracelet. For those who prefer a more minimalist look, a simple gold bangle bracelet may be the way to go. These accessories are usually made of solid gold and feature a thin, circular band that fits snugly around the wrist. Bangle bracelets are typically thinner than the cuff ones and provide your look with a more elegant and simple finishing touch. They are not meant for loud statements, but for the laconic confirmation of your sense of style.
Chain bracelets. Probably, one of the most popular types of gold bracelets for men out there is the classic chain bracelet. These types usually feature a series of gold links that are connected together to form a chain. The main catch about those bracelets is their diversity. It's all about the shape of the links and the way they are connected that create a great number of unique patterns.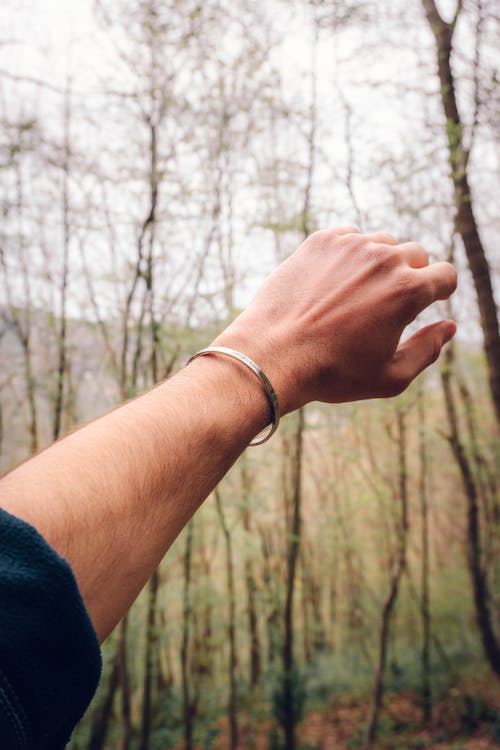 https://images.pexels.com/photos/11861473/pexels-photo-11861473.jpeg?auto=compress&cs=tinysrgb&w=1260&h=750&dpr=1
"Gold chain bracelets make the men's most frequent choice, as they are easy to style. You can find a chain bracelet type for literally any outfit or style, from a casual t-shirt and jeans to a formal suit and tie. It's a rare combination of versatility, beauty and comfort."
-Dennis Stepansky-Founder of ItsHot
Popular Chain Bracelet Styles for Men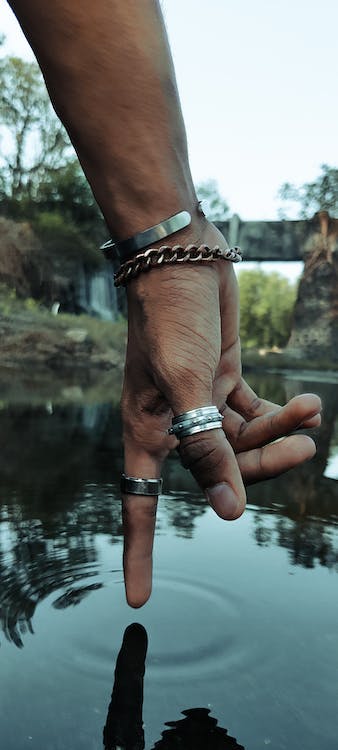 https://images.pexels.com/photos/7107053/pexels-photo-7107053.jpeg?auto=compress&cs=tinysrgb&w=1260&h=750&dpr=1
The Cuban link chain bracelet is one of the most recognizable and popular styles for bracelets of gold for men. Its bold and distinctive design has made it a timeless and iconic piece that is never out of fashion. These bracelets feature a series of twisted tightly woven together interlocking links that are wide and flat, giving them a chunky and substantial feel. There are several advantages to wearing a Cuban link chain bracelet, and durability is probably the most vivid one of them. Its resistance to breakage and damage proves the jewelry to be a great choice for everyday wear while the bold and chunky design of a piece makes it a standout accessory that can elevate any outfit. This style of bracelet looks great when worn on its own as a statement piece, layered with other bracelets and watches for a sharper modern look, but it reveals the most of its potential when iced-out with diamonds.
Rope chain bracelet. Another style of gold chain bracelet that is approved by the majority of men is the rope chain. These bracelets are constructed of a series of links, forming a pattern that resembles a twisted rope. Rope chain bracelets can vary in thickness and eventually become statement chunky rap jewelry, but their actual charm reveals when they are made more delicate. The twisted and braided design of the links creates a textured and intricate look that sets it apart from other types of bracelets. Such an accessory makes a great combination with other chain bracelets in a layered look and can become a nice complement to a luxury watch. It is also known for its durability, due to the interlocking links that are tightly woven together. This creates a sturdy bracelet for men who are looking for an accessory that will last. 
Figaro chain bracelet. For a more unique look, men may opt for a Figaro chain bracelet. These bracelets feature a pattern of two or three shorter links followed by a longer link, creating a distinctive and eye-catching design. Figaro chain bracelets are a great option for adding a bit of personality to an outfit. It's a nice piece when you're looking for jewelry to highlight your sensuality and romantic nature. The pattern of a Figaro chain bracelet is unique and stylish, making it a great match for any outfit.  Those bracelets are often more affordable than other types of gold bracelets, making them a nice option for those on a budget. They offer the look and feel of luxury jewelry without the high price tag.
How to Pick Gold for a Bracelet?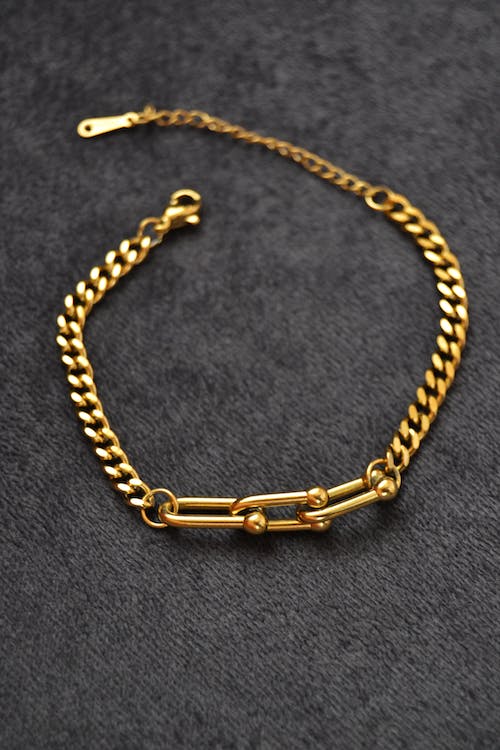 https://images.pexels.com/photos/12124638/pexels-photo-12124638.jpeg?auto=compress&cs=tinysrgb&w=1260&h=750&dpr=1
Purity. In choosing a gold bracelet, the purity of gold plays one of the most essential roles. As pure 24-karat gold appears too soft to be used in jewelry, it is often alloyed with other metals to increase its durability. The most common purity levels for gold jewelry are 14-karat and 18-karat gold. 14K gold is 58.3% pure gold and is often used in jewelry for its durability and affordability. 18K gold, on the other hand, is 75% pure gold and is often used in high-end jewelry for its rich color and high value. You may also consider a 10K bracelet if you're on a budget. It contains 41.7% of gold, but is cheaper while retaining the appealing lustrous appearance that is provided by gold.
Color. The most common colors of gold used in jewelry are yellow, white, and rose. Yellow is the classic gold color and has a warm, rich tone that compliments dark and olive skin tones. White gold is a popular choice for its cool, silvery hue, and its ability to pair well with both silver and gold jewelry. People with fair skin are the ones the white gold bracelets suit the most. Rose gold has a pinkish hue that gives it a unique and romantic feel. It matches dark skin tones and creates bracelets with intriguing sophisticated flare.
Maintenance. When it comes to caring for a gold bracelet, it's important to follow a few simple steps to ensure its longevity. Gold bracelets should be cleaned regularly with a soft cloth or soft brush, and warm water to remove any dirt or debris. Harsh chemicals should be avoided as they can damage the gold and any gemstones that may be present. Gold bracelets should also be stored separately from other jewelry to prevent scratches and damage. Not too complicated, as you can see.
How to Define the Size of Your Bracelet?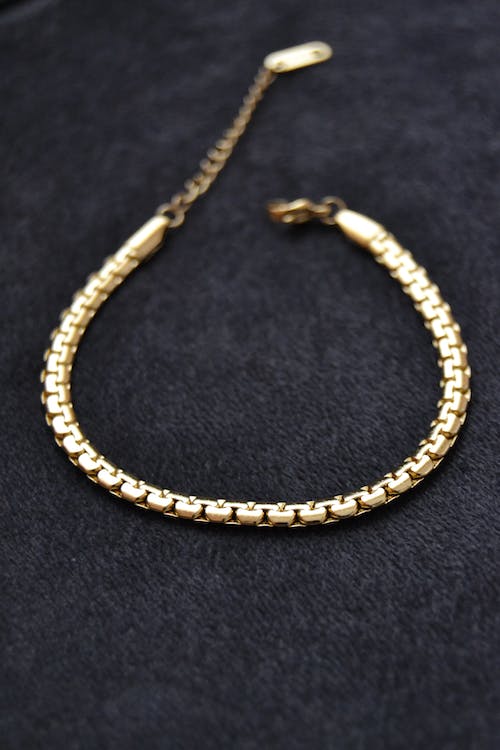 https://images.pexels.com/photos/12124617/pexels-photo-12124617.jpeg?auto=compress&cs=tinysrgb&w=1260&h=750&dpr=1
The right size can make all the difference in how comfortable and stylish the bracelet looks on your wrist, so it's crucial to choose right.
Firstly, it's important to measure your wrist accurately. You can do this by wrapping a tape measure or piece of string around your wrist, just below the bone. Make sure it's snug but not too tight, and take note of the measurement.
You'll also want to think about your personal preference for fit. Some people like their bracelets to fit snugly against their wrist, while others prefer a looser fit. It's important to keep in mind that a bracelet that's too tight can be uncomfortable, while one that's too loose can slide around and even fall off. It's common to add about 0.5-1.5 inch to your wrist size to get a comfortable fit of your bracelet.
Lastly, if you're unsure about the size or if you're purchasing a bracelet as a gift, it's always a good idea to go with an adjustable option. This will allow the wearer to customize the fit to their liking, ensuring that the bracelet is comfortable and looks great.
Bonus: Men's Bracelet Trends for 2023
To get the trendiest bracelet that'll spice your look in 2023 you may try following those tips:
Mix metals. The use of mixed metals results in unique designs and interesting decisions. It provides opportunities for creativity and self-expression. We're seeing more and more bracelets that incorporate different metals, such as gold, silver, and bronze, creating a unique and eye-catching look.
Pick personalized jewelry. The trend for personalized jewelry remains popular for several years already and 2023 is no exception. Men's bracelets increasingly feature personalized elements, such as engravings, initials, birthstones, or other meaningful symbols.
Use eco-friendly materials. Sustainability is a growing concern for consumers, and this is reflected in the trend towards eco-friendly and sustainable materials. More trendy bracelets are made from recycled metals or feature ethically sourced gemstones. This makes you not only stylish and trendy, but proves you're conscious.
Thanks to this guide you must be perfectly ready to get yourself the best gold bracelet that'll ensure to unleash the charm of your style and personality.