Orange Creamsicle Cupcakes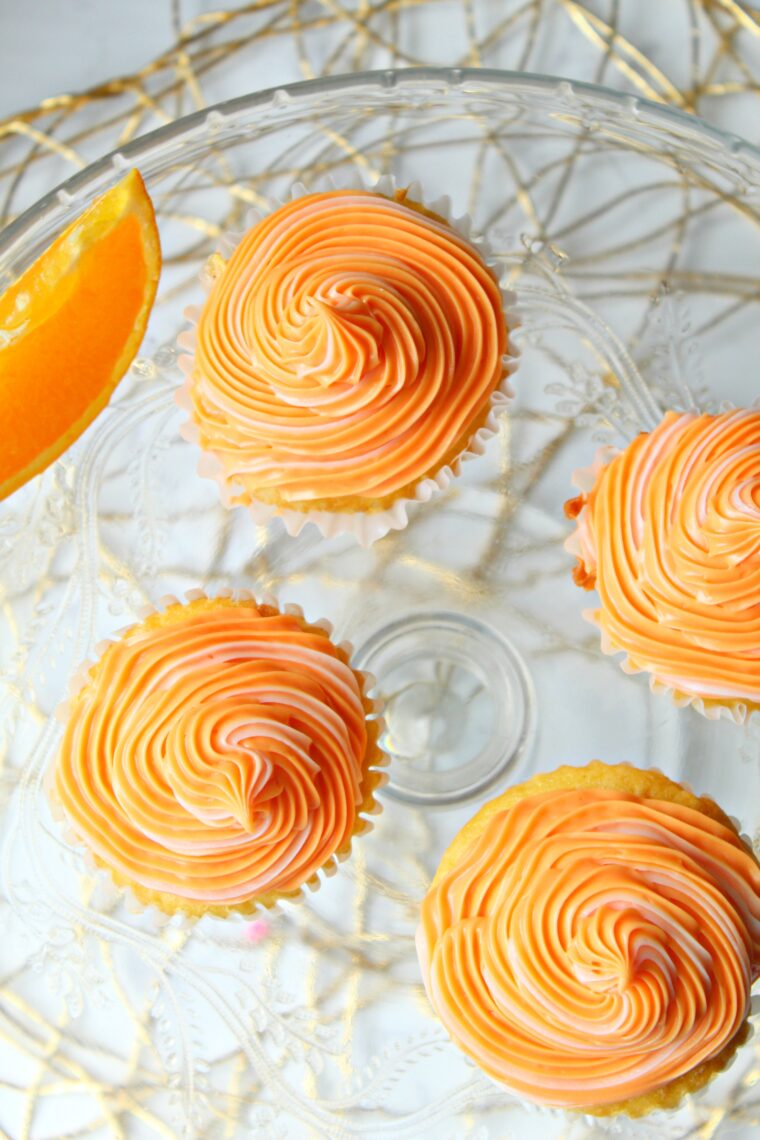 If you're a fan of the classic creamsicle popsicle, get ready for a taste sensation that'll transport you straight back to those carefree summer days. Our Orange Creamsicle Cupcakes are here to tantalize your taste buds with a harmonious blend of zesty orange and creamy goodness.
Picture this: a moist and fluffy cupcake that practically melts in your mouth, infused with the bright and refreshing flavor of oranges. It's like a burst of sunshine in every bite! But we didn't stop there – oh no. These cupcakes are crowned with a velvety swirl of vanilla and orange frosting that's as dreamy as a creamy cloudscape.
Whether you're hosting a family gathering, a birthday bash, or just treating yourself to a little everyday indulgence, our Orange Creamsicle Cupcakes are the perfect companion. Their eye-catching appearance and delightful aroma will have everyone's taste buds dancing in anticipation.
One bite and you'll be hooked! These cupcakes strike that perfect balance between citrusy zest and smooth creaminess. It's a match made in dessert heaven that's sure to put a smile on your face. Plus, they're so Instagram-worthy, you'll want to snap a pic before devouring them.
So, what are you waiting for? Dive into a world of citrusy charm and creamy enchantment with our Orange Creamsicle Cupcakes. It's a flavor-packed adventure that will leave you craving more. Order your batch today and treat yourself to a little taste of summer, no matter the season!
Orange Creamsicle Cupcakes
Ingredients:
6 Tbs. butter, softened
3/4 cup granulated sugar
1/4 cup sour cream
1/2 tsp vanilla extract
1/2 Tbs. orange zest
2 eggs
1 1/4 cups flour
2 tsp. baking powder
¼ tsp. salt
1/4 cup milk
1/4 cup orange juice
FILLING
1/2 cup cold heavy whipping cream
1/4 cup powdered sugar
1 tsp. vanilla extract
3 oz cream cheese, softened
FROSTING
2 sticks butter, softened
4 cups powdered sugar
3–4 tbs. orange juice
1/2 tbsp. orange zest
Orange gel icing color
Directions:
Preheat oven to 350°F and line a cupcake pan with cupcake liners.
In a large mixing bowl, cream the butter and sugar together until light in color and fluffy, about 3-4 minutes. Mix in the sour cream, vanilla, and orange zest until well combined. Add in the eggs one at a time, mixing well after each addition.
In a separate mixing bowl, combine the flour, baking powder and salt. In a small bowl, combine the milk and orange juice.
Add half of the flour mixture to the butter/sugar mixture. Mix until well combined. Pour in the milk and orange juice mixture and mix again until well combined. Add the remaining flour mixture to the batter and mix one last time until there are no more dry patches. Be careful not to over mix.
Add 1/4 cup of batter to each cupcake liner. Bake 16 minutes. Once they are done baking allow the cupcakes to cool in the pan for 5 minutes and then transfer them to a cooling rack to finish cooling completely.
To make the filling, combine the cream, powdered sugar, and vanilla in a large bowl and whip with a whisk or hand mixer until stiff peaks are just beginning to form. Add in the softened cream cheese and whip again until the cream cheese is thoroughly mixed in and you have reached a stiff peak.
Using the bottom of a piping tip or a sharp knife, remove the center of each cupcake. Spoon or pipe the filling into the center. Cut the bottom of the center cupcake pieces off, and place it back on top of the filling. 
To make the frosting, beat the butter with a hand mixer until smooth. Add half of the powdered sugar and mix until smooth. Add in the orange zest and 1 tablespoon of the orange juice and mix again to combine. Add in the remaining powdered sugar  and mix again until combined. Add in the remaining orange juice 1 tablespoon at a time until you reach the consistency of frosting. Mix in the food coloring until you reach your desired shade and pipe the frosting over the cupcakes.