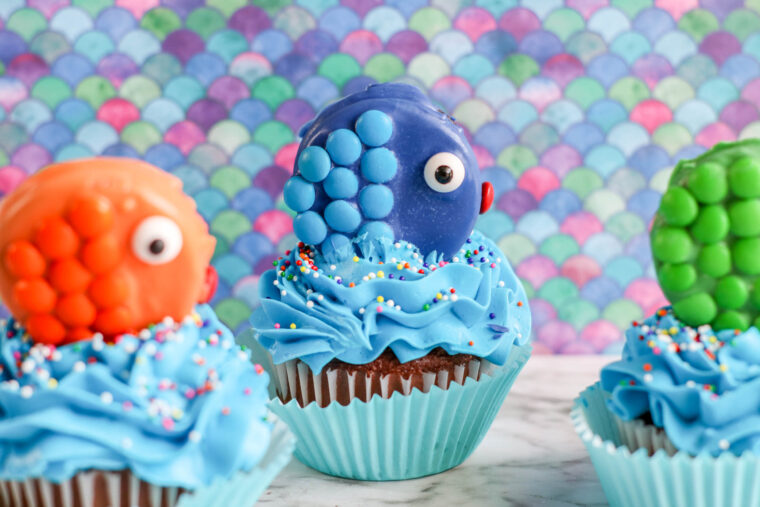 One of my great joys as a mother is baking ith my children. I love the way they light up whenever I take a box of baking mix out of the pantry. The twins are also at that fun age where they recognize characters and like to eat things shaped like particular animals. That's why I decided to share this recipe for tropical fish cupcakes. They are so cute and fun to make with my little helpers.
Kids in the Kitchen
Sometimes the first words out of Lawson's mouth in the morning are: "Me bake muffins with mama again." It's true that we usually do bake muffins, but what my twins really love are sweet delicious cupcakes. Whenever I am in the kitchen cooking, I become a powerful magnet to the kids. Even Lachlan can't resist crawling over to see what everybody is so interested in. They love to help so much that they sometimes cry if I only need to do something quick like make pasta.
Baking Tropical Fish Cupcakes with Mama
Baking is the ultimate opportunity to spend quality time with my kids in the kitchen. We have fun learning and creating together. Then they get a fun treat to enjoy. These tropical fish cupcakes are super cute and really easy to make. However, I recommend doing a fair amount of prep before getting the little ones involved if you can help it. I usually can't make it 30 seconds before Lawson is pulling up a stepping stool to get in on the action.
Having four kids under four years old means we are always busy. For an idea of what a day-in-the-life looks like you can see my video here.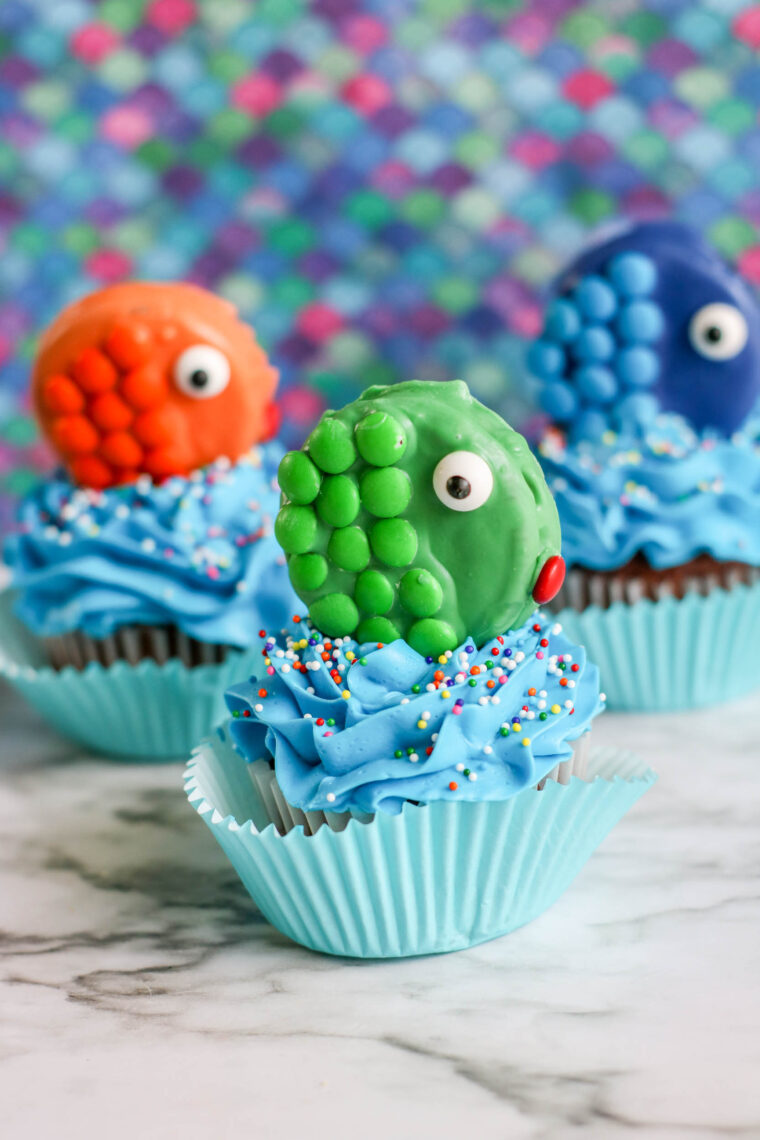 Tropical Fish Cupcakes Recipe
Tropical Fish Cupcakes
Ingredients
Ingredients
12 Oreo Chocolate Sandwich Cookies
½ (12 ounce) package blue candy melts wafers
½ (12 ounce) package orange candy melts wafers
½ (12 ounce) package green candy melts wafers
Mini M&M chocolate candies in red, orange, green, and blue (about 12 for each fish)
12 candy eyes (1 for each fish)
12 cupcakes (from your favorite recipe or boxed mix)
1 to 2 cups blue frosting (from your favorite recipe or canned frosting) (Pictured: Pillsbury Funfetti in Aqua Blue)
Rainbow nonpareil sprinkles
Instructions
Line a baking sheet with waxed paper.
Melt candy coating according to package directions. If the candy is too thick to pour, add 1 teaspoon coconut oil or vegetable shortening. Stir well. Do not add water. You can add up to 1 tablespoon of coconut oil per bag of candy wafers.
Dip each cookie into melted candy. Remove cookie, tapping gently against the side of the bowl, allowing excess candy to return to the bowl. If air bubbles form, pop them with a toothpick. Place the cookie onto the waxed paper. Allow to set completely before proceeding to the next step. To speed the process, cookies can be refrigerated or placed in the freezer in a single layer.
Immediately add a candy eye and M&Ms. Allow the cookie to set completely at room temperature or refrigerate for faster results.
Pipe frosting over cupcake in a circular direction working from the outer edge of the cupcake towards the center.
Place one cookie "fish" on top of each cupcake. (Cook's notes: If the icing is too thin to hold the fish, use a toothpick to secure the cookie. After you refrigerate the cupcakes and the frosting hardens, you can remove the toothpick.)
Drop nonpareil sprinkles over the icing.
For best results, refrigerate the cupcakes until ready to serve.